Estimated read time: 7-8 minutes
SHREVEPORT, La. — Kalani Sitake wanted to give all the credit to UAB, its motivated offense, its defense, its legendary head coach who turned a once moribund program into a two-time conference championship four years after reviving it from scratch.
He wanted to credit a senior class who took a chance on a university that had scrapped football before reversing course and becoming a Conference USA power.
All of that stuck true, and he was right, after the Cougars' 31-28 loss to the Blazers in the Independence Bowl. Make no mistake; BYU didn't just lose to UAB, the Blazers beat the heavy favorites, the highest-ranked team in the 46-year history of the bowl game, the No. 13 team in the country, at least according to the College Football Playoff selection committee.
Credit to Tyler Allgeier, whose 192 yards and three touchdowns propelled him to 1,601 rushing yards and snapped a two-decade record held by former Doak Walker Award winner Luke Staley for the most in a single season in BYU history.
It's a mark that may never be broken at BYU, or at least not for another 20 years, and should likely send the redshirt sophomore tailback into next April's NFL draft — unless shock and awe bring him back for what would only be his junior season.
If BYU had 11 Tyler Allgeiers on offense and defense each, the Cougars could dominate the Big 12 by 2023. But what was made painfully obvious Saturday afternoon — and before, even — is they don't. Not even close.
There's a doubt that couldn't escape the postgame press conference room without being asked, a question that had to be answered before Sitake could depart into the offseason after a 10-3 campaign, his second double-digit season in as many years.
What about the injuries? If the Cougars were healthy, or at least as healthy as they were at the start of the season when they beat Arizona, Utah and Arizona State in consecutive weeks en route to a 5-0 start, would things have been different?
The answer is impossible to know without the use of a DeLorean or one of the machines out of an H.G. Wells novel. But the response should be a resounding "maybe."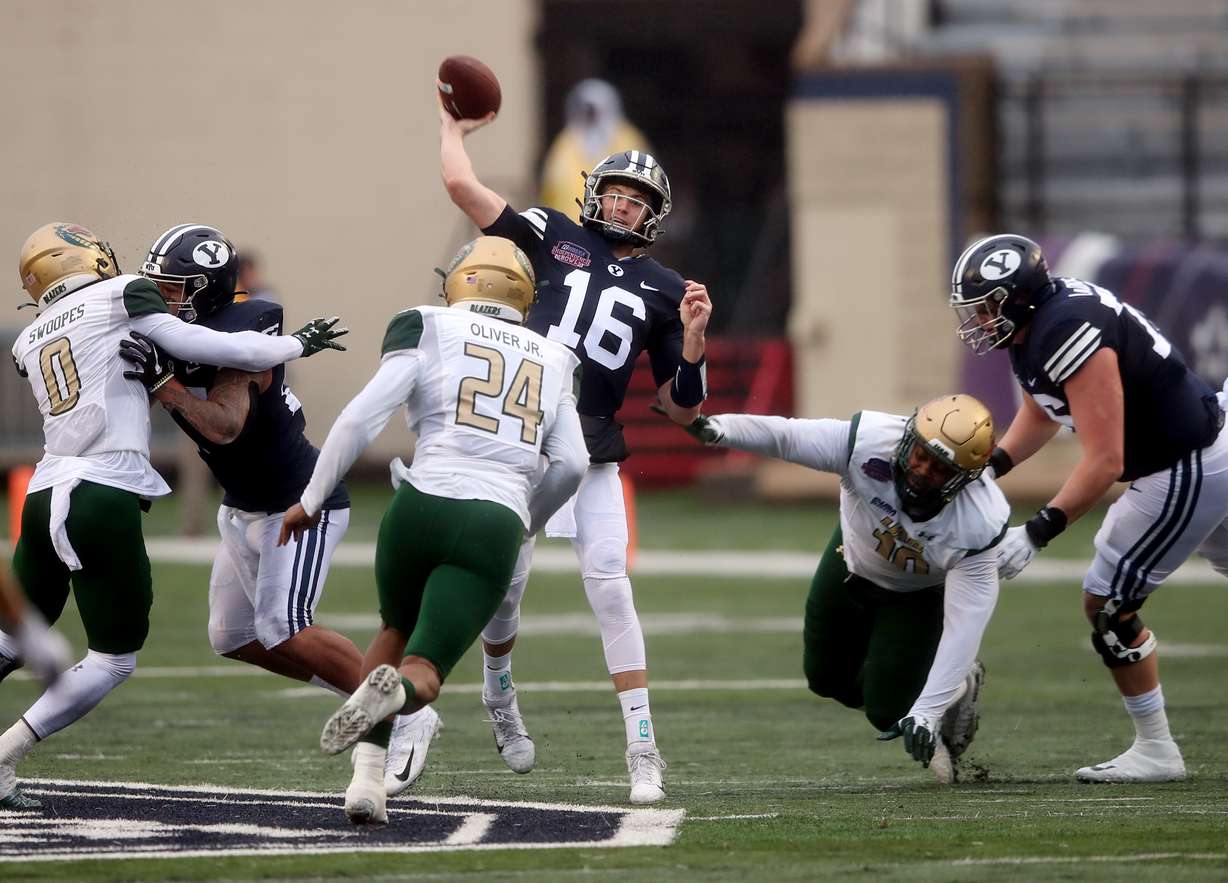 BYU was a different team at the end of the 2021 campaign as the Cougars were at the beginning, and there's no doubt about it. And after limping to the finish line with closer-than-expected road wins over Georgia Southern and USC, the ailments finally caught up with them.
"I think that's part of it," Sitake relented when asked about how the injuries prevented his team from playing a complete 60 minutes. "I don't know if we can really put it on one thing, but we do have a lot of different bodies and then we got down a couple starters.
"I think if you can have the same eleven that started the season for the bowl game on both sides of the ball on offense and defense, I'd say we're in a pretty good spot, but that's the game. It's a violent, physical game. So you're gonna have guys banged up. We're gonna have to rely on the depth. We knew this going into this season. But we've got a lot of these guys coming back. We have a lot of guys returning and now the focus returns on us as a coaching staff, getting our guys ready to be more experienced, but also keep our depth rolling and then see what happens in the 2022 season."
Ever the optimist, Sitake tried to put his own polish on BYU's season, about how it was still the first time the Cougars have won double-digit games in back-to-back seasons since 2009 and how the future is bright for the program now one season removed from joining the Big 12.
No doubt, BYU had plenty to celebrate as Uriah Leiataua led the team in the fight song in front of several dozen Cougar fans one last time, just moments removed from the rain, thunder and swirling winds that hounded Shreveport all afternoon.
There was plenty to be grateful for, as Leiataua, Jared Kapisi and Samson Nacua celebrated their final game in a BYU uniform and will be joined by at least a couple — and likely several — third-year sophomores and juniors who find it time to move on.
BYU braved the storm of the 2021 season, but the Cougars were battered, bruised and beaten down. Fitting then that the final game on the banks of the Red River was played in a torrential downpour that pushed kickoff back nearly an hour and threatened to delay the game even more.
After practicing through the week, starting quarterback Jaren Hall was a late scratch, the product of an injury suffered in the aforementioned victory over the Trojans in Los Angeles. That left backup Baylor Romney to start his first game since Oct. 1, a 34-20 win over Mountain West champion Utah State, and that ended with third-string freshman Jacob Conover under center.
The Cougars rushed Hall back from a rib injury two weeks later against Boise State, a result that led to three fumbles, an interception and two turnovers on downs in a staggering loss to an otherwise beatable Broncos squad. And it was there that the first cracks began to show.
Because Hall's injury wasn't the most season-altering at BYU. Nor was Harris LaChance, who made his return to the offensive line for the first time since Sept. 18. And while it didn't help, not even the loss of top target Neil Pau'u or center and team captain James Empey was the most lively on the BYU sideline.
For that, one must look at the loss of BYU's leading tackler — not once, but twice.
After Keenan Pili was lost for the season just three games into the year, BYU adjusted by sliding Peyton Wilgar into his middle linebacker spot — and the move worked. Wilgar had 57 tackles, two interceptions, four pass breakups and a forced fumble in 10 games before shoulder surgery ended the star linebacker's 2021 season ahead of the Georgia Southern game.
BYU tried to replicate the switch twice, but while former rugby standout Ben Bywater performed admirably in the middle of the field, lighting didn't strike twice. By Nov. 20, rather than playing their best football of the season, the Cougars were hanging on by a thread.
"We have a lot of talent. We have a lot of guys who can make plays," said Tyler Batty, a freshman from Payson who had eight tackles and three tackles for loss, including 2.5 sacks, against the Blazers. "My biggest take overall looking to next year is just cleaning up the little things. That's what tonight came down to was everybody doing their job."
BYU's front line was strong enough to hold down Pac-12 champion Utah and four other of the Utes' conference cohorts. At full strength — or nigh unto it — the Cougars were 6-1 against Power Five opponents.
By the end of the season, Sitake and his assistant coaches were keeping the team together with duct tape and super glue. For that, the George Munger Coach of the Year finalist should be commended.
If 2021 wasn't Sitake's finest coaching job, one would be hard-pressed to find a better one. He earned every penny of his contract extension, a new deal that adds two years to the previous deal through 2025 and also significantly upgrades the Cougars' salary pool for assistant coaches, as well as support staff and personnel around the program — from analysts to recruiting to football operations, down to the sports medicine and office staff.
Sitake had to play hard ball to secure the extension, one that likely guarantees he'll be in charge of his alma mater as it moves into the Big 12 future. Whether or not he was really leaving for Oregon or Washington, or any of the other Power Five programs that came calling is irrelevant now.
What matters is that he's here. The next question is: Does he have what it takes to take BYU to the next level?
"I just love being around these guys. These guys mean a lot to me," Sitake said. "So yeah, I love being around our players a lot. And right now they're hurting. So it's OK. My job is to rally them back on this.
"And wish the guys that are moving on to the NFL good luck."
×
Photos
Related Stories