Estimated read time: 5-6 minutes
SHREVEPORT, La. — On the day Tyler Allgeier broke BYU's single-season record of 1,582 yards set by Luke Staley in 2002, the twice-converted linebacker from Fontana, California, had a game for the ages.
But Debo McBride had the game of the day.
Dylan Hopkins found Trea Shopshire from 14 yards out for his third touchdown pass of the night with 6:17 remaining to lift UAB to their biggest win in program history, 31-28 over No. 13 BYU in the Independence Bowl in Shreveport, Louisiana.
McBride ran for 183 yards and a touchdown for UAB, which won its second bowl game in program history and first game against a top-25 opponent since 2011.
"The game did not go as we wanted, but a lot of credit to UAB," BYU coach Kalani Sitake said after the game. "You have to be excited as a football fan to see a game that went down to the wire like that.
"I give a lot of credit to UAB; they made a lot of plays, and a couple more than we did."
Hopkins completed 19-of-23 passes for 189 yards and three scores with one interception, while BYU quarterback Baylor Romney — who started in place of the injury Jaren Hall — threw for 195 yards without a touchdown or an interception, and took just one sack.
He wasn't perfect, but Hopkins averaged 9.9 yards per completion and connected with seven receivers. He also knew that he had to take some chances as the 7-point underdogs from six hours away via Interstate 20 looked to complete the biggest upset in school history in the final game for a senior class that brought the program back from nothing four years ago.
"BYU is 10-2 for a reason," Hopkins said. "We just came out and played for the seniors. These are the guys who brought the team back."
UAB is up 14-0 on No. 13 BYU 👀 pic.twitter.com/w7QFmZEQa5

— ESPN College Football (@ESPNCFB) December 18, 2021
For Allgeier, who is roundly expected to enter the NFL draft after this year, the night made history for the former walk-on. With 4:46 left in the third quarter, Allgeier broke Staley's single-season rushing record, snapping the Doak Walker award winner's mark of 1,582 that has stood since 2001.
If Saturday proves to be Allgeier's final game in a BYU uniform, he'll finish with 2,904 career rushing yards, good for fifth in school history and just ahead of Lakei Heimuli and Taysom Hill.
"It's an honor. It's an honor to be on the field with this team and a part of this offense," Allgeier said. "It's an honor."
But with one final drive to go ahead, Romney found Masen Wake with a screen pass — and the Lone Peak product's trademark hurdle — to convert on fourth-and-short. But one play later, Samson Nacua bobbled a completion from Romney and UAB recovered it at the 28-yard line to help the Blazers (9-4) hold on.
"It's just part of the game," Allgeier said of the fumble. "We live to play this game. Football is just so fun. We just love it so much. You can never expect anything, or you can expect the unexpected, I guess. It's an unfortunate event for him, but he has a team and a family that loves him so much. You live and learn. I had a fumble earlier in the year and you just live and you learn from that, but everyone had my back."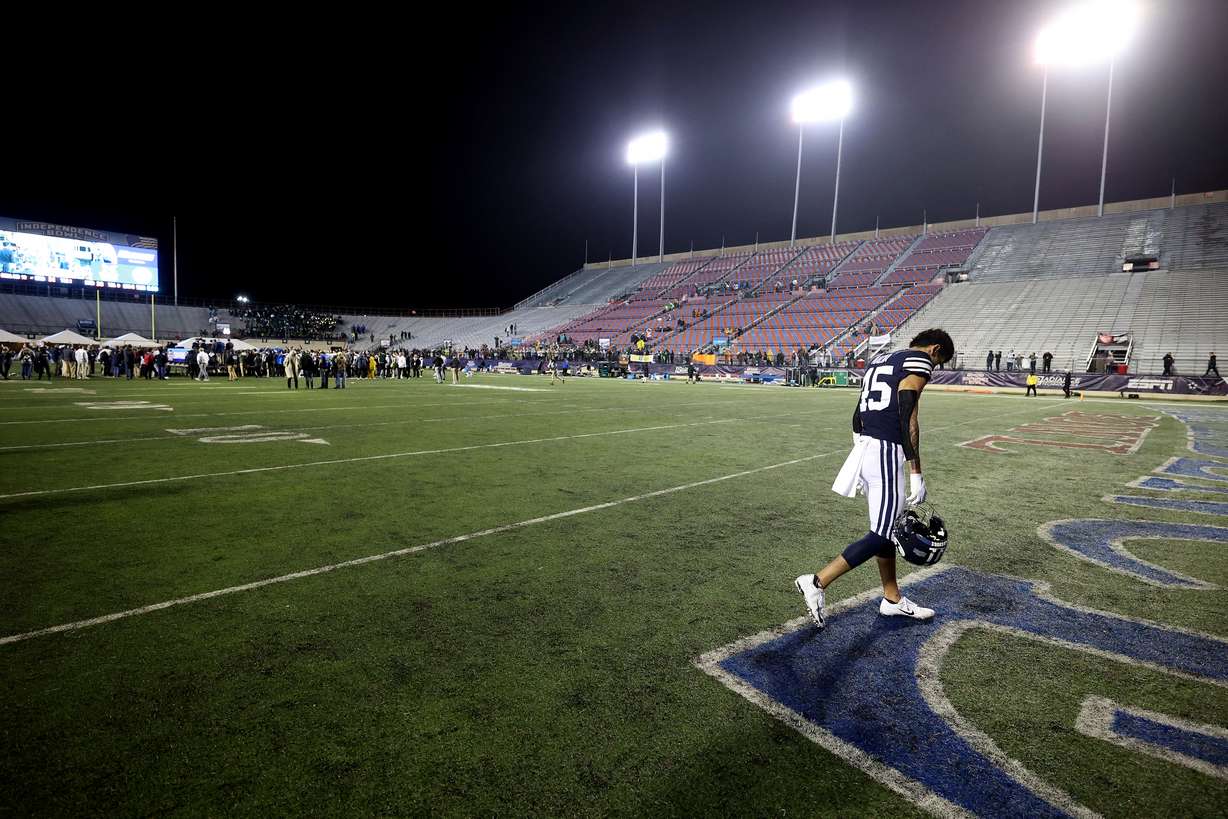 But that wasn't the reason for Saturday's loss on the banks of the Red River in a town that somewhat resembles Las Vegas on the Bayou. Already down his starting quarterback, Nacua caught three passes for 19 yards, and also added a 2-yard score on a sweep in the second quarter. All he'll be remembered for will be the dropped ball and UAB's recovered fumble, but that's unfair for the contributions of the Utah graduate transfer in his lone season in Provo.
And yet, the Cougars didn't lose on that play — even if it was the one that helped propel the Blazers over the finish line. BYU converted on just 4-of-12 third downs and finished 2-of-5 on fourth downs, including Wake's gain that was later nullified by the turnover.
Max Tooley had a team-high 10 tackles to lead BYU's defense, which got three tackles for loss from Tyler Batty and an interception from Hayden Livingston. The same defense that created the havoc of eight tackles for loss and three sacks also had just two pass breakups and one interception, forcing just one turnover.
So when Nacua stood on the field for several moments at a cold, windy Independence Stadium and stared at UAB celebrating in arguably its biggest win in program history — one made just four years after reviving the program, 10 years after their last win over a ranked opponent, and their highest ranked victory in program history — it was easy to feel for the Timpview High graduate who played his final collegiate game.
Then Nacua turned toward the crowd, hugged his younger brother Puka — who transferred from Washington to play his first, last and only football to date with his older brother — and then approached the crowd of gathering BYU fans looking to shake their hands. Puka Nacua gave one young fan his gloves; Samson signed autographs well after the rest of the team had entered the locker room.
BYU had just 182 yards of offense to UAB's 214 at the break, and the Cougars were 2-of-7 from third down in trailing 21-14 at halftime on Gerrit Prince's second touchdown of the game, a 23-yarder from Hopkins with 3:18 left in the half.
Hopkins didn't miss on a pass until Drew Jensen batted down a ball at the line of scrimmage with just over three minutes into the second half. He was a perfect 12-of-12 for 106 yards and two touchdowns before the break.
Allgeier erased the deficit just 1:17 into the second half, weaving and waving through a crowded backfield before exploding for a 62-yard touchdown to tie the game at 21-all.
Moments later, Jensen's pass breakup and back-to-back sacks by Batty forced the Blazers to settle for Matt Quinn's 38-yard field goal and kept UAB in contention, setting up a mad dash to the finish that included Allgeier's third touchdown on a 1-yard plunge to open the fourth quarter and Shropshire's game-winner after Tooley had kept him out of the end zone on two previous plays.
UAB took the momentum, and ran with it. Literally, gashing BYU's front for 223 yards on the ground and 5.2 yards per rush.
"I knew coming in, we were going to run the ball, because we always do that," McBride said. "Just get the ball and run it."
×
Photos
Related Links
Related Stories