Estimated read time: 5-6 minutes
SHREVEPORT, La. — Lopini Katoa never had anything quite like it.
Actually, he had — and that's why he said it, even if it was a cliche.
On the night the BYU football team arrived in Shreveport, Louisiana, the selection committee of the Independence Bowl threw the Cougars a party — complete with the best local cuisine the city could offer.
That included one main dish that few, if any, in the traveling party from Provo had tried: bacon-wrapped alligator.
Katoa had to try it. And you know what? It's pretty good — like another slightly more familiar white meat.
"It was kind of chewy. They said it tasted like chickens, and it kind of does," said Katoa, who said Thursday he is planning to return for his senior season of eligibility rather than leave the program. "A little chewier. But I enjoyed it."
Located in the northwest corner of Louisiana, Shreveport is only a 20-minute drive from the Texas border and 40 minutes from Arkansas. So while it may not be the pure Bayou, the Louisiana cuisine is still plentiful, along with seafood, jambalaya, gumbo — and gator — in abundance.
"It was fire," linebacker Ben Bywater said of the bacon-wrapped alligator. "They know how to cook here."
Every bowl game has its unique setup, its twists, turns, activities and service events; and the Independence Bowl — the 11th-oldest bowl game in college football, and one of a handful of independent bowls not owned and operated by ESPN Events — is no different. Saturday afternoon's game (1:30 p.m. MT, ABC) will be a football game like any other, with both BYU and UAB needing to prepare for it.
That means taking care of business when business needs attending — something assistant head coach Ed Lamb mentioned he found disappointing Wednesday and hoped for a better result before Thursday's practice.
"I'd like to see the energy pick up from yesterday to today. We had a pure travel day Tuesday and had zero football-related activities, and had to make a couple of quick schedule adjustments and changes for weather and facilities. I think that's hard on guys.
"So I think they need to prove that they are here to do their best and to handle a really good UAB football team. I'd like to see more."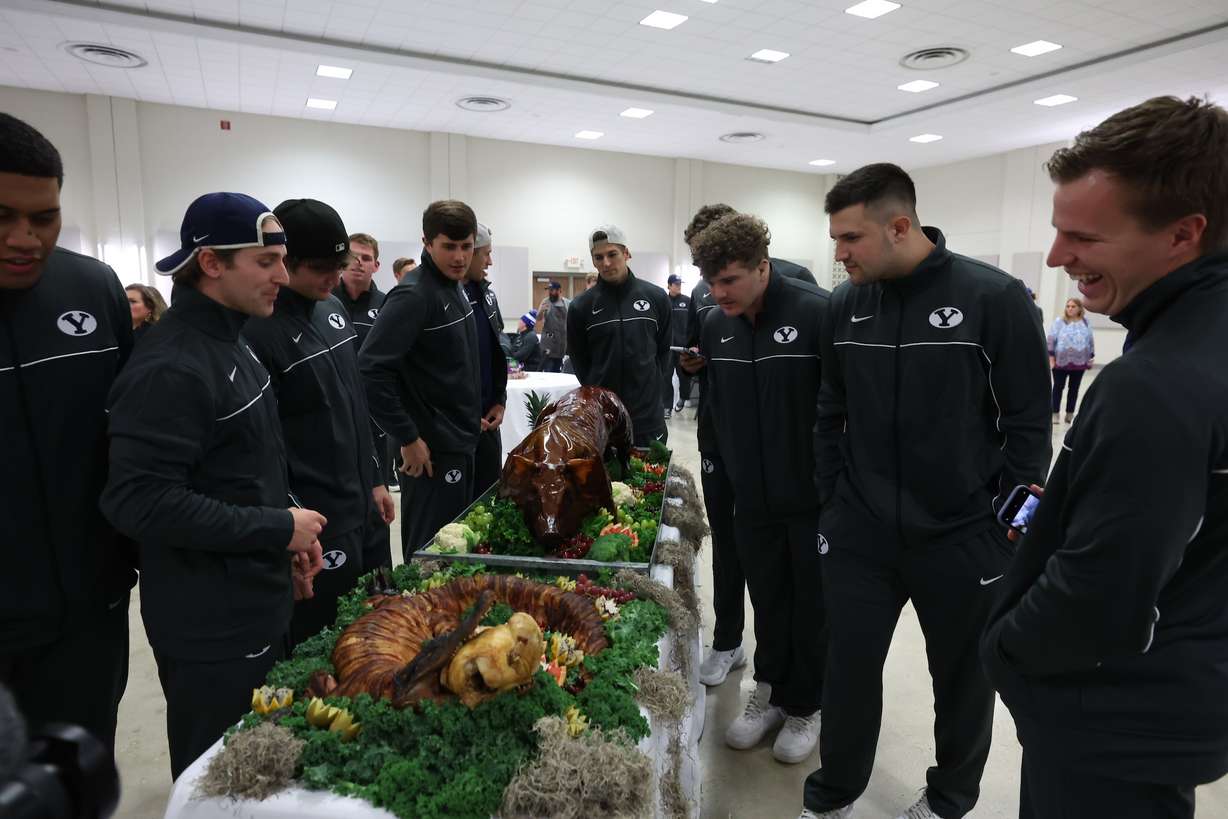 That doesn't mean the players need to be robots. Just football players, especially on the football field and when they aren't finishing with finals or participating in the handful of other bowl activities.
Practice only takes so much of the day. Beyond that, there are plenty of things to do — though it's doubtful any of BYU's players, coaches or their accompanying family members will spend much time in the Las Vegas-style casinos of Bossier City.
Friday will bring more non-football events, including a press conference at Independence Stadium, a walkthrough on the field for both teams, a Mardi Gras-style preview parade in the city's Red River District, and a pep rally that includes a battle of the bands at 6 p.m. MT underneath the Texas street bridge.
Outside of practice, the two teams went axe throwing, competed in a trivia bowl competition called the Big Game Show (which the Cougars won, though the Blazers were crying foul over some potential shenanigans by the bowl committee), and paid a visit to Holy Angels, a local nonprofit organization dedicated to "empowerment for individuals with intellectual and developmental disabilities."
Several of those guests visited BYU after Thursday's practice at Loyola College Prep's athletic campus, a private high school in Shreveport.
"It's been fun," Bywater said. "Down here in the southern culture, they're great. It's been a blessing for all of us. I think a lot of us are excited to play. You can't control a lot of things that happen, so we're making the best of this situation."
Of course, there's also a bowl game. The highest-ranked team in Independence Bowl history, No. 13 BYU (10-2) are 7-point favorites against the Blazers, who finished runner-up to UTSA in Conference USA's West division and were a 34-31 loss to the Roadrunners from going to the C-USA title game.
But the Cougars are just 5-7 against the spread this year and are averaging just 4 more points than UAB, 33.5 to 29.4 (they're also allowing about 2 more points, 24.3 to 22.8).
All that to say that BYU needs to buckle down and prepare for Saturday's game. The Cougars brought players' wives and families to the bowl game, and they've brought them to most of the bowl activities, a multi-bus setup with a police escort everywhere they go.
It's impossible to fully know how prepared a team is until kickoff. But prioritizing the game as much as the bowl has been a focus for the BYU coaching staff.
"That's all we've been talking about, is being ready to play," offensive coordinator Aaron Roderick said. "Bowl games have distractions and a long period of time from your last game. Usually the team most ready to play wins.
"And the other thing is being excited to play. I think that's a big factor in bowl games: the team that is most excited to be there is the one with the most chance to win."
The Cougars expect to be as healthy as they've been in several weeks, with Chaz Ah You expected to suit up on defense, Gunner Romney projected back at wide receiver, and Harris LaChance and Campbell Barrington for the first snaps on the offense line since as early as Week 3.
It's unfair to call them "healthy" — center James Empey and wide receive Neil Pau'u remain doubtful, though both traveled with the team. But the Cougars are as healthy as they've been in at least a month.
"I'm happy that Harris will finally get a chance to play," Roderick said. "Gunner's been in and out all year, but he always comes back and plays like he never left. I have a lot of confidence in him, and in Cambell as well."
Healthy for the bowl game — and for everything else around it.
"It's been nice," Roderick said. "It's a well-organized bowl game; you can tell they've done this for a lot of years. Everything's been totally square away.
"For me, it's not really a vacation. I'm working the whole time, and I look at everything running on time and operating smoothly. And that's been great."
×
Related Stories