Estimated read time: 3-4 minutes
SHREVEPORT, La. — Usually we use this space to write about football. But the first moments of BYU's bowl game against UAB were about something much more important than a game.
You may have seen BYU run out its flags, a BYU flag, a local flag and an alumni flag, a common practice in the program under sixth-year coach Kalani Sitake.
Normally the flags are run out by current players within the program, often ones connected to certain states, regions or opponents. Occasionally, the Cougars bring in a notable alumni to carry the flag, and on other rare occasions a notable non-football alumni has even led the team on to the field with flag in hand.
There was some normalcy in Saturday afternoon's bowl game in Shreveport. But there was also something unique.
Those watching BYU's Independence Bowl kickoff against UAB probably saw something a little bit different. They saw four flag bearers alongside the team, significantly younger than the usual patrolmen.
Those flag holders were BYU fans; but more importantly, they were the four oldest children of Nathan Peterson.
We love you Peterson Family!! 💙 pic.twitter.com/VjyTQzwAJX

— BYU FOOTBALL (@BYUfootball) December 13, 2021
A longtime BYU fan, Peterson and his wife Emily live with their six children in Logan, but they are huge BYU fans who haven't missed a home game in 18 years. The Petersons' company Saranoni have provided the traditional senior blankets given to all graduating seniors across the athletic department in Provo, including BYU football, for the past four years.
"The best part about the Peterson family," BYU equipment manager and director of player experience Billy Nixon said, "is they are true blue, through and through."
But on Nov. 5, the day before the football team played its final home game of the regular season, Nathan Peterson received devastating news: a terminal diagnosis of glioblastoma multiforme tumor on his brain.
He was given about four weeks to live.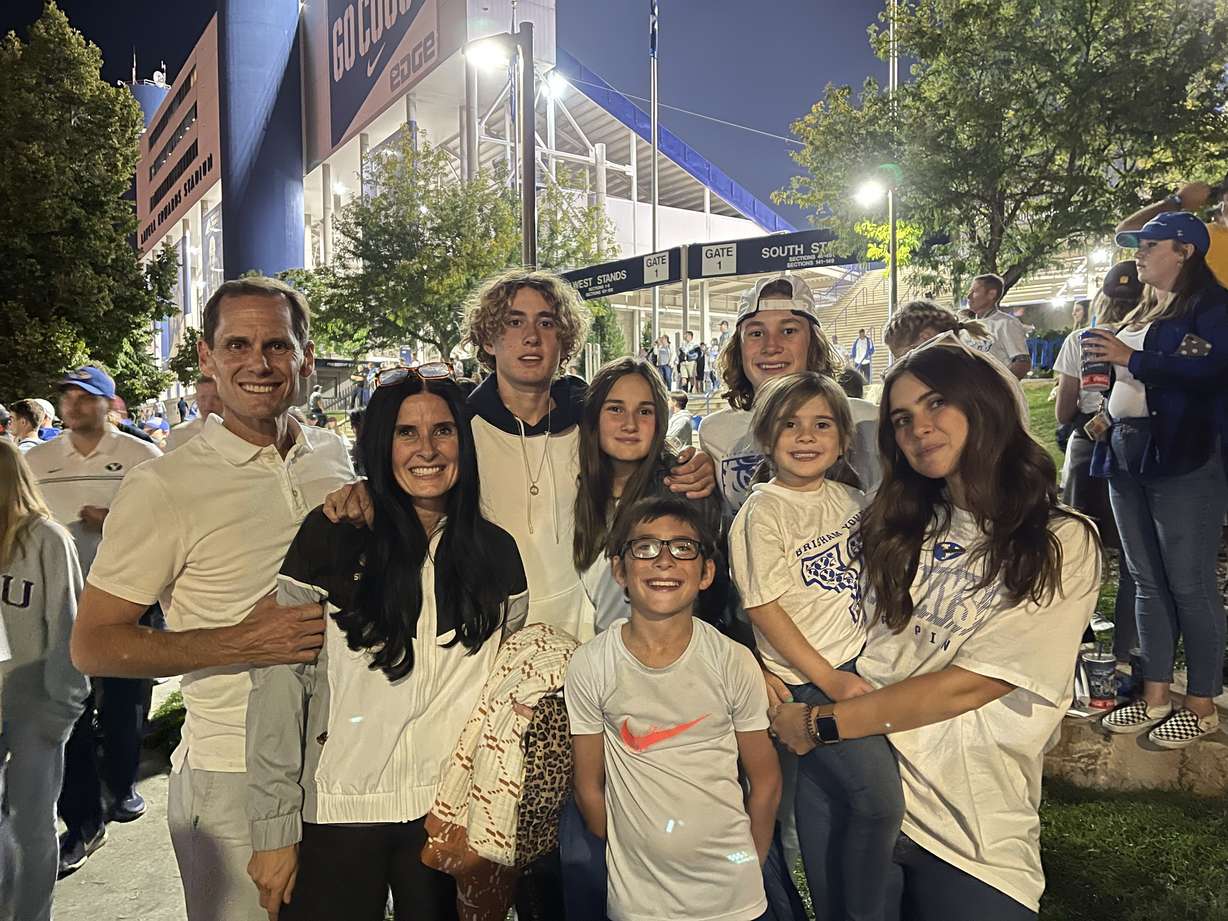 Nathan is "at a point where he cannot stand or walk on his own, his fine motor skills are shaky, and some of his cognition is starting to fade," daughter Eliza Peterson shared recently on social media. He recently underwent surgery and a biopsy at the Huntsman Cancer Center, she added.
The Cougars immediately dedicated their bowl season to Nathan and the Peterson family, including donning the "Midnight Virgil" uniforms — navy helmets, navy jerseys and white pants — and the same ones worn on senior day against Idaho State when Nathan Peterson received his diagnosis.
To show their appreciation and support for the family, the BYU football team wanted to offer them a special gift. While Nathan stayed home in Logan with his wife Emily and their two youngest children Grace, 5, and Jeremiah, 10, the team flew his oldest children — Eliza, 19; Isaac, 17; Samuel, 15; and Sarah Sophia, 13 — along with Nathan's brother Adam to Shreveport, Louisiana, to be guests of honor at a football practice.
After meeting the players, Sitake himself present the gift of honor to the children: they were going to run out the flag before the team's bowl game, a symbol that even if the Peterson family doesn't suit up on Saturday, they are no less part of the team.
We're excited to have the Petersons as our flag bearers at tomorrow's game!! 💙#BYUFOOTBALL x @IndyBowlpic.twitter.com/aUmMWvdsM7

— BYU FOOTBALL (@BYUfootball) December 17, 2021
He even joked that they would "strategize" and "practice" the run out later, and then invited the older children into a big group embrace with the head coach.
"We feel your support and our love for our team," Sitake said in a video for Nathan. "I feel it as a head coach from you and your family. And we wanted to dedicate this game to you and your family.
"Our outgoing players, even guys in the NFL, still have those blankets — and they will be with them forever."
The four children also accompanied the Cougars during their bowl activities and dinner Friday night. Back home, Nathan received a "swag pack," including a jersey for him to wear while he watched the game and a BYU flag signed by the entire team.
×
Photos