Estimated read time: 6-7 minutes
This archived news story is available only for your personal, non-commercial use. Information in the story may be outdated or superseded by additional information. Reading or replaying the story in its archived form does not constitute a republication of the story.
PROVO — Maybe the best thing to happen to BYU during rivalry week with Utah, a week that usually accompanies the heightened intensity of the biggest sporting event in the state, was an invitation to join the Big 12 Conference.
Because of #Big12Watch and a series of reports that leaked early and often about the Cougars' forthcoming decision to exit independence and enter the Big 12, Saturday night's game almost snuck up on the fan base.
After a press conference with Big 12 commissioner Bob Bowlsby, BYU athletic director Tom Holmoe and BYU President Kevin J Worthen to formally accept the invitation, the weekend felt like a cherry on top of a cake that took over a decade — and then some — to bake, set and rest.
So when the Cougars walked off the recently crowd-stormed field following a 26-17 win over the 21st-ranked (for now) Utes, the sense of pride was pouring over the sides of the stadium like students and most of the sellout crowd of 63,470 moments earlier following their first rivalry win since 2021 flag carrier Max Hall won in 2009.
Was this the best weekend in BYU history?
When Cougar quarterback Jaren Hall, who completed 18-of-30 passes for 189 yards and three touchdowns and ran for 92 yards on eight carries in his second start of the season, was asked that exact, cheeky question by a sarcastic reporter after the game, he couldn't help but laugh.
"I think it's definitely up there," said Hall, who has three seasons of eligibility remaining but may or may not reach the Big 12 milestone of the 2023 season. "We're very grateful for the president of the school and those who make those decisions. It was great news, but we're just happy to get the win tonight."
An argument, indeed.
The Cougars (2-0) finally found a way into the circle of Power Five conferences, the so-called "Autonomy Five" by the NCAA that won't kick out the Big 12 — if it still exists after a constitutional convention to reassess the organization next spring.
What better way to celebrate such a milestone than by snapping another one — a nine-game losing streak that was tied for the longest in the 95-game (or 101, depending on who you ask) history of BYU's oldest rivalry series? Previous 12-year-old fans who had never experienced a BYU win over Utah can no longer say the same.
Against the Utes, a team that has been bigger, faster, stronger and — quite simply — better for 12 years, and exponentially so in the decade since joining the Pac-12, BYU looked like a Power Five opponent.
The Cougars handled Utah on the line of scrimmage, normally a point of pride for Kyle Whittingham and his slew of offensive coordinators, outrushing the Utes 219 yards to 193.
Were it not for Utah running back Micah Bernard, who piled up a game-high 146 yards and a touchdown on 12 carries, it could have been even worse.
In essence, BYU looked like Utah — a Power Five team who prides itself on tough, physical play and a power-run attack. That shouldn't be a surprise for a Kalani Sitake-led team, who grew up as a coach on the Hill from 2005-14, with six seasons as the Utes' defensive coordinator and the last three as assistant head coach.
"I love Kyle Whittingham; I love his family," said Sitake, who still spends time on the golf course every summer with his close friend. "I'm fortunate that he brought me up in this college coaching game. I really value our friendship.
"I enjoyed that embrace after the game, and I told him, 'Thank you for everything.' I really appreciated it, and I told him I love him. We're really close. We're trying to have that type of mindset, and he's been an amazing coach and a great mentor. It just happens that he's at our rival school."
Controlling the trenches went two ways, too. A year after sending three offensive linemen to the NFL, including third-round draft pick Brady Christensen to the Carolina Panthers, the Cougars held firm in front of Tyler Allgeier, who ran for 97 yards on 27 carries, and Lopini Katoa, who added 43 all-purposes yards on 10 touches.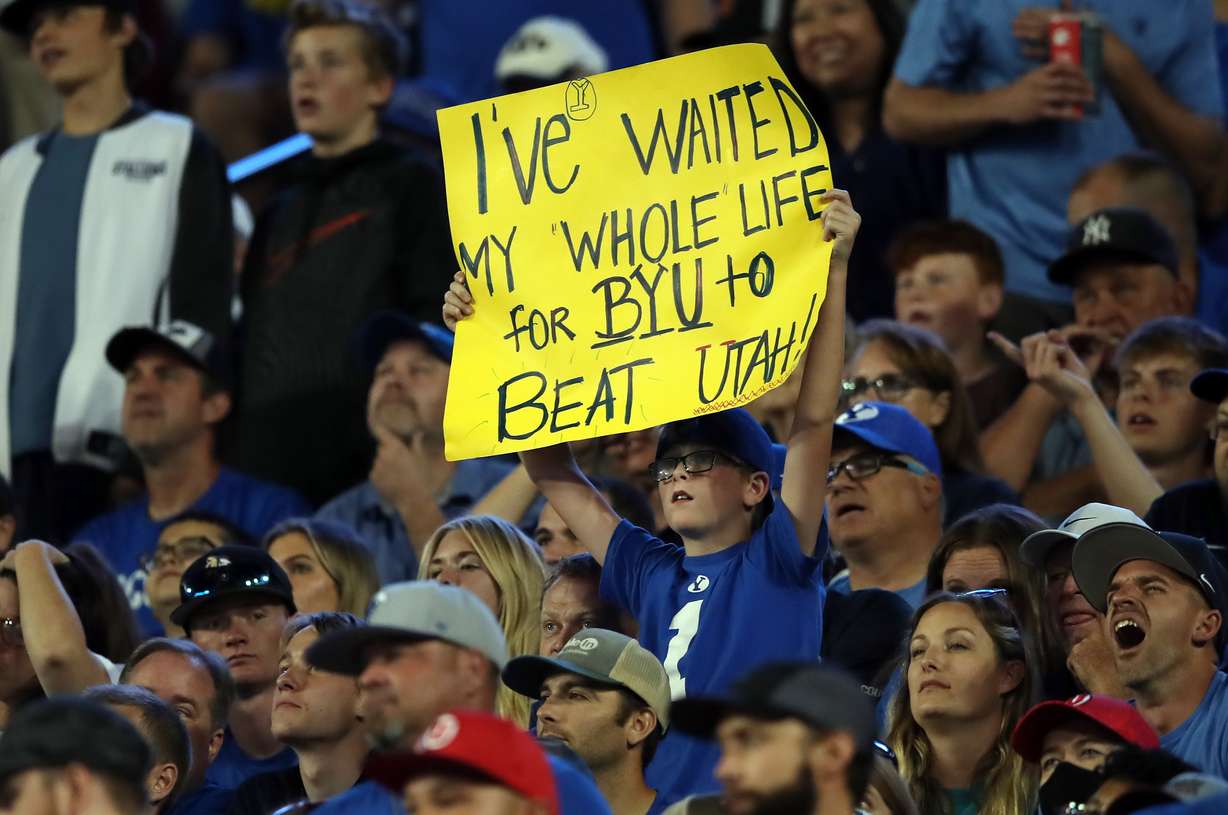 Against a defensive line that regularly funnels players into the NFL, BYU did not give up a sack. In two games, Hall has been sacked just once.
The Cougars owned the trenches in the same way that Utah has for most of the past 12 years.
"Our offensive line dominated, man," Hall said. "I can't take my hat off enough to those guys. Any people out there willing to sponsor those guys, please do. Pay those guys, give them some food. We need 'em, man.
"I can't say enough about them. I'm so proud of them."
Whether it be through a name, image and likeness deal, or simply a steak dinner, BYU's offensive line deserves whatever it can get after Saturday night.
"I'm gonna buy them hella steaks," Allgeier joked with a reporter over Zoom after the game. "Our offensive line worked their butts off, and I'll for sure be treating them this week.
Behind that line, Hall also went to work. The redshirt sophomore completed throws with precision and poise to eight difference receivers, led by Puka Nacua's four catches for 37 yards. He also scattered three catches for 19 yards to Pau'u, three more for 13 yards to Gunner Romney, and added strikes to Katoa, Allgeier, Keanu Hill, Dallin Holker and Samson Nacua.
But it was in his legs that the quarterback did his worst damage. Hall sprinted for big gains out of the pocket, scrambling for runs of 10 or more yards six times, averaging 9.3 yards per carry, and only taking one negative yardage play, a 2-yard loss before he met Utah's JaTravis Broughton in the second quarter.
"He was able to get out of pressure by using his legs, and he extended drives," said Sitake, who complimented Utah's pass defense for making Hall run more than he did in Week 1 against Arizona. "He can run; we know that, and it's a weapon we can use. But he can throw the ball, too.
"Jaren's really coming into his own. It's nice to have a guy like Jaren on the field."
As big as the game was, it also was still just one game. BYU doesn't just have 10 more remaining on the year, but two more against teams from the Pac-12 South — including Saturday's home tilt with preseason darkhorse contender Arizona State.
"I like the way our team is right now; I like the depth," Sitake said. "There are guys right now who are really close to getting on the field again, and I like having more starters than 11 on offense, defense and special teams.
"I think we're getting close to being there."
×
Photos
Related stories
Most recent BYU Cougars stories