Estimated read time: 4-5 minutes
PROVO — Another key injury struck BYU's defense Monday morning.
Linebacker Keenan Pili was ruled out for the season with a torn anterior cruciate ligament, or ACL, head coach Kalani Sitake said Monday during his weekly press briefing. Recovery from such an injury is generally 6-9 months, depending on the extent of the tear and invasiveness of the surgery.
He'll have surgery in the coming weeks. But Pili won't be going far from the program, Sitake said.
"We are still going to need him as a leader, as a captain," the sixth-year head coach of the 15th-ranked Cougars said. "We're going to need him leading our team still; he has a purpose and a role for us, it just has changed.
"We're going to rely on some of the depth at linebacker to step up. I have a lot of confidence as their coach."
Pili was helped off the field by the Cougars' athletic training staff early during their 27-17 win over then-No. 23 Arizona State on Saturday, and returned to the sideline with street clothes and crutches. Sitake said after Saturday's game the medical staff was sending him in for tests and an MRI to determine the severity of the injury.
Defensive linemen Atunaisa Mahe and Tyler Batty also did not finish the game, nor did cornerback Isaiah Herron. But all three are still listed as starters on the depth chart and not expected to miss significant time, as was Jaren Hall, the quarterback who left the game early after falling on the football but returned for postgame interviews and said he'd be ready for practice Monday.
One of the team's four full-time captains, Pili had started all three games of his sophomore campaign against Arizona, Utah and Arizona State. The 6-foot-3 Timpview High product notched a team-best 31 tackles, including a career-high 17 tackles in the Cougars' season-opening win against the Wildcats in Las Vegas. He was also named Defensive MVP of BYU's 49-23 win over UCF in the Boca Raton Bowl that capped last year's 11-1 season.
Pili was seen as a backbone of the defense, starting 12 of his 24 career games in a BYU uniform.
"Only a minor bump in the road," Pili wrote on Twitter. "My brothers got a job to finish. Much love, Cougar Nation."
Now the focus turns to him and his recovery, teammate D'Angelo Mandell said, as well as how BYU will adjust without Pili.
"Honestly, it doesn't even matter, to be honest. It's about Keenan. We're going to have to step up," Mandell said. "Keenan was playing so well, and I know how important the season was to him. Obviously, we're going to have to adjust and guys are going to have to step up. But it's really about Keenan."
Pili was the Cougars' starting middle linebacker through three games. Former Corner Canyon standout Josh Wilson and one-time Brighton High quarterback Drew Jensen were his primary backups, though Ben Bywater will also shift over from his "rover" position to fill the hole, while also backing up Bountiful's Max Tooley in his old role.
Bywater had a career-high 10 tackles against Arizona. The redshirt freshman has played in seven career games at linebacker, amassing 18 tackles with 13 solo stops in 2021.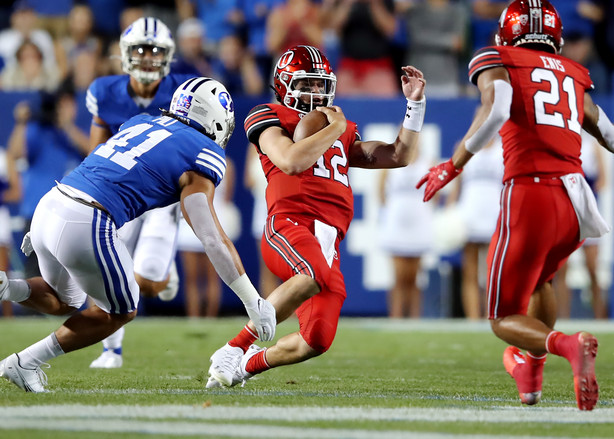 But the Olympus product won't be the only one filling the big hole in the middle of the Cougars' defense.
"There's going to be a bunch of guys that we're going to need playing against a high tempo, no-huddle team like USF," Sitake said. "We're going to need more than just the 11 starters on defense, we're going to have to dip into the depth.
"Ben is one of the guys that we are going to fill in that we feel really comfortable with, but we feel good about that whole entire group. We're going to move it around and figure it out in the next few days."
Pili is the second high-profile injury to strike BYU's defense since the start of the season. Cornerback Keenan Ellis suffered what looked to be a scary head and neck injury in the Cougars' season opener in Las Vegas, but recovered enough to return home in concussion protocol.
Ellis' timeline for return is unknown, but Sitake has said it's not likely a season-ending injury. Herron has started at cornerback in his absence, followed by Oregon State transfer Kaleb Hayes and former East standout Jaylon Vickers.
"Every dude in our room has experience playing," Mandell said. "I know we're going to do our jobs, and we're going to play."
BYU hosts South Florida on Saturday at LaVell Edwards Stadium (8:15 p.m. MT, ESPN2). The Bulls (1-2) own a win in the only other game in the series' history, a 27-23 loss at Raymond James Stadium that was Hall's first start at quarterback in 2019.
USF snapped a 10-game losing streak Saturday with a win over Florida A&M.
×
Related Stories