Estimated read time: 5-6 minutes
PROVO — The wild coaching carousel of 2021 took another spin Sunday afternoon when Washington fired Jimmy Lake less than two years into the former defensive coordinator's tenure on the shores of Lake Washington.
He becomes the latest casualty of a season that has already prompted change at high-profile jobs like the ones that formerly belonged to USC's Clay Helton, Texas Tech's Matt Wells, LSU's Ed Orgeron, TCU's Gary Patterson and Washington State's Nick Rolovich, to name only a few.
Lake was 7-6 in two seasons at Washington, including Saturday's 35-30 loss to Arizona State that came while the defensive mind served an unpaid suspension after he was seen swatting at the right arm of one of his players during a sideline incident against Oregon. Lake said he was trying to break up the fracas, but video surveillance showed otherwise.
Where do the Huskies turn from here? It might be to a familiar name on the Wasatch Front, according to ESPN's Adam Rittenberg.
Kalani Sitake's name has been tossed out in coaching change chatter in the past, but this one makes plenty of sense. The former BYU fullback with six years at his alma mater has led a stunning turnaround of the 14th-ranked Cougars, including a 19-3 record since the start of the 2020 season.
Sitake has worked exclusively in the west, primarily in Pac-12 territory with stops as a defensive coordinator at Utah and Oregon State. Even as a defensive-minded coach, he's cultivated programs known for offense — certainly, much of that credit goes to coordinators Jeff Grimes and Aaron Roderick. But Sitake made the hire.
Perhaps the biggest reason why the 46-year-old Sitake may be at the top of Washington athletic director Jen Cohen's list, though, is his heritage, according to Rittenberg.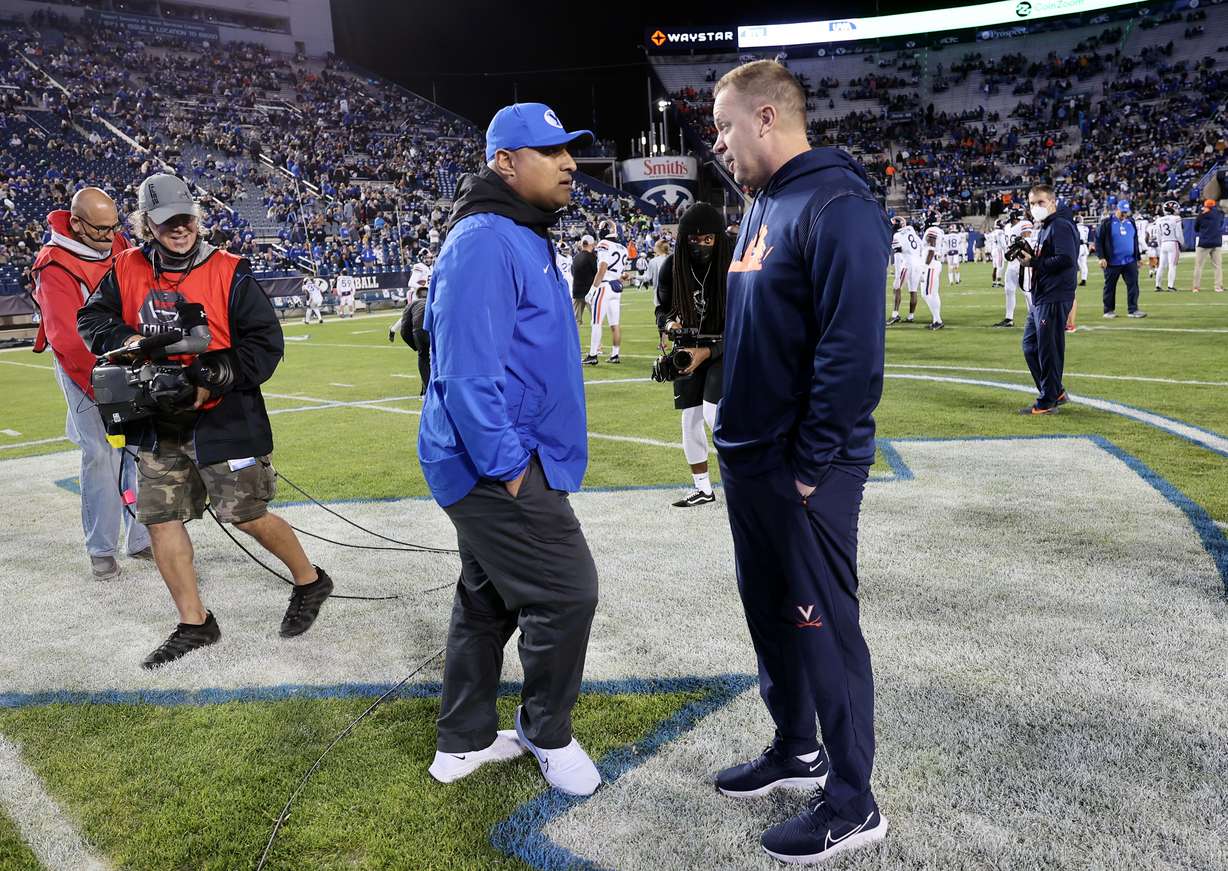 "He also could bolster recruiting, especially with top Polynesian players, a key prospect group for Washington over the years," the veteran college football reporter at ESPN wrote. "The Huskies have never had a Polynesian head coach."
Other candidates for the job according to ESPN include Chris Petersen, Iowa State's Matt Campbell, Nevada's Jay Norvell, and Oregon offensive coordinator Joe Moorhead, among others.
Sitake recently signed an extension to his contract through the 2025 season, his second extension since the turnaround from a 4-9 season in 2017. When athletic director Tom Holmoe announced the two-year move at the start of the current season, he said he was happy to lock up Sitake's status with his alma mater "for years to come."
The former fullback who played on LaVell Edwards' final team in 2000 has a deep connection and love to his alma mater, and there's no doubt that Sitake has felt an incredible loyalty to the program he inherited from former coach Bronco Mendenhall, taking a good program and turning it into one attractive as a Big 12 expansion candidate that will begin play in the new league in 2023.
Athlon Sports' Steven Lassan called any shot Washington might take at Sitake "a longshot," but one that merits discussion. Even if it would "take a lot" to lure Sitake, it might be worth making a phone call or sending an email, at the very least.
"Not only is Sitake coaching at his alma mater, but the program is set to move to the Big 12 in 2023," Lassan wrote. "The Cougars went 9-4 in Sitake's debut in '16 but followed that season with a disappointing 4-9 mark in '17. However, Sitake quickly got the program back on track by winning at least seven games in each of the last four years, including an 11-1 mark last season."
Loyalty is the biggest question mark around Sitake and any move he might make away from BYU. He's loyal to his alma mater — as loyal as anybody can be in the ever-changing world of college football. But is there a price point that might make him re-consider his allegiances?
Mendenhall was also loyal to the university that took a chance on him as a defensive coordinator and then first-time head coach — until Virginia came into the picture. The Alpine native took a $3 million pay raise in his move to Charlottesville, which included a trip to the ACC Championship and Orange Bowl berth among his six seasons.
Mendenhall also wasn't a BYU grad; Sitake is. How much weight does that carry?
More on Washington's coaching change
"Would he leave his alma mater?" wrote Chris Vannini from The Athletic of Sitake. "BYU is also on its way to a Power 5 conference in the Big 12. But the Washington job has a higher ceiling without the unique challenges that come with recruiting at BYU."
Another former BYU coach could also find himself in the Huskies' targets: former Cougar offensive coordinator Jeff Grimes, who has Baylor at 8-2 and ranked 11th in the latest Associated Press Top 25 using a similar offense that he invoked at BYU a year ago.
"Grimes has put together back-to-back spectacular years at BYU and Baylor," wrote Dennis Dodd at CBS Sports. "In his last year at BYU in 2020, he coached Zach Wilson, who threw for 3,700 yards and only three interceptions. The Cougars were third nationally in scoring and No. 1 in yards per play. This season at Baylor, Grimes has taken a former linebacker Gerry Bohanon and made him a legit run-pass threat. Abram Smith is a 1,000-yard rusher. Grimes called an amazing game in Saturday's upset of Oklahoma."
Washington has deep pockets; the school is paying the remaining $9 million on Lake's contract by firing him without cause, and has plenty of resources to persuade any candidate that the Huskies find appealing.
Does that include Sitake? Time will tell. But don't be surprised if the first Tongan-born head coach in Football Bowl Subdivision history isn't on a lot of coaching searches over the offseason. That's the price of success, and BYU has experienced plenty of it over the past few seasons.
×
Related Stories