Estimated read time: 3-4 minutes
SALT LAKE CITY — Thousands of individuals and families in need, made their way to the Smith's Ballpark parking lot on Wednesday for the Crossroad Urban Center's annual turkey giveaway.
The event operated with the help of volunteers from local schools, churches and community members, as well as donations received by Harmons Grocery Store. According to Crossroads Urban Center's executive director Glenn Bailey, the turkey giveaway is an event they look forward to every year.
"We have been putting this event together since 1966, and Harmons has been helping us for about 20 years now," Bailey said. "Through the first part of November, Harmons has a program called 'Give a Gobble" where customers can donate food to the Utah Food Bank and Crossroads Urban Center to help provide turkeys and side dishes for families in need for Thanksgiving. Last year, we gave out 3,450 meals, and this year is a little slower, but we are prepared to serve 3,000."
Due to the COVID-19 pandemic, last year's giveaway was a drive-thru event in order to limit contact. This year, event organizers decided to do the same.
"It went so well that we decided to keep it going," Bailey said. The pandemic is still ongoing, so doing it this way also helps limit contact and the spread of illness."
And while the majority of the turkeys were distributed through the drive-thru method, there was a place set aside for those without transportation.
Cara Lingstuyl, who said she used to work for Crossroads Urban Center, was there Wednesday volunteering with her two daughters and a family friend. Together, they were charged with the task of handing out food to many homeless individuals in the area.
Lingstuyl and her daughters, 13-year-old Nora Vardeny and 16-year-old Lauryn Vardeny, have been volunteering at this event for nearly a decade. The mother said that it's good for her family to serve the community.
"My daughters have been doing this since before they can remember," Lingstuyl said. "We come here every year, and it is really good for us to serve others in need."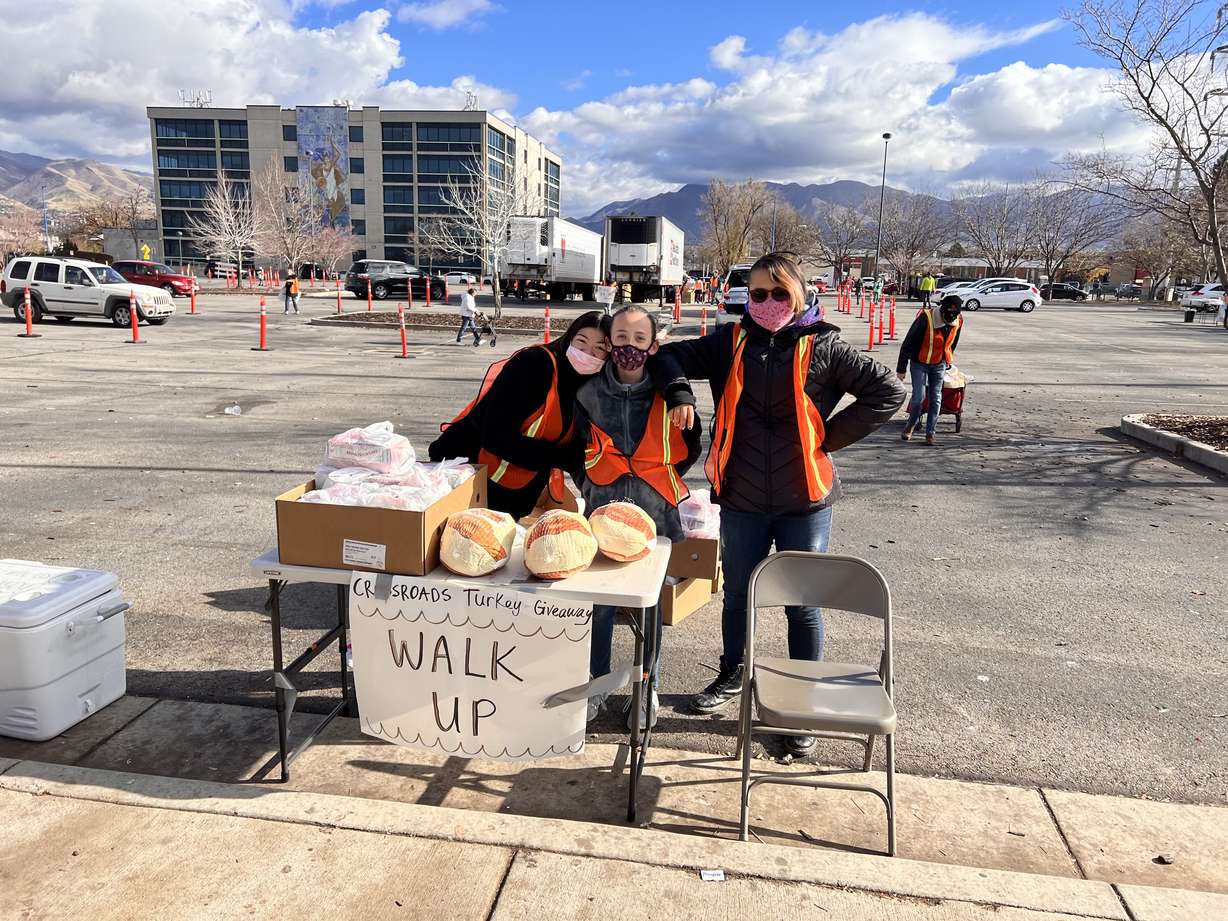 Family friend, 15-year-old Saerichai Baker-Rajsavong, said that handing out food to the homeless nearly brought her to tears.
"There are many homeless people across the street near the 7-Eleven, and we've had a lot who have come over here to get sandwiches," Saerichai said. "We actually brought some cookies to give to the volunteers but ended up giving them to the homeless people who came. There was even a child who came over here with his dad who was in a wheelchair. It almost brought me to tears. I have always loved finding ways to serve, and I'm just so glad I get to be here."
The event went from 10 a.m. to 3:30 p.m. and saw a steady stream of people who were able to benefit from the services offered.
While this event may be over, Bailey said there are still many opportunities to serve. Anyone wishing to help can visit crossroadsurbancenter.org.
---
×
Photos
Related Stories