Estimated read time: 6-7 minutes
This archived news story is available only for your personal, non-commercial use. Information in the story may be outdated or superseded by additional information. Reading or replaying the story in its archived form does not constitute a republication of the story.
PROVO — The past weekend has been a total blur for BYU athletics.
Try to follow it and your head will eventually start spinning. But thanks to the wonders of modern technology, complete with 24/7 livestreams and cable networks to broadcast the biggest moments, any fan could see it unfurl.
From the moment Whittni Orton and Conner Mantz crossed the finish line as the first duo from the same school to win concurrent NCAA cross country championships since 1998 to 16 hours later, when the last employees were shuffling out of the Marriott Center following BYU men's basketball's fourth-straight win to open the season, the day was an electric blur.
The Cougars may have just pulled off the most remarkable 24 hours in the history of college sports. A lot of college football teams won Saturday — BYU is no exception — and just as many college basketball teams did, as well.
No one is taking away No. 23 Utah's win over Oregon, a win that will assuredly drop the Ducks from No. 3 in the College Football Playoff rankings and likely ends the Pac-12's hopes at a CFP berth for the fifth-straight year. That win is incredible, and was arguably the biggest shift in the sport through Saturday.
But it was still just one sport.
The Cougars' football team also won Saturday — a much-less-noticed and heralded 34-17 win at Georgia Southern that pushed BYU up to No. 13 in the latest AP poll — on the same weekend that every athletic program in Provo found success. Consider the following, with full acknowledgement that something probably slipped through the cracks:
Mantz and Orton won cross country individual titles, the second for Mantz and a performance by Orton that paced the women's team to a runner-up finish.
BYU women's basketball improved to 4-0 with an 84-40 rout of Boise State.
BYU women's volleyball clinched its sixth West Coast Conference title in seven seasons, setting up the fourth-ranked Cougars for (another) NCAA Tournament bid, and likely high seed to go along with it.
BYU football pulled away for a 34-17 win at Georgia Southern, likely (at least) maintaining its No. 14 ranking in the College Football Playoff for at least another week with a 9-2 record.
BYU women's soccer advanced to the Elite Eight for the fourth time in program history, avenging last year's NCAA Tournament loss to Virginia with a 1-0 win over the top-seeded Cavaliers in Charlottesville that primes the pump for a potential home match in the regional final (if things fall appropriately).
BYU men's basketball rolled to a 4-0 start, and awaits a likely spot in the Associated Press Top 25 thanks in large part to Tuesday's 81-49 rout of No. 12 Oregon at the Phil Knight Invitational in Portland.
And that's not even mentioning other events, like women's soccer alum Ashley Hatch winning a National Women's Soccer League title with the Washington Spirit or BYU men's soccer winning its third club championship since relegating itself from the semipro Premier Development League in 2017. There are probably plenty of accolades that the university garnered in the past 24 hours, other big wins or trophies won. But we'll stop there, because there has to be a limit at some point.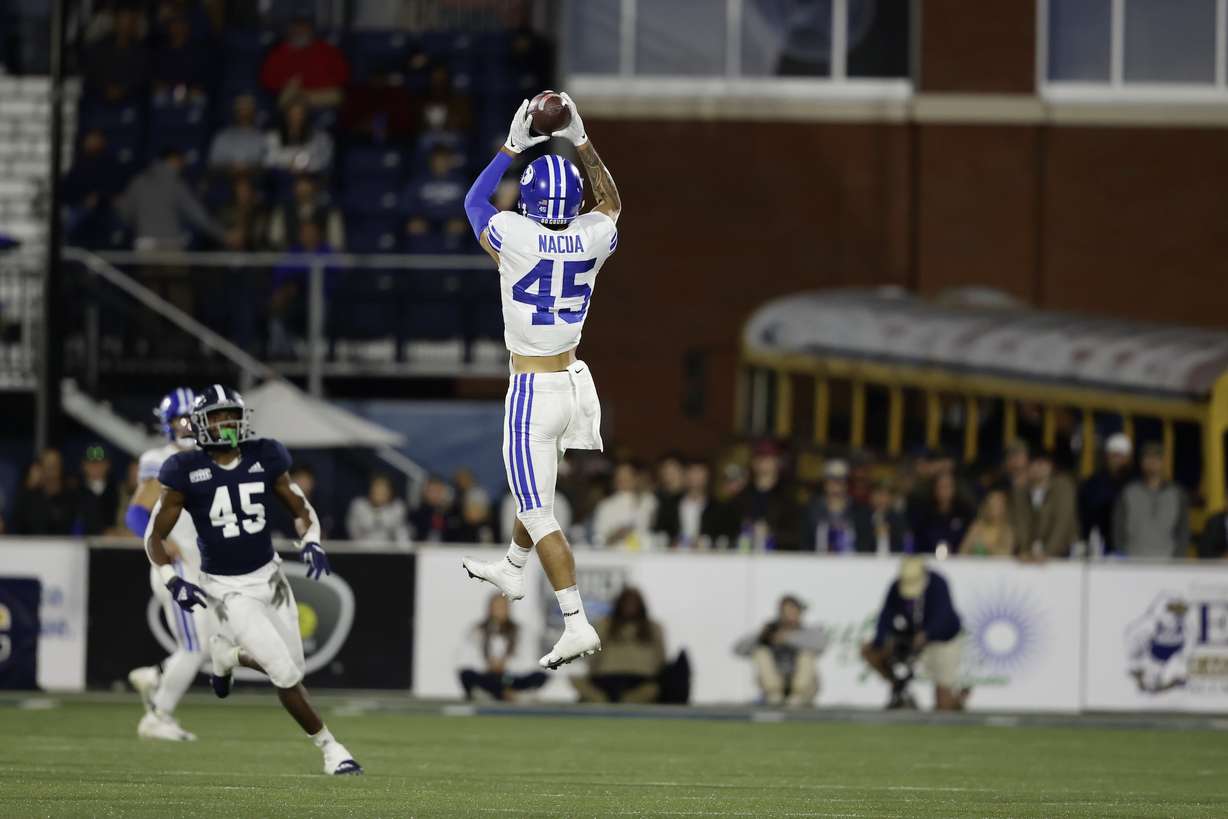 Suffice it to say, if you are a BYU fan, you were probably quoting Ice Cube circa 1992 on Saturday night: "It was a good day."
Success breeds enthusiasm, which often breeds more success. And right now — while riding the emotional high of a Big 12 Conference invitation still two years from fruition — the Cougars are feeding off one another.
"I think everybody by Monday is going to be ranked in the Top 25 in the country. It is just incredible," BYU basketball coach Mark Pope said with tongue only slightly in cheek. "What's happening at BYU right now, there are really no words.
"This is a special place. When you come here, you make a commitment to actually put away some things in your life and dedicate yourself to school, to growing as a human being, and your sport. And you're starting to see the fruits of that in every sport on this campus; it's super dramatic. It's incredibly impressive. This is a special place, and it's exciting."
Pope is riding high on his sport, but he's not the only 4-0 basketball team in Provo. Coach Jeff Judkins and the women's program also improved to 4-0, and much like Pope with star point guard Alex Barcello, Juddy also has a generational talent leading his team in Shaylee Gonzales (to say nothing of the dynamic supporting cast of players like Gavin Baxter, Caleb Lohner, Paisley Harding and Sara Hamson, to name a few).
It's a golden year in BYU athletics, one where the early returns on fall and winter sports include an 8-0-1 record against the Pac-12, including a 4-0 record in football (with a chance to go 5-0 Saturday at USC, the same day men's basketball plays at Utah — which is also undefeated).
Fans know it, too. Rather than sit at home and indulge in the past 24 hours in high-definition and surround sound, an announced crowd of 15,000 fans — including a student section that filled every seat from courtside to rafters — flocked to the Marriott Center for a blowout victory over an NAIA program because the men's basketball team was just three days removed from routing the Ducks by an equally wide margin.
"We just played a team that doesn't have the same status as some other teams we played, and the gym was almost full," Lohner said. "When we won the other night, the ROC was at the airport welcoming us back to Provo. That's special; not a lot of programs have that.
"It's cool to see this energy that we're building, and all the credit goes to football, cross country, soccer. All the other teams in BYU athletics are building this BYU stamina, and it's really cool to see. I think right now is a special time for BYU."
With that kind of energy, good days might not just be in the past, either.
"For the ROC to show up like they did tonight, it's just nuts," Baxter said. "I think the ROC is borderline delusional — in a good way — with how hyped they are. It means the world to us. We wouldn't be where we are without them.
"We need the Marriott Center, and the energy that comes from playing at home. It's a special place. We've got to protect this floor."
×
Related stories
Most recent BYU Cougars stories