Estimated read time: 4-5 minutes
PROVO — Pac-12, Mountain West, even lower division; it doesn't matter for BYU basketball.
Next stop: Top 25?
Alex Barcello had 16 points and three assists, and Gavin Baxter added 13 points, five rebounds and two blocked shots as BYU made a case for a spot in next week's Associated Press Top 25 with a 97-61 rout of Central Methodist to improve to 4-0 Saturday night at the Marriott Center.
Caleb Lohner supplied 19 points, seven rebounds and two assists for the Cougars (4-0), who got 11 points and seven rebounds from Gideon George and 10 points from Spencer Johnson.
Perhaps Lohner's night was the biggest, even given the competition. BYU should have had little trouble with an NAIA team — even one undefeated that has won five of its first six games by 16 or more points.
But Lohner shot just 1-for-3 from the field earlier in the week against Oregon, with 2 points and two rebounds. Getting him back on track was a priority, which is why he called a personal trainer as soon as the Cougars returned home from Portland and put himself through an extra workout to get right.
On Saturday night, he did, shooting 8-of-10 from the field and 3-of-3 from the free-throw line in 18 minutes. He also kept things simple, taking advantage of Te'Jon Lucas' season-high seven assists and leading the Cougars on the glass 37-22.
"My mentality right now is I'm going to be here every day, and I'm going to keep showing up and doing what this team needs," Lohner said. "Oregon was a huge win. Yeah, I didn't get the minutes I would've wanted — but we came out with the win. I did what I needed to do.
"It's just that constant commitment to the team that coach builds. I play for my teammates, my teammates are going to play for me; best locker room in America."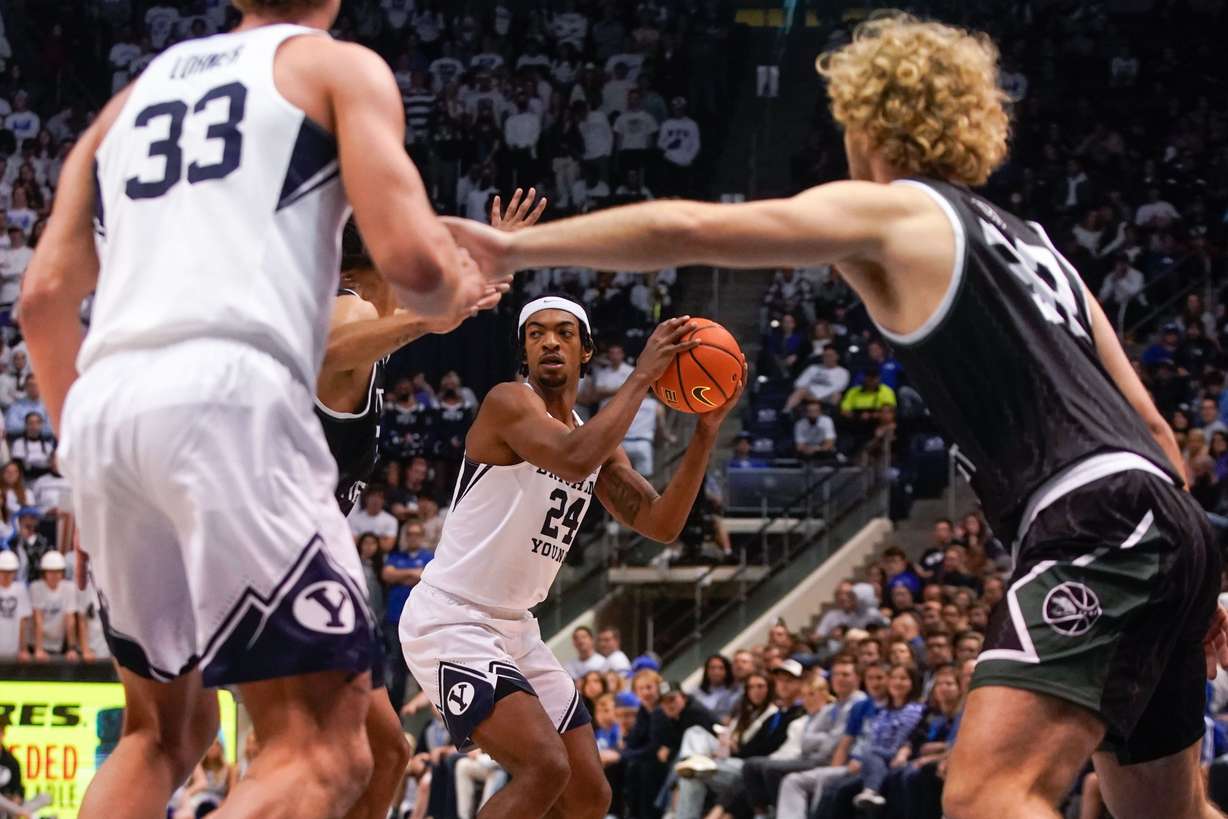 Jonathan Brown scored 14 of his 24 points in the first half for the Eagles, an NAIA team from Fayette, Missouri that opened the season 7-0.
"We're getting challenged every way," BYU coach Mark Pope said. "Four of our first five games are NCAA Tournament teams with basically their whole roster back; it's awesome. It's what we are.
"Going to Utah will always be an adventure. These rivalry games are the best; Utah State is playing great right now. Utah Valley is playing great right now. Weber State is undefeated. Basketball in this state is on fire, and we play all of them. We're gonna have a lot of work to do there."
Barcello drained four of the Cougars' seven first-half 3-pointers en route to 16 points, and BYU shot 54% from 3-point range en route to a 46-29 halftime lead.
BYU held the Eagles to three field goals in the final seven minutes of the half, including a 2:10 scoreless drought heading into the halftime break. Baxter had a season-high 7 points and four rebounds for the Cougars, who outrebounded their NAIA opponent 20-12 before the break.
Lohner pushed the lead to 30 points, 65-35 with a dunk with 11:49 remaining for BYU, which had a season-high six players score in double figures in rolling to the win, a 4-0 start with a brutal schedule that includes returning NCAA Tournament teams and at least one top-15 team (for now, at least).
"It's just a testament to how hard we worked, and how much time we put in the gym — how much this team is a team, with guys who are willing to make plays for other dudes," said Baxter, who continues his recovery from a season-ending knee injury last year. "It's really special to be 4-0, and we've got to keep the momentum going."
His teammate agreed.
"It is cool to see we've done some things that some teams haven't done yet," Lohner added. "Just to see the steady climb is important to the guys; we just spent a whole chunk of time in the summer, doing two-a-days, and that reward of being 4-0 to start the season does something to us.
"If we keep doing the things we're supposed to, we're gonna be a really good team."
One of them wasn't Fousseyni Traore, who did not play after injuring his ankle when a player fell on him near the end of the Cougars' 81-49 rout of Oregon in Portland. Pope said the budding freshman star from Wasatch Academy will have additional treatment during the Cougars' off-day Sunday, and know more about his long-term status by Monday — when BYU turns its attention to Wednesday night's contest with Texas Southern, the Cougars' fourth NCAA Tournament opponent from a year ago in five games.
"He's just trying to recover from that right now," Pope said of Traore, who wore the team's official "Kill Chain" on the bench Saturday night. "He looked good, didn't he? It hits him way better than it did (graduate assistant Brad Kitchen). Brad felt super swaggy, but it just looks right on Fouss."
×
Photos