Estimated read time: 5-6 minutes
PROVO — Clinging to a 20-17 edge in the team's first-ever visit to Georgia Southern, No. 14 BYU needed a former Orem High standout to step up and clinch victory against an Eagles team playing under an interim head coach.
You thought this was a reference to Puka Nacua?
Jakob Robinson, step right up.
Jaren Hall threw for 312 yards and two touchdowns, and Robinson secured two interceptions during a second-half shutout as the 14th-ranked Cougars pulled away for their ninth win of the season, 34-17 in front of an announced sellout crowd at Paulson Stadium in Statesboro, Georgia.
The crowd had a huge swatch of BYU fans, but it was hardly harmless. BYU coach Kalani Sitake said his players were hit by "all sorts" of food items — including a burrito — as they exited the field. The Cougars' first-ever trip to Statesboro was marred by a motivated Eagles team, a 20-point spread, and 11 combined penalties, including two by Georgia Southern during the victory-formation final drive when lineman Joe Tukuafu's helmet was knocked off.
"Obviously, Georgia Southern showed up and were ready to play. I think we got their best shot," Sitake said. "There was a lot of stuff going on. We were getting hit by burritos on the sideline. It was pretty hostile, but I'm just really proud of the way our guys bounced back."
Wait … a burrito?!?!!
"I don't know why you would waste a burrito," Sitake joked. "A lot of our guys got hit by different types of food; maybe that's just the giving way here at Georgia Southern."
More importantly, BYU used a lock-down defensive effort anchored by Ben Bywater's eight tackles and two tackles for loss and a breakout performance by Robinson, who had four tackles in addition to his two picks, to shut out the Eagles in the second half on their senior night.
"Stud," Sitake said of Robinson, the Utah State transfer who had his first multi-interception game since high school, a "top-four" pick in his career by his own admission. "We put him in position to play with his eyes on the quarterback, and to make those plays on the deep throws, he played the ball really well. I thought he tackled well tonight, too.
"A lot of young guys making plays makes me happy."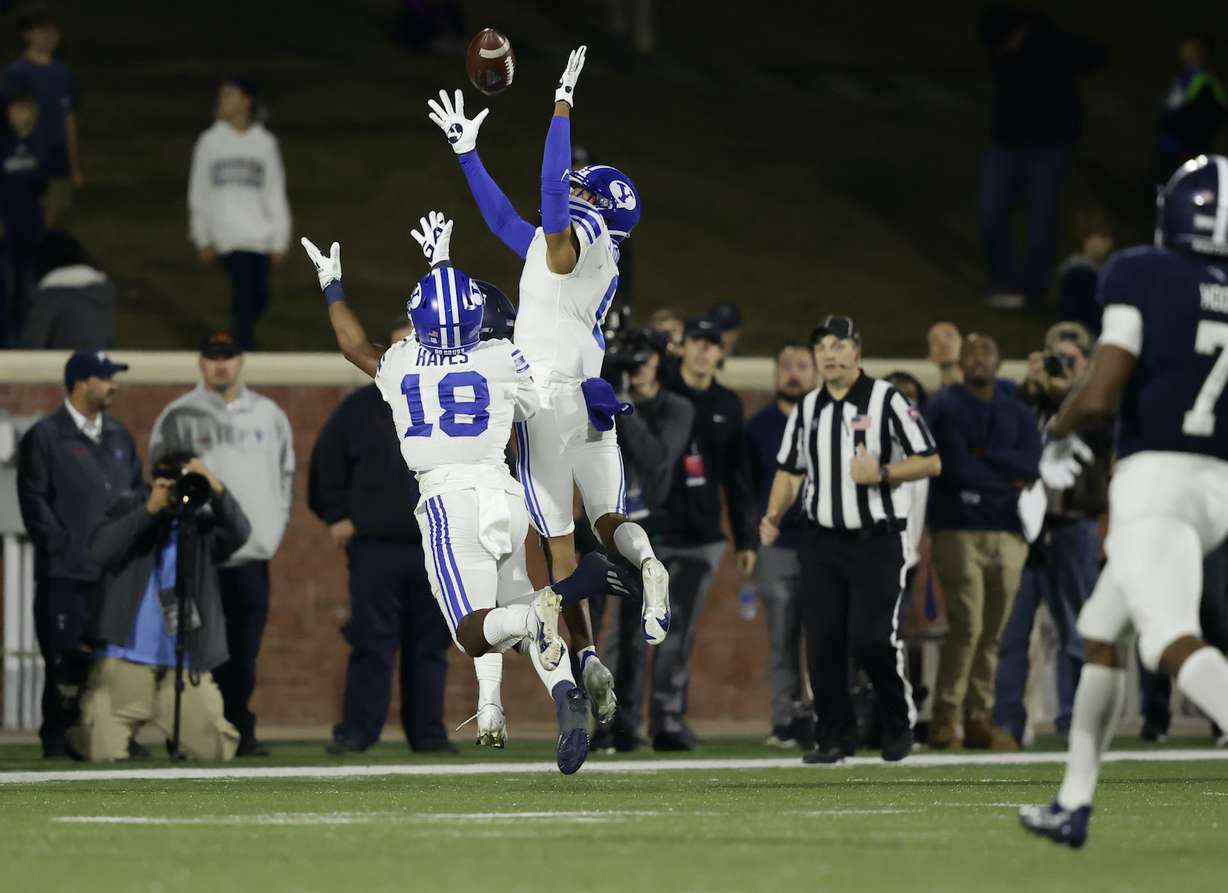 The Cougars (9-2) rolled up 510 yards of offense against the Eagles, who were playing with an interim head coach and with future coach Clay Helton sitting near the press box. BYU averaged 7.5 yards per play, 18.4 yards per completion, and got 136 yards and a touchdown from Doak Walker Award semifinalist Tyler Allgeier — most of it in the second half.
And that other Orem High grad? The slightly higher profile Nacua? He caught five passes for 83 yards and two touchdowns, so we should probably give him some credit, too.
"He's a stud, man," Hall said of Nacua, who also had two sweeps for 20 yards rushing. "He balls out in the first half, gets injured, then comes right back in. The trainers took care of him, and he's a warrior. A lot of our guys are."
The Cougars averaged 10.3 yards per play in the first quarter, including a 5-yard touchdown run from Lopini Katoa and 7.4 yards per carry by Allgeier, who had just two carries in the second quarter.
But hold on, wait; we need to go back to the burrito. Was there really a burrito on the field?
"I think that was a first-half thing," said Nacua, who Sitake said was "still hurting" after he returned from an apparent knee injury in the first half. "I think it would've been pretty feisty in the second half."
Robinson, who also had four tackles, didn't see the mysterious burrito, either.
"Kalani said he got hit by a burrito, but I didn't see anything," he said. "I was sitting on the bench."
Hall completed six of his first eight pass attempts for 106 yards, and BYU took a 14-3 lead on the redshirt sophomore's 5-yard strike to Nacua on the first play of the second quarter.
After Georgia Southern took a 14-10 lead on Logan Wright's second touchdown in the middle of the second quarter, the Eagles were scoreless on their next six drives — including two picks by Robinson for his second and third of the season that fueled a 20-0 run on offense.
"Coach just said play our brand of football, focus on what we need to be focused on," Robinson said. "Everyone started focusing and played to themselves."
Redshirt freshman Connor Cigelske completed his first five passes for 69 yards, and Wright capped an eight-play, 72-yard drive with a 3-yard TD plunge to pull Georgia Southern within 14-10 with 10:17 left in the half.
But a reversed onside kick attempt, a failed fourth-and-two and Max Tooley's disqualification via targeting led to Logan Wright's 11-yard score that gave Georgia Southern a 17-14 lead midway through the second quarter.
Jake Oldroyd pulled back a pair of field goals to give BYU a 20-17 halftime edge. But the damage was done — including to Nacua, who appeared to injure his knee when a defender twisted his leg on a tackle in the second quarter.
Nacua came back in the second half, making a big impact that included a 17-yard catch with a spin move that set up Allgeier's first touchdown on a 1-yard plunge up the middle on the Cougars' first drive to set up the big second half.
All the chippiness — burritos included — subsided as BYU did what it did best: get the ball to Allgeier, and ride the offensive line to victory No. 9 of the year.
"They kept us on our toes the whole game. But Mr. Allgeier and our O-line did it again," Nacua said. "We trust in them … when we get the ball in the fourth quarter, it's hard to bring down that guy."
Wright ran for 50 yards and two touchdowns for Georgia Southern (3-8) and Cigelske completed 11-of-14 passes for 122 yards and an interception in his first career start while guiding a Georgia Southern option-based offense to 268 yards with 144 on the ground.
BYU closes the regular season next Saturday at Southern California, which fell to 4-6 with a 62-33 loss to rival UCLA.
×
Photos
Related Links
Related Stories