Estimated read time: 6-7 minutes
This archived news story is available only for your personal, non-commercial use. Information in the story may be outdated or superseded by additional information. Reading or replaying the story in its archived form does not constitute a republication of the story.
PROVO — Whittni Orton's college career has veered left, right sideways and upside down during her tenure at BYU.
The senior finished in the best place, though: on top.
Running in the final cross country meet of her collegiate career, Orton put in a finish for the ages at the NCAA championships, rallying from the second position over the final kilometer to win the women's 6K individual title in 19 minutes, 25.4 seconds at Apalachee Regional Park in Tallahassee, Florida.
Orton's title is the first in BYU women's cross country history, and when added to Conner Mantz — who won a second consecutive NCAA title for the first time in BYU history — the duo became the first pair of champions from the same school since 1988.
The Panguitch High product who won four state cross country and track and field titles, three in basketball and two in volleyball, ran sparingly during the 2021 season due to injuries and recovery after finishing 17th during the 2020 spring championships in 20:35.6.
A year after heartbreak at nationals and a week after sitting out of the NCAA's Mountain Region championships in Provo to rest, the 5-foot-7 harrier reached the pinnacle of her sport's collegiate climbs as she envisioned overcoming the challenges of the past calendar year.
"That definitely fueled me a lot," Orton told ESPNU of last year. "I did think of that many times, not just today but throughout the whole year. I think the setback helps with the comeback."
The BYU all-timer in perseverance doubled down in going out on top.
Orton ran in second place at the final kilometer, pacing a BYU team that trailed only North Carolina State. The senior kept her sights on the front of the pack with 1K to go, then put on a kick to end all finishing kicks as she overtook North Carolina State's Kelsey Chmiel — the headwind leader early — and never looked back in winning by four seconds over runner-up Mercy Chelangat of Alabama, the reigning individual champion.
It was a stretch that Orton was running for the first time Saturday — but over and over again in her mind all week.
"I visualized it for days now," she told ESPN while surrounded by her teammates. "I kind of stopped myself from thinking about it; you can't think about it or bad things are going to happen. It was a wild moment, for sure."
North Carolina State took home the team title, followed by defending national champion BYU, New Mexico, Colorado and Notre Dame.
Orton led a second-place finish for the 2020 spring national champions, which got a 12th-place finish from Anna Camp-Bennett and 38th from Aubrey Frentheway.
Camp-Bennett, the BYU senior from Millard High who won the national title on the track in the 1,500-meter run, finished in 19:39.3. Frentheway, a junior from Cheyenne, Wyoming, was 38th in 19:55.7.
North Ogden's McKenna Lee and American Fork's Sara Musselman rallied from outside the top-100 early to finish 46th and 53rd, respectively, in 20:02.0 and 20:08.6 for the Cougars.
Southern Utah's Alison Pray finished 20th in 19:47.2 while running as an individual. Weber State's Summer Allen was 35th in her third NCAA championships, finishing in 19:54.3 to clinch her second All-American status. Wildcat teammate Billie Hatch was 59th in 20:12.0.
Utah's Bella Williams led the Utes to 20th place overall with a 51st-place performance in 20:07.9 — the second-best finish in the Utes' cross country history.
Utah State's Katie Struthers was 81st in 20:23.9, helping the Aggies to 28th as a team.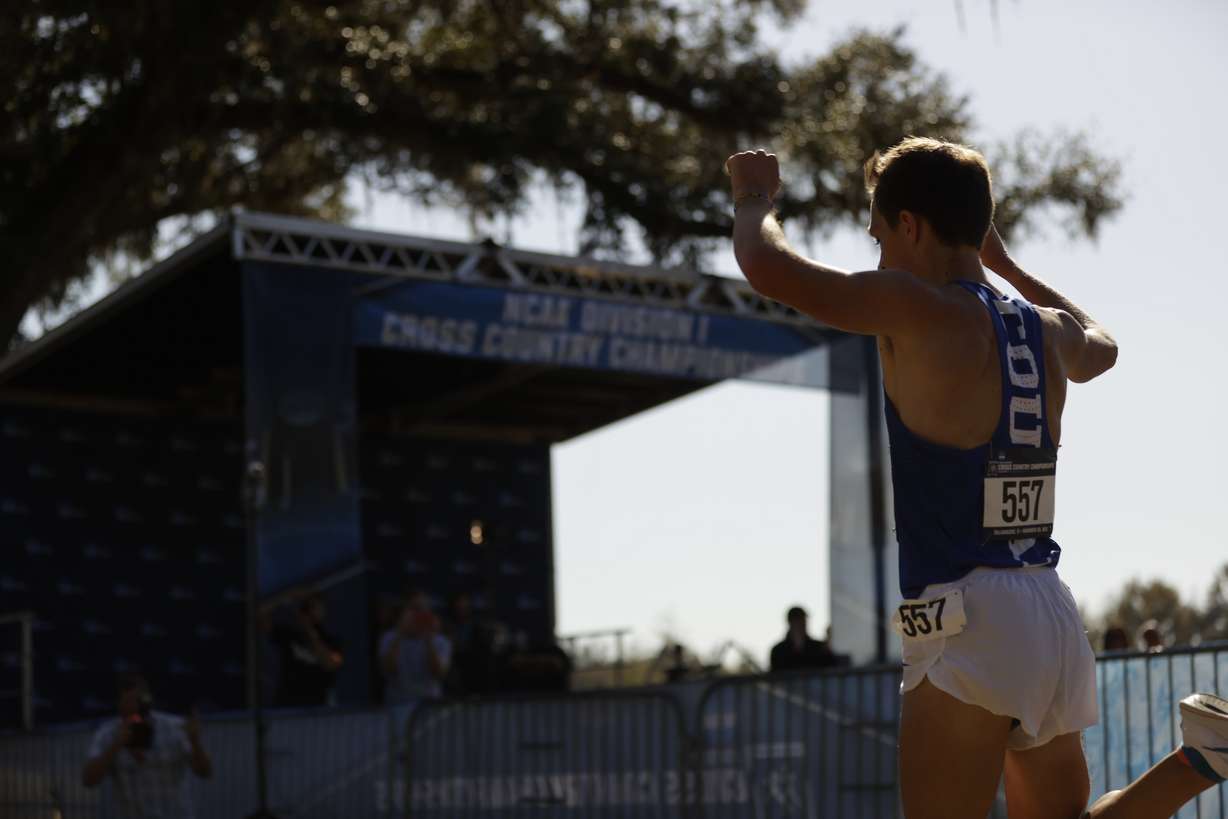 Men's 10K race
In the men's race, Conner Mantz forced an incredibly fast start at Apalachee before leaving the field in the dust for his second consecutive individual title — the first to accomplish the feat in BYU history.
Mantz pulled a half-dozen competitors into "the Mantz Zone" with a strong early pace through the first 5K. But the reigning individual champion hit another level with 1K left.
By the final meters, only Campbell's Athanas Kioko tried to hang with Mantz. But the Smithfield native found an even higher gear, overtaking his only competition at the final straightaway to win his second consecutive title.
"Kioko made it a hard series, and I knew if I just stayed with him, I could get him in the last 100 meters," Mantz explained after the race. "When he slowed down, I knew it was my time.
"I made a really hard surge, and then just enjoyed the last 100 meters down the hill."
Mantz's 28:33.1 set a course record, and he's the only NCAA runner to win two individual titles in the same calendar year. BYU has won four individual men's titles in the sport — Mantz has two of them, one more than his coach Ed Eyestone (1984).
"Eyestone has now coached three national champs, so I guess he has four," Mantz joked with the ESPNU broadcast.
Mantz's consecutive individual titles are the first in the sport since Oregon's Edward Cheserek won three in a row in 2013-15.
Obviously, the COVID-19 pandemic played a role in his unique feat, though; for the first time ever, the NCAA national championships were held in the same year after all fall sports in 2020 were pushed to the spring, followed by a more "normal" season in the fall.
Much like seven months ago, the "normal" race belonged to Mantz, though. The Sky View product held off runner-up Wesley Kiptoo of Iowa State by more than five seconds.
"It's kind of fun," Mantz said. "COVID definitely put last year on hold. It was kind of fun to come back and compete again on the grass at a national championship. It's just interested."
Mantz could have turned pro after a stellar season a year ago, but after an eight-place finish at the U.S. Olympic trials, he decided to return to college for one more season before signing a lucrative shoe contract.
The Cougars are glad he did — even if his competitors like Kiptoo, Kioko, Stanford's Charles Hicks and Michigan State's Morgan Beadlescomb in the top five aren't.
"I went into this knowing that maybe one or two or four of these guys could beat me today," Mantz said. "But I just needed to focus on the process.
"As long as I gave my all, I was going to be perfectly content with the race. I remembered that before the race, during the race."
Northern Arizona placed three in the top-11 for the Lumberjacks' second consecutive team title, followed by Iowa State, Oklahoma State, Arkansas and Stanford.
Casey Clinger added a top-10 finish for BYU, which finished seventh as a team. The american Fork product finished in 28:55.7 with a strong 2:22.1 opening split and an even better 2:53.2 final kick.
Brandon Garnica added a 54th-place finish for the Cougars in 29:41.8, Lucas Bons finished No. 102 in 30:10.1, and Garrett Marsing was 118th in 30:20.7.
Weber State's Christian Allen finished 16th in 29:17.0, joining his wife Summer with All-American status for the second time in his career.
Southern Utah's Christian Ricketts finished 71st in 29:56.6 to lead the No. 24 Thunderbirds.
×
Photos
Related stories
Most recent BYU Cougars stories