Estimated read time: 5-6 minutes
This archived news story is available only for your personal, non-commercial use. Information in the story may be outdated or superseded by additional information. Reading or replaying the story in its archived form does not constitute a republication of the story.
PROVO — Alex Barcello showed BYU fans exactly why he came back for his second senior season.
Oregon Duck supporters, too.
Barcello poured in 25 points on 9-of-11 shooting, and BYU shot 60% from the field in dismantling No. 12 Oregon 81-49 Tuesday night at the Moda Center in Portland, Oregon.
And the first thing he wanted to talk about was his teammates.
Like Te'Jon Lucas, who had 12 points and three assists, or Fousseyni Traore, who added 10 points, six rebounds and two blocks off the bench as the Cougars (3-0) became the first unranked team to win over a top-15 opponent away from home by 30-plus points since UConn's win over Virginia on Nov. 29, 1993, according to ESPN Stats and Information.
Then there was Spencer Johnson, who had 10 points, three rebounds and three assists; Seneca Knight, who had 9 points, six rebounds and three assists; and Gavin Baxter, who had an emotional 7 points, five rebounds and two blocked shots in his best game of a season only two years removed from devastating shoulder and knee injuries that cost him the better part of the past two years.
"I think it starts off with my teammates," said Barcello, still drenched from a postgame shower where his teammates threw water all over coach Mark Pope and his hundred-dollar suit. "We've got a lot of guys who can create; it helps us space the floor really well. I have to credit all of my guys — it's so much fun playing with all of them."
But Tuesday night was about Barcello — from a magical start to an even better finish, one where the 6-foot-2 point guard didn't play a second of the final 2:50 of the game.
With an ESPN platform showing off two of the top teams in America, Barcello and Co. turned an Associated Press Top 25-adjacent matchup — the Cougars received 26 votes in Monday's poll — into a laugher by halftime.
It didn't end with Barcello. But it started with the sixth-year senior back for one final go as a COVID-19 senior — one last chance to give back to a team that took him in as a "broken" transfer from Arizona and turned him into an AP All-America honorable mention a year ago in the Cougars' first NCAA Tournament appearance in five years.
"There's just no words left for this guy," Pope said. "I know the country hasn't seen him; I don't understand exactly why. But this is Alex Barcello, this is what he does.
"He's not just 9-for-11, but he does it 100% in the context of how we play. He's not breaking things off, going into isolation, forcing shots. He's just become a master at what we do."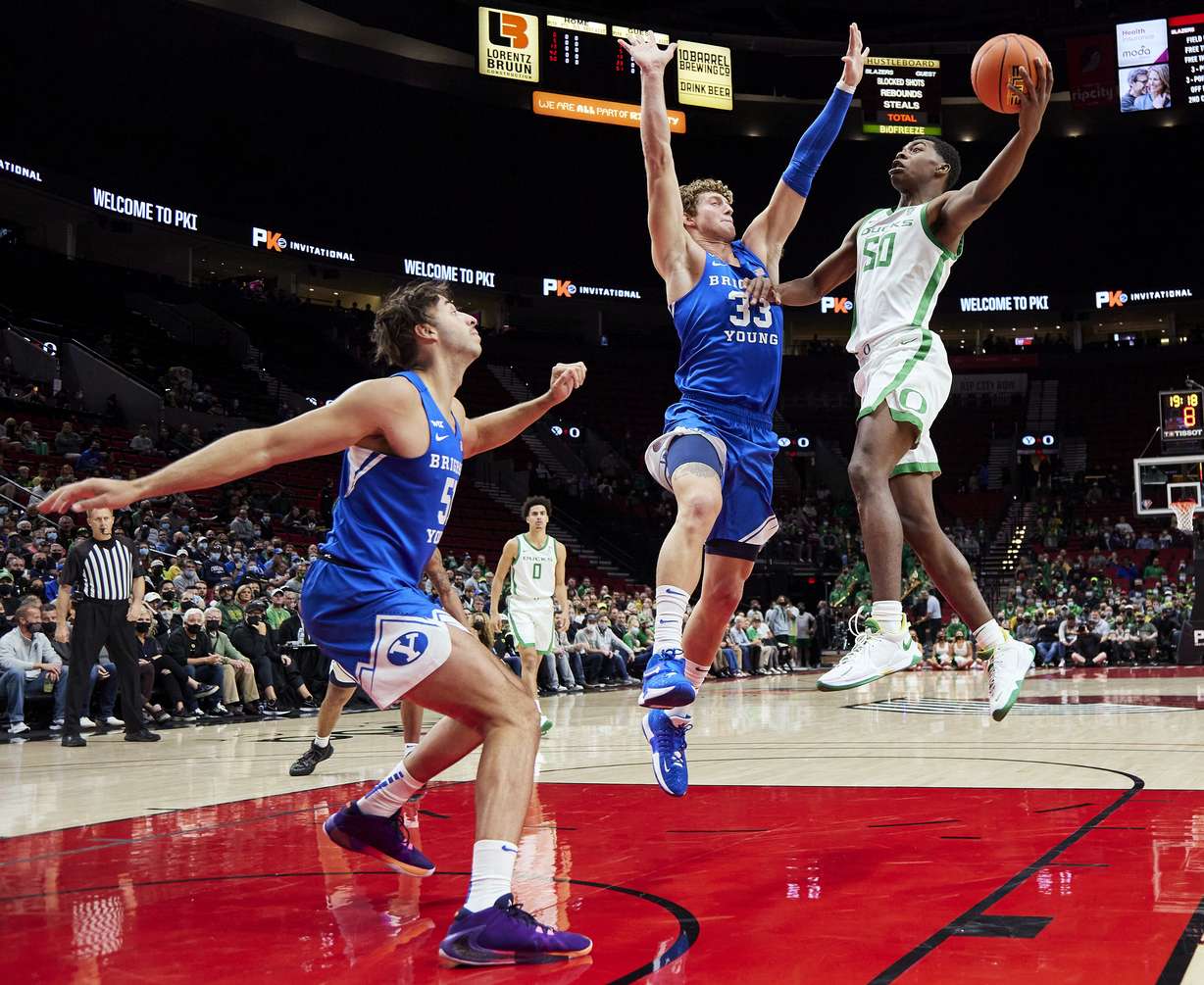 Barcello nailed his first eight shots from the field, including three 3-pointers, and nearly outscored the Ducks with 20 points en route to a 52-28 lead midway through the second half. The Chandler, Arizona, native didn't miss until an awkward 3-point attempt with 13:35 remaining, when the Cougars led by 24.
He was subbed out two seconds later, but it barely cooled him off.
And when he was, his teammates took over. That, and a little defense.
Whether it was Traore and Baxter dominating the paint and outscoring the Ducks 42-28 inside or Johnson and Knight leading a bench mob that rolled to a 33-6 advantage, BYU fired on all cylinders. It wasn't just a team looking to go 3-0, but one looking to do so despite choppy performances in opening against Horizon League favorite Cleveland State and Mountain West power San Diego State.
Eric Williams Jr. had 12 points to lead Oregon (2-1), which shot just 32% from the field and a mere 3-of-14 from 3-point range in their worst loss as a ranked team in program history — a performance that head coach Dana Altman said made him "totally embarrassed."
"They outworked us, they outprepared us," he said. "They got what they wanted."
As much as Pope would love to take credit for what happened Tuesday night in the Phil Knight Invitational — and he deserves plenty of it — when he quickly shifted the game back to his players. Barcello, Lucas, Traore, Baxter, Johnson, Knight — right down to Gideon George, the Cougars' top defensive wing who had four rebounds, two assists and one rim-rattling dunk from Johnson in the second half as the Ducks tried to get back into it.
They couldn't, though; Oregon never led in a game where BYU held an advantage for 37:50, and led by as much as 33 points.
BYU rose 19 spots in KenPom's latest rankings with Tuesday night's win. A berth in the AP Top 25 is sure to follow.
The only question is how high the Cougars will be ranked upon their initial entry next Monday.
The third year of the Mark Pope era is off to a flying start.
Or maybe it's the Alex Barcello era.
"I say all that, and it's just Alex Barcello and Te'Jon Lucas," Pope said after a lengthy discussion about stats, tactics and schemes. "I've got such a talented back court right now. Te'Jon Lucas is talking about making a movie right now.
"Te'Jon has this poise and experience of a veteran guy, and then Alex did what he did. Really, there's not a lot of coaching going on. We've just got an incredible back court."
BYU returns home to host Central Methodist, an NAIA school from Fayette, Missouri, this weekend. Tipoff for Saturday's game is scheduled for 7 p.m. MT on BYUtv.
×
Photos
Related links
Related stories
Most recent BYU Cougars stories