Estimated read time: 5-6 minutes
This archived news story is available only for your personal, non-commercial use. Information in the story may be outdated or superseded by additional information. Reading or replaying the story in its archived form does not constitute a republication of the story.
PROVO — A lot of college football programs got better Wednesday during the first day of the NCAA's national signing period.
If you are an ardent follower of one program, it's likely that you've heard about how your team "got better."
BYU didn't sign many unfamiliar faces Wednesday; the bulk of the Cougars' recruiting — 14 of 18 new signees, to be exact — were signed during the December early signing period.
BYU coach Kalani Sitake is no different; he feels the Cougars definitely got better.
"This is the day for all those that sign and we're excited for them. But we're also excited for the returned missionaries coming back, and for the preferred walk-ons that we have signing," said Sitake, who also added 18 returned missionaries for The Church of Jesus Christ of Latter-day Saints, with as many as six mid-year enrollees.
Coach-speak aside, though, the Cougars definitely got faster.
In addition to the 14 players who signed during the December early signing period, BYU added a pair of California prep standouts in defensive lineman Cade Albright and all-around athlete Javelle Brown, as well as Colorado speedster Luc Andrada and JUCO transfer Dimitri Gallow from Mt. San Jacinto College.
To see BYU's complete signing list, visiting the KSL.com recruiting central page.
February signees
| Name | Pos | Ht | Wt | School (Hometown) |
| --- | --- | --- | --- | --- |
| Dimitri Gallow | DB | 6-0 | 190 | Mt. San Jacinto College (Moreno Valley, Calif.) |
| Luc Andrada | ATH | 5-10 | 175 | Pueblo East HS (Pueblo, Colo.) |
| Javelle Brown | ATH | 6-1 | 180 | Mira Mesa HS (San Diego, Calif.) |
| Cade Albright | DL | 6-5 | 215 | San Juan Hills HS (San Juan Capistrano, Calif.) |
Andrada, a dual-threat quarterback at Pueblo East (Colorado) High School, will likely play running back or wide receiver for the Cougars. He'll also join the BYU track team as a sprinter.
Both Andrada and Brown can play on both sides of the ball, and both can play from the backfield and the edges, which has been yet to be determined, according to offensive coordinator Jeff Grimes.
But they both bring a special element to BYU — speed.
"Our philosophy is that if you are going to miss on someone in recruiting, you'd better miss on speed," said BYU receivers coach Fesi Sitake, who also added Texas-born Keanu Hill and American Fork's Chase Roberts from December. "I don't think these guys are misses; they are football players who happen to be really, really fast. We aren't targeting track guys who play football.
"Their title as an 'athlete' is just how athletic they are. But speed is something that BYU has thrived when they have, going back to Ronnie Jenkins, James Dye, Austin Collie. When you have that speed, it brings another dimension to your offense."
Andrada, the 5-foot-10, 175-pound dual-threat quarterback from Pueblo East High School in Colorado, is initially listed as a running back, but he threw for 3,135 yards and 33 touchdowns as a senior while running for 886 yards and 17 more scores.
He also was a state champion in the 100-meter dash, clocking a personal-record time of 10.62 seconds multiple times a year ago.
It's similar to Brown, who played wide receiver, running back, cornerback and safety at San Diego's Mira Mesa High School and was ranked No. 23 on San Diego's top 50 list of 2018 senior classmen.
Brown led Mira Mesa to a 10-3 record in 2018, and he also helped the school's track program in the 100, 200 and 1,600-meter relay team.
"The common theme is they are great athletes who can run," Fesi Sitake said. "If any of these guys wind up at wideout, I will be so excited. We'll have another element to our field where we can stretch the field more and take the top off."
The jewel of the class is quarterback Jacob Conover, the four-star signal caller from Chandler, Ariz., who signed with the Cougars in December and went on to make the rounds at several all-star games, including a standout performance alongside local product Puka Nacua of Orem High in the Polynesian Bowl.
Conover, an ESPN top-300 recruit and the high school teammate of BYU freshman Gunne Romney, led the Wolves to three-straight Arizona Class 6A state titles while throwing for more than 10,000 yards and 102 touchdowns. Conover will depart on a two-year church mission in Asuncion, Paraguay next week, he told a crowd of BYU coaches, supporters and Cougar Club members via Skype at a gathering in the Marriott Center on Wednesday (no media were invited).
Eight of BYU's new signees will serve missions prior to enrolling, including Conover, Roberts, Sky View cornerback Caleb Christensen, Lone Peak edge rusher Michael Daley, South Summit defensive lineman Bruce Mitchell, Texas-born lineman Brock Gunderson and Ethan Erickson from Kahuku High School in Hawaii.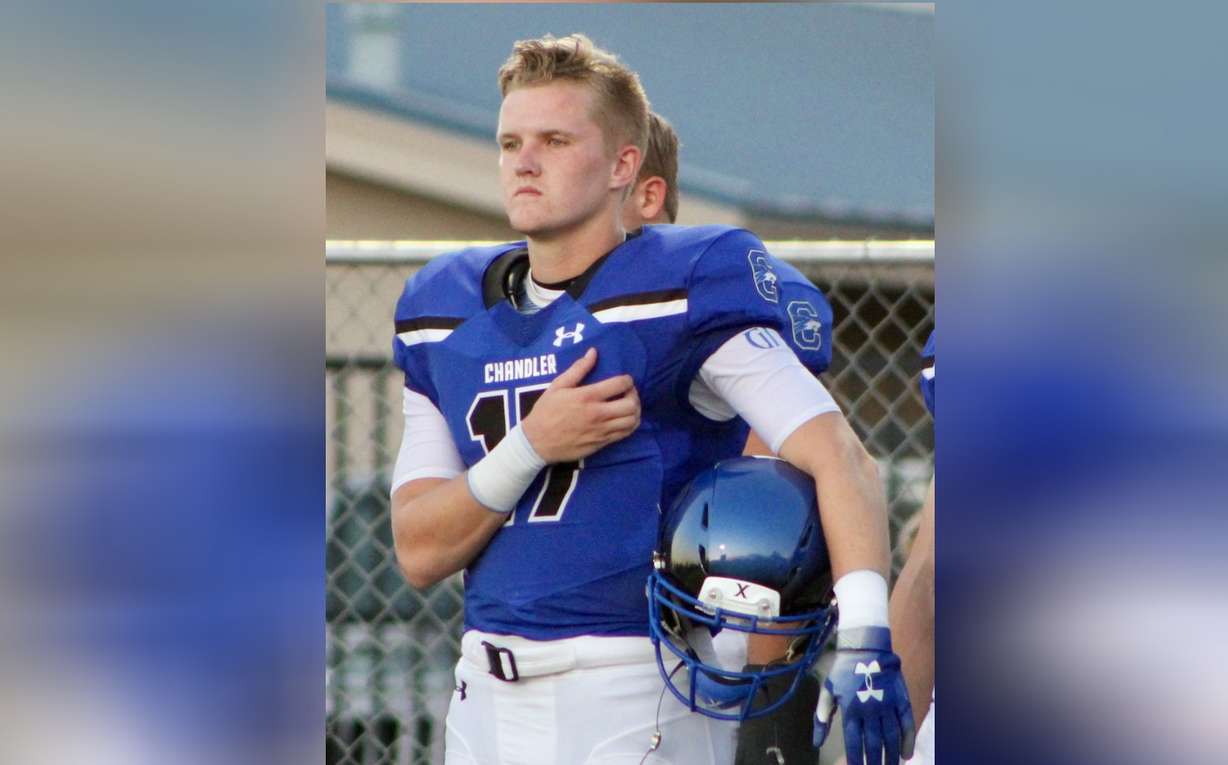 Two junior college transfers are expected to contribute immediately for the Cougars in Mt. San Jacinto teammates Eric Ellison and Dimitri Gallow, both defensive backs.
Gallow, a 6-foot, 190-pound cornerback who was coached by BYU alum Casey Mazzotta, was a first-team All-American Mountain Conference honoree. He held offers from Purdue and UNLV before siding with the Cougars as a late addition.
"Dimitri is probably one of the best junior college guys I've seen at bump-and-run coverage," BYU assistant head coach Ed Lamb said. "He stands at the line of scrimmage, does not back up, gets in front of the receiver, and the quarterback can't even look in that direction because the receiver isn't off the line of scrimmage.
"I hope he brings that physicality to us."
Returned missionaries coming back to BYU include Lone Peak defensive back Ammon Hannemann, Payson defensive lineman Tyler Batty, Timpview linebacker Chaz Ah You, Olympus linebacker Ben Bywater, Spanish Fork linebacker Solofa Funa, Lone Peak linebacker Preston Lewis, Timpview linebacker Keena Pili, and Lone Peak running back Jackson McChesney — who is the only full-time running back listed in the current class.
BYU lost two of its top three running backs in Squally Canada and Matt Hadley to graduation, while Box Elder product Riley Burt will transfer upon graduation in April, reportedly to Utah State.
Kalani Sitake didn't seem overly concerned with the running back situation — which will be led by former American Fork standout Lopini Katoa — when asked about it during signing day, though. The Cougars are expected to sign several walk-on running backs, including Alec Meza from Scottsdale (Ariz.) Community College.
"I think we have a couple of good running backs on our team right now," Sitake said. "To add to the competition, we've added some guys who I think will really fit. We feel great with the group that we've brought in, with returned missionaries and preferred walk-ons."
Returned Missionaries
| Name | Pos | Ht | Wt | High School |
| --- | --- | --- | --- | --- |
| Ammon Hannemann | DB | 6-2 | 190 | Lone Peak HS |
| Tyler Batty | DL | 6-5 | 235 | Payson HS |
| Seleti Fevaleaki | DL | 6-3 | 290 | Centennial HS (Corona, Calif.) |
| *Freddy Livai | DL | 6-4 | 260 | AB Miller HS (Fontana, Calif.) |
| *Chaz Ah You | LB | 6-2 | 205 | Timpview/Westlake HS |
| Ben Bywater | LB | 6-3 | 210 | Olympus HS |
| *Solofa Funa | LB | 6-2 | 225 | Spanish Fork HS |
| Preston Lewis | LB | 6-2 | 225 | Lone Peak HS |
| *Alex Miskela | LB | 6-1 | 220 | Los Alamitos (Calif.) HS |
| *Keenan Pili | LB | 6-3 | 215 | Timpview HS |
| *Caden Haws | OL | 6-2 | 275 | Pulaski Academy (Little Rock, Ark.) |
| Seth Willis | OL | 6-6 | 325 | Newtown HS (Sandy Hook, Conn.) |
| Jackson McChesney | RB | 6-0 | 187 | Lone Peak HS |
| Donovan Hanna | TE | 6-4 | 230 | American Leadership (Queen Creek, Ariz.) |
| Alema Pilimai | TE | 6-4 | 205 | Tustin (Calif.) HS |
| Isaac Rex | TE | 6-5 | 235 | San Clemente (Calif.) HS |
| *Jake Oldroyd | K | 6-1 | 170 | Carroll HS (Southlake, Texas) |
| Ryan Rehkow | P | 6-5 | 205 | Central Valley HS (Veradale, Wash.) |
*mid-year enrollees
×
Related Links
Related Stories