Estimated read time: 6-7 minutes
This archived news story is available only for your personal, non-commercial use. Information in the story may be outdated or superseded by additional information. Reading or replaying the story in its archived form does not constitute a republication of the story.
LAS VEGAS — Neil Pau'u has heard your questions.
How could BYU ever replace the lost production of quarterback Zach Wilson or his favorite target Dax Milne, both on NFL rosters by the time the Cougars kicked off against Arizona in Las Vegas?
Maybe the Nacua brothers, Puka from Washington and Samson from Utah, could help. Or maybe Gunner Romney would continue his explosive BYU career to keep the offense rolling under new coordinator Aaron Roderick.
Or maybe it would come from Pau'u, the former quarterback from the Anaheim, California, area. Amid the cries that the Cougars were "overrated" and lacked a schedule befitting of the top-15 team they were a year ago, Pau'u showed out to prove that BYU belonged on the big stage — at least for one night.
The 6-foot-4 receiver pulled down eight passes for 126 yards and two touchdowns, and threw for another 9-yard pass — because he could — as the Cougars overwhelmed Arizona 24-16 at Allegiant Stadium in Las Vegas.
Unencumbered by the demands of a conservative head coach or an overseeing offensive coordinator, Roderick unleashed his offense in his first game as the Cougars' full-time play caller — and answered several questions around his coaching style in the process.
Jaren Hall threw for 198 yards and two touchdowns for BYU (1-0), and Tyler Allgeier added 94 yards and a score on the ground for a Cougars squad that limited the Wildcats to 3 points until quarterback Gunner Cruz found BJ Casteel for a touchdown with 7:28 left in the third quarter.
Hall chalked up Pau'u's performance — his best in a Cougar uniform — to "a vet doing his thing."
"I think that's part of the reason that their defense started to change a bit," Hall added. "They played a lot of man to start, and Neil did his thing and it made them go back to zone for the rest of the game.
"Neil made plays like we knew he would. That's just the player he is."
Keenan Pili led BYU's defense with a career-high 17 tackles, including one of four sacks for the team on the night, and Olympus graduate Ben Bywater added 10 stops to help the Cougars hold off Arizona in a season opener for the third time in head coach Kalani Sitake's tenure.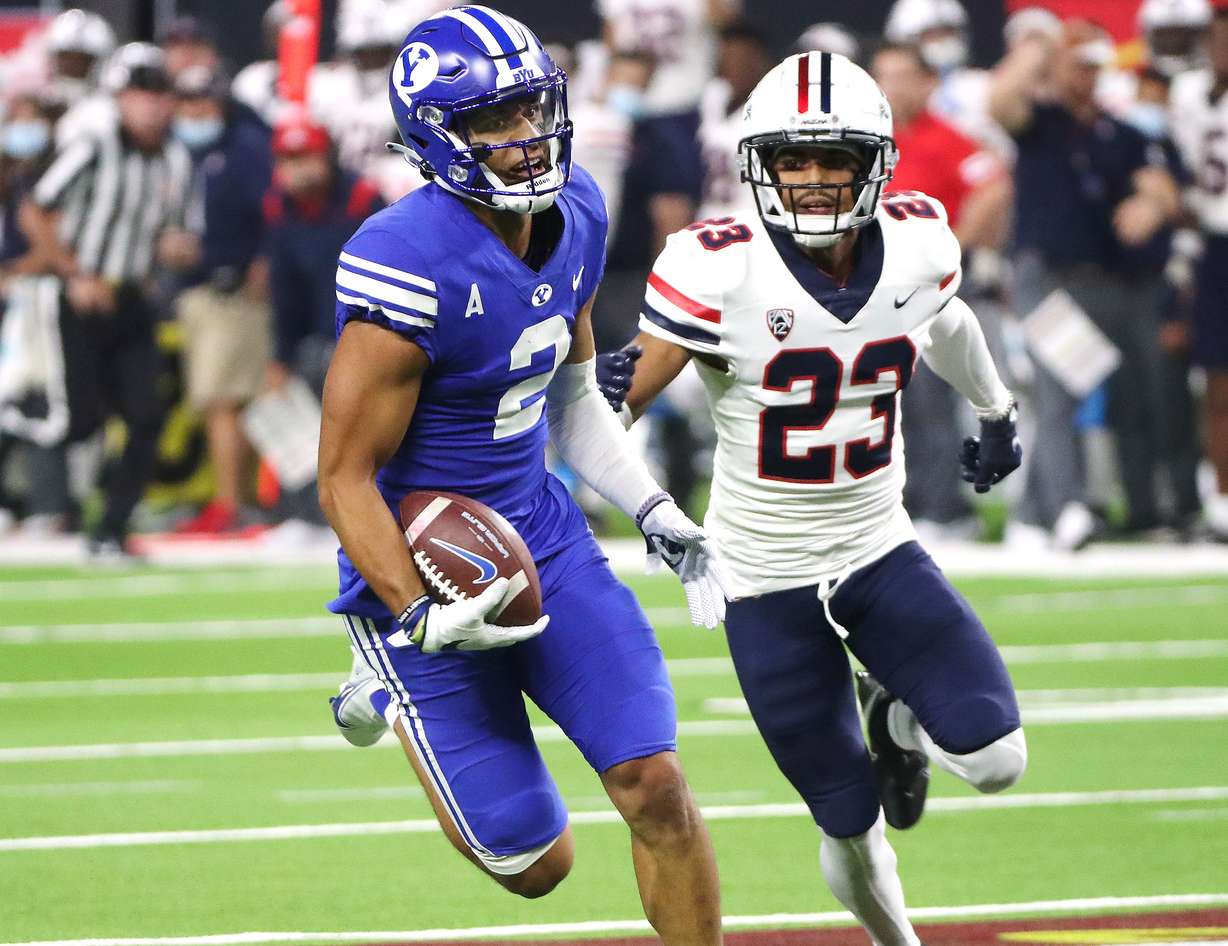 Arizona out-gunned the Cougars 426 yards to 368 but lost the game's only turnover and gave up four sacks.
Cruz completed 34-of-45 passes for 336 yards and a touchdown, and Stanley Berry Hill caught 12 passes for 102 yards in the loss.
And for a few scattered moment, the Wildcats threatened to overturn the game.
Each time, the defense kept them at bay. Arizona had nearly three more minutes of possession, ran 20 more plays, and converted nine more first downs than the Cougars' 18. But BYU never trailed.
Moreover, save for a moment in the middle of the third quarter when Arizona threatened to tie the game while down 21-13 after a safety and the Wildcats' lone touchdown, the Cougars scarcely led by less than a possession.
"Overall, I think the defense did good," Pili said. "I think we had the effort, the intensity was there. We definitely got a lot of stuff we can improve, though. We can smooth some edges, but I'm proud of the defense."
The three quarterbacks — Hall and Arizona's dual signal callers of Cruz and Will Plummer — completed a total of six passes for 28 yards in a largely listless opening period through the air.
Romney started the game before exiting in the first half with an apparent ankle injury. Puka Nacua did not play after preparing all week to make his BYU debut, with the hope being he'll be healthy for the Cougars' home opener next Saturday against rival Utah, Sitake said.
Samson Nacua was also limited, though he did come in on special teams and helped gather one final onside kick attempt by Arizona to secure the win.
That is why the emergence of Pau'u — the surehanded fifth-year receiver who returned to the team two years ago after being suspended following legal troubles — was so vital for BYU's chances on the other side of I-15 from the famed Las Vegas Strip.
"He made a bunch of good plays," Allgeier said. "I think he for sure had a lot to do with the momentum change. Things weren't going down, and he had that touchdown.
"But the defense also really had our back and we had their back. It was a great team win, and we can literally take on the field and learn from it next week."
Hall got it going in the second quarter, too, using a mix of his arm and legs to power a nine-play, 73-yard drive capped by Allgeier's 15-yard touchdown to go up 7-0 with 9:17 left in the half.
The starting quarterback even mixed in a 9-yard catch from former Servite High quarterback Pau'u that set up Allgeier's TD romp on a fake-handoff, Statue of Liberty-style play reminiscent of the game-winning score in Boise State's Fiesta Bowl win over Oklahoma.
Hall then showed he could do it on a less-than-methodical scoring drive. The redshirt sophomore from Spanish Fork doubled the advantage with 2:06 left in the half, bombing a long ball to Pau'u for a 67-yard score that put the Cougars up 14-0 on Lopini Katoa's swing pass for a two-point conversion.
After a mostly listless first quarter, BYU ended the half with 235 total yards, while holding the Wildcats to 4.3 yards per play and 3-of-10 on third downs. Hall threw for 148 yards, including 106 of them to Pau'u in the first half — with half of them coming on that long touchdown reception.
Pau'u added another touchdown reception from Hall on a 6-yard sweep on the Cougars' first possession of the second half. That drive was highlighted by Hall's 39-yard run, when he faked a handoff and took off sprinting down the Arizona sideline before being pushed out at the 17-yard line.
The Wildcats parlayed Tayvian Cunningham's electric 36-yard free kick return after a safety into Casteel's 29-yard touchdown grab with two minutes left that cut the deficit to a one-score game on a 2-point conversion to make it 21-13.
But the largest crowd to witness a college sporting event in Nevada state history helped turn back a comeback, and the Cougars didn't allow another touchdown to hold on for the win.
"I was really proud of our team, to fight through and respond," Sitake said. "There are a lot of places to improve on, but I'm glad we got the win."
With the win underway, BYU moves on to Week 2, a home opener and a much bigger opponent: the Cougars' near-annual rivalry game with the University of Utah. Kickoff Saturday in LaVell Edwards Stadium is scheduled for 8:15 p.m. MT on ESPN.
×
Photos
Related links
Related stories
Most recent BYU Cougars stories