Estimated read time: 5-6 minutes
PROVO — Perhaps the best thing about No. 15 BYU's 3-0 start to the season is that the Cougars still haven't played their best football yet.
Let's explain.
BYU's wins over Arizona, Utah and Arizona State that would lead the Pac-12 South standings if the Cougars were a member of that division have been littered with sloppy tackling in the open field, an offense that does just enough to get by, and a defense that has had to stop a second-half comeback on three consecutive occasions to hold on for the win.
While it's true that BYU has won three games by 8 or more points, meaning the final possession was more cosmetic than comeback, it's also true that the Cougars haven't scored more than four touchdowns yet.
The Cougars are winning, and winning enough to back up last year's squad that finished 11-1 and ranked No. 11 nationally. But they're hardly doing it in convincing fashion — and the biggest critics are the players and coaches themselves.
A win is a win is a win, but the tape won't be as kind to the Cougars come Monday.
"I always say it's better to learn from your wins than your losses," said quarterback Jaren Hall, who completed 15-of-27 passes for 214 yards, two touchdowns and two interceptions against the Sun Devils. "We have a resilient team. It's a very special group."
BYU still hasn't played a complete game, head coach Kalani Sitake alluded to while addressing the media wearing a soaked royal blue shirt, presumably from celebrating the latest victory.
PLAY. OF. THE. GAME.#BYUFootball#SCTop10pic.twitter.com/hCsjbMEbvJ

— BYUtv Sports (@byutvsports) September 19, 2021
Hall is emerging as a quarterback of note nationally, as is Tyler Allgeier, who entered the season as Phil Steele's eighth-best draft-eligible running back and has done nothing to take a step back. Gunner Romney, Neil Pau'u, Lopini Katoa and Isaac Rex are hitting their stride, as is BYU's "no-name defense," as defensive coordinator Ilaisa Tuiaki likes to call it, that hasn't allowed more than 17 points in a game against the P5 competition.
Even special teams has had its highlights; punter Ryan Rehkow was added to the Ray Guy Award watchlist after booming a school-record 83 yarder against ASU.
But the injuries are starting to pile up, too.
Hall was unable to finish the game Saturday night after falling on the ball on a designed run play when the wind was knocked out of him. The redshirt sophomore quarterback gave way to backup Baylor Romney for the game-clinching touchdown pass and did not return to the game.
But that may be more about the game's end coming with a defensive stand against ASU quarterback Jayden Daniels, as Hall somewhat surprisingly made a lengthy appearance with the media following the game when he said he "felt good" and that he'd be available for practice Monday.
There are plenty of other injury concerns. Jake Oldroyd missed his second game of the season with a tight back, though backup Justen Smith filled in admirably at placekicker. Linebacker Keenan Pili, defensive linemen Atunaisa Mahe and Tyler Batty and cornerback Isaiah Herron also did not finish the game with a handful of injuries.
Pili was spotted on the sideline on crutches, though Sitake was unsure of his status going forward immediately following the game. No doubt, the Cougars' athletic training and medical staff will seek an MRI and other tests to verify whatever the initial diagnosis suggests, which appears to be some kind of leg or knee injury.
"It looks like a leg injury," Sitake said. "That tells you a little bit about his injury. If it's a season-ending injury, I'll tell you guys (the media) on Monday."
The only team in the country to beat Power Five opponents in the first three weeks of the regular season, BYU's schedule is already being called into question, with one opponent (Arizona) that sits 0-3 after its first loss to FCS Northern Arizona since 1932, and another (Utah) that has yet to record an FBS win after Saturday's triple-overtime loss at San Diego State.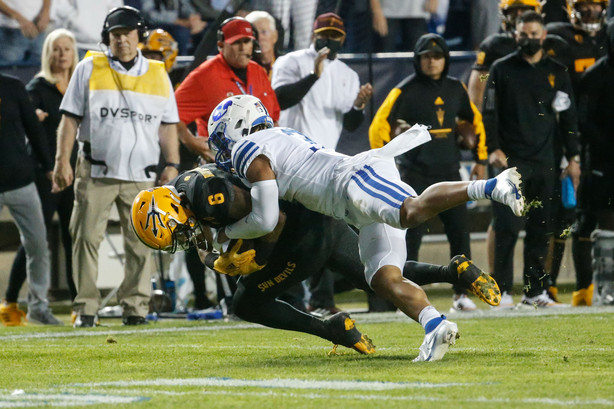 Arizona State received 24 votes in this week's Associated Press Top 25, but the jury is still out on head coach Herm Edwards' team with only home wins over Southern Utah and UNLV.
Still, you can only beat the teams in front of you, and BYU has done just that. A win is a win is a win, remember?
"We're warriors," Hall said. "We haven't won by the biggest difference in score, but we grind it out from the beginning to the end. Even when things feel down, I don't think we ever lose our energy. This is a group of guys who love each other and love coach Kalani and everything he teaches us.
"We're bonded to this culture and it's contagious. I think this is a different team than you've seen in the past at BYU."
On the injury front, the Cougars' next opponent comes along at maybe the best time. South Florida is unlikely to catch the same attention or accolades — at least, from those outside the program — as it travels to LaVell Edwards Stadium for Saturday night's kickoff (8:15 p.m. MT, ESPN2).
USF snapped a 10-game losing skid Saturday, winning for the first time in more than a calendar year with a 38-17 win over Florida A&M. Freshman quarterback Timmy McClain led the Bulls (1-2) with 163 passing yards and a touchdown, and Jaren Mangham added three touchdown runs to improve new coach Jeff Scott's record at USF to 2-10.
"We've been through a lot of things," Scott said after the game. "The natural thing when you go through this much adversity, between last year and this year, is to split up and divide. Our guys have not done that. They've stuck together. They've continued to work hard and have shown up each and every day.
"We'll enjoy this for the next 24 hours, then we've got a short week. We fly out to Provo, Utah on Thursday after practice. We've got some guys banged up, and we'll have to check on their status as we get ready for a really good BYU team next week."
×
Related Stories