PROVO — Injuries are tough on anyone on the football field, no matter the team.
It was especially scary following the horrific injury to BYU cornerback Keenan Ellis during the Cougars' 24-16 win over Arizona last Saturday night in Las Vegas.
For Kaleb Hayes, the injury — which appeared to be a neck injury and, in the end, sent Ellis into BYU's concussion protocol — was especially scary.
"Every one of the corners are family and brothers. I've grown to love every one of them," said Hayes, speaking with KSL.com as Ellis was walking and recovering following his overnight stay in a Las Vegas-area hospital that housed the only Level I trauma center in Nevada. "But when Keenan got hurt, it really struck a different feeling for me; he was one fo the guys I saw every day. It hits differently; it hurts."
Ellis was one of the cornerbacks who embraced Hayes when he transferred to BYU this spring from Oregon State. The 5-foot-11 Hayes, who mostly eschews social media, transferred with little fanfare, declining most major media interviews and instead choosing to focus on getting ready for the season shortly after cornerbacks coach Jernaro Gilford reached out to him in the transfer portal.
Five months since that transfer, Hayes has moved into a key spot on the depth chart. The redshirt junior with two years of eligibility left after playing three seasons in Corvallis is listed as the No. 2 cornerback on the depth chart, behind veteran Isaiah Herron and just ahead of former East High standout Jaylon Vickers.
Herron will likely start at the position — the redshirt sophomore has the most experience in a BYU uniform, with 37 career tackles in 25 games played, including two stops against Arizona. But at a position like cornerback, with its frequent rotations, substitution patterns, and various schematic adjustments, it's safe to say all three will see plenty of time in the Cougars' upcoming rivalry tilt Saturday with Utah (8:15 p.m. MT, ESPN).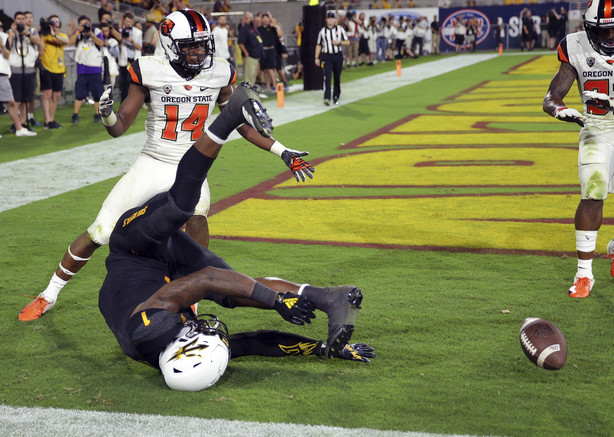 And while the focus outside the program will be on the "war" formally known as Holy and a nine-game losing streak that stretches back to 2010, the Cougars are more concerned with getting better from Week 1.
Plenty went right in the Cougars' 8-point win over the Wildcats at Allegiant Stadium. But there's also plenty of improvement that need to be made — open-field tackling stands out, as does a BYU defense that held Arizona without a touchdown until the middle of the third quarter before holding on for the win against last year's 0-5 Wildcats.
"The improvement between Week 1 and Week 2 is usually the biggest improvement you have all year," said BYU linebackers coach Kevin Clune, whose top-three linebackers totaled 37 tackles, including a career-high 17 from Keenan Pili. "I'm really proud of the way the guys played Saturday night, but come Sunday and Monday, it's time to get back to work and improve on some of those things.
"Those guys were flying around, playing hard, and wanted to play physical. I was very proud of that. Now on the back end, there are a lot of things we can do in our pre-snap awareness, defeating blocks, finishing plays; sometimes we were a little out of control. A lot of that is just the first game."
That improvement includes plenty of room for Hayes, a lockdown corner known for his coverage skills rather than his hard hitting.
The San Bernardino, California, product was one of the top pure-coverage cornerbacks in the Pac-12 in 2019, according to advanced statistics.
Among returning Pac-12 CBs, Kaleb Hayes allowed the lowest catch rate in coverage last season. He also broke up 8 passes and limited receivers to 88 yards after the catch. pic.twitter.com/bmHZg2qJr2

— PFF College (@PFF_College) May 1, 2019
Pro Football Focus tracked the 5-foot-11, 190-pound defensive back with a 45.7% catch rate as a sophomore, the lowest catch rate allowed in the conference. That's a number that beat out Arizona's Lorenzo Burns, Oregon State's Isaiah Dunn, Cal's Elijah Hicks and Oregon's Thomas Graham Jr. that season, according to the analytics giant.
"I'm a corner that loves to compete," said Hayes, who prefers man-coverage to zone-coverage. "I'm a corner that loves to learn every aspect of the game; I like to take my time, dissect the game and things like that. Experience-wise, I'm playing a game, and I can always lock in. But I'm always going to be aggressive, know my assignments, and just try to be consistent."
Injuries sidelined Hayes during his sophomore season, which may help explain why he transferred to BYU. But it was the university's culture that played the biggest role, he says.
"It's really nurturing," Hayes told KSL.com. "There are ups and downs everywhere, but they (BYU) are always willing to help you up and teach you — even if they're all upset.
"Everything about this program — it's a winning program, too — is so positive. I kind of fell like all the stress of football is gone, and it's an actual game that is fun to just go in and play. That's one thing about BYU: if you want to play football and have fun, and then improve your craft, this is where to go.
"I knew what I was getting into coming here," Hayes added. "The coaches see talent in every corner, and they are starting to trust us with man-coverage a bit more, too. Hopefully we can play more man still."
Utah is the second of three consecutive Pac-12 teams that BYU will face to open the 2021 season, and one of five total teams from the conference that Hayes formerly called his own.
And while the rivalry aspect of the game isn't lost on the cornerback, it's also not at the front of his mind, either. Oregon State has a rivalry with Oregon — the game once called the "Civil War" that was hardly a war and mostly civil, and has been replaced by the Platypus Trophy, which combines a duck with a beaver.
Hayes wasn't much of a trash talker in that game, and he still isn't. If you're looking for rivalry smack from his Instagram page, you probably won't find it there.
"I know every school has rivalries, and this rivalry is very important to us," he said. "But at the same time, we have to really focus on ourselves and play our best game of football. There might be some emotions, and some extras that we introduce into this game. But I believe we have to focus on ourselves, so we can have a positive outcome for this game.
"I don't really think too hard about it."
×
Related Stories