LAS VEGAS — Plenty of things went right, and plenty went wrong in BYU's 24-16 win over Arizona late Saturday night at Allegiant Stadium.
There will be film to review, corrections to make, and coaching to continue as the Cougars prepare for Saturday's home opener against Utah.
But this isn't about football or those analytical corrections that will assuredly come over the next seven days. Instead, it's a reminder that this game — no matter how emotional, invigorating, important and all-consuming it may seem at times — is, ultimately, just that: a game.
BYU got the reminder Saturday night. So, too, did Arizona.
With 10:12 left in the first quarter, BYU starter Keenan Ellis was taken off the field on a stretcher on the Cougars' first defensive series. The redshirt junior cornerback had just leaned in for a tackle and fell to the turf in a heap as BYU medical personnel rushed onto the field, immediately signaling for medical transport.
Ellis was down immediately and did not return to the game after personnel transported him from the stadium. Head coach Kalani Sitake and athletic director Tom Holmoe were among the officials on the field, trying to separate fact from confusion, and letting the medical professionals work to do what they have been trained to do at a time like this.
Never has a crowd of 54,541 fans — the largest crowd for a college game in Nevada history, and second-largest to fill the newly embossed seats in the home of the NFL's Raiders — gone so quiet. One could hear a pin drop as all eyes focused on medical teams instead of special teams.
In a moment, the field, the crowd and the national television audience were reminded of how dangerous of a game football really is.
"That was scary," Sitake said. "It was scary because in those moments you're trying to just hope for the best, even in a scary situation. We weren't seeing a lot of improvement right away. We were relieved he was moving his arms and his legs; he just kept wanting to get up.
"Give a lot of credit to our athletic training group and sports medicine staff that were there. They did a great job of convincing him to control him a bit."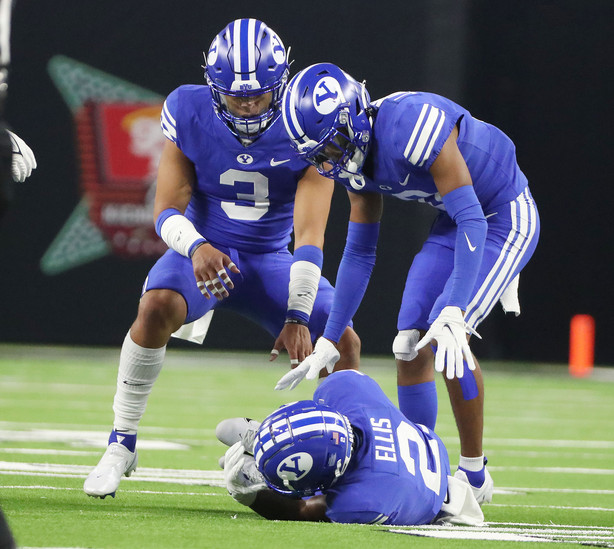 Ellis did not return to Saturday's game. His 6-foot, 181-pound presence that had worked so hard to work his way up from a CIF championship in his hometown of San Diego to climb the BYU depth chart and eventually cement his role as a starter five years later was not physically on the field Saturday night, the product of a freak accident and a mistimed tackle that left Ellis writhing in pain.
The fifth-year junior — yes, the COVID-19 pandemic did that to a lot of players — found himself unable to fully control his extremities when his helmet bounced backward off Arizona receiver Michael Wiley in an open-field tackle.
BYU's medical professionals sprung into action, and did everything they were supposed to do, in immobilizing the injured player and transporting him by ground to nearby University Medical Center's trauma center, where he was met by a physician to run a battery of tests while his team played following a 17-minute delay just a few miles away.
By the time Ellis arrived at the only Level 1 trauma center in Nevada, he was awake and moving each of his extremities, BYU football spokesman Brett Pyne said during the game. After receiving a clean CT scan, Ellis remained in Las Vegas overnight under observation, but by Sunday morning was out of bed, walking and had little or no neck and back pain, the university said.
On the other side of the freeway, the Cougars jumped out to a 21-3 lead before holding off Arizona's spirited charge in their first game under head coach Jedd Fisch.
"That was hard. No one likes to see that," Sitake said. "It was hard for us, but it was also hard for Arizona. That's the scary part of the game. When someone goes down like that, because there was so much time and a lapse in the game, that it also took time to get back into it."
For as scary and hard as the moment was — and watching a teammate and brother go down on the field while the Cougars could do nothing more than huddle together and pray for his safety and recovery — BYU also had a job to do. They were in Las Vegas for a football game, an unimportant event when compared to the battle Ellis was facing to avoid paralysis or worse.
"I think it brought everyone together," said teammate Keenan Pili, who had a career-high 17 tackles, including 10 solo stops and a sack in the win. "You never want to see a player like that, and a teammate we care for and that we love. To see him like that, we rallied everyone together. We cried on each other's shoulders, and then said, 'let's do this for him.'
"Let's do it for our brothers."
A CT scan on Ellis' injuries came back clean, with no immediate abnormalities detected. He was held at the hospital overnight for observation, but BYU officials were hopeful he could return to Provo shortly after the team's charter flight touched down early Sunday morning.
His status for future games remains uncertain. Right now, that's the least of anyone's concerns.
The Cougars have had plenty of experiences with injuries, and Saturday was no exception. Puka Nacua was held out as an injury precaution, but Sitake expects him to be ready to play Saturday against Utah. Placekicker Jake Oldroyd did not play due to an injury, even as his backup Justen Smith made a 40-yard field goal in the second half that helped the Cougars pull away.
Samson Nacua was limited with an injury, but he eventually played, even joining his teammates on the "hands" team on special teams to secure an onside kick attempt in the final moments of Arizona's attempted comeback.
Gunner Romney left the game early on crutches, with a visible ailment in his ankle. His status going forward is unclear.
They'll all recover, with various timelines that will be revealed over the next week.
Ellis should be among that recovering group, though a return to football should be significantly lower in priority. He has much more important worries right now.
×
Photos
Related Stories