Estimated read time: 5-6 minutes
PROVO — Isaiah Herron admits he was on the verge of leaving BYU.
The cornerback from Las Vegas put his name into the transfer portal last summer after redshirting the 2018 campaign and playing perhaps less than he would have liked through his freshman year of 2019.
But more importantly, during a summer of social unrest and protests for justice within the Black community, Herron felt like he could do more.
So rather than stay at the university owned by The Church of Jesus Christ of Latter-day Saints that is predominantly white, Herron, who is Black, opted to transfer. He even set his sights on one of the many historically Black colleges and universities (HBCU) in the country, maybe even one closer to his native home of Atlanta.
At the 11th hour, and after several conversations with assistant head coach Ed Lamb, who recruited him from Arbor View High School in Las Vegas, Herron reconsidered his transfer. He immediately contacted the BYU compliance department, and pulled his name out of the portal.
The decision seemed abrupt, a quick about-face. But it was anything but that.
"A lot went into it," Herron explained this week as No. 23 BYU prepares to host No. 19 Arizona State on Saturday night in the first game featuring two Associated Press Top 25 opponents at LaVell Edwards Stadium since 2009 (8:15 p.m. MT, ESPN). "There were some things I was interested in and wanted to get involved in. They spoke to me about how I can make an impact here, and I'm grateful to be here.
"I'm happy I stayed. It's been a blessing being here and being able to play under this coaching staff."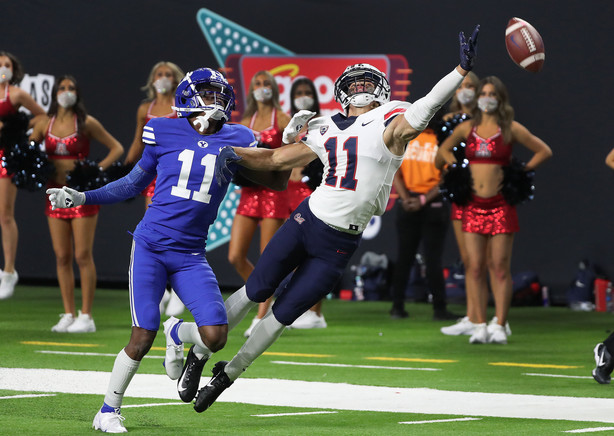 Herron faced a culture shock when he first arrived in Provo, a town with very different demographics than Atlanta and Las Vegas where he spent his childhood.
"Being from Atlanta and Vegas, you see all types of people," Herron said. "Coming here, you don't really see that and it was a shock."
Lamb was the first FBS coach to recruit Herron, making use of the untapped recruiting bed of Las Vegas that helped him turn Southern Utah from FCS afterthought into Big Sky champions with the likes of safety Miles Killebrew and cornerback LeShaun Sims, who both went on to the NFL.
But Herron was different. Yes, the 6-foot-1, 180-pound Nevada all-state defensive back who helped Arbor View to three league titles and a pair of state runner-up finishes was talented. But he was also more than a football player.
So when Herron approached Lamb about transferring, he didn't try to talk him out of it. The BYU alum who played on the Cougars' esteemed 1996 football team just listened and offered his opinion.
"I've always had a good relationship with Isaiah, and that's what I wanted to keep," Lamb said. "We had a lengthy conversation, and I said I would be 100% behind him. I don't want guys here that don't want to be here. I think that afforded him time, and it seems like 5-10 days later, I got a call back saying he appreciated the support, and he wanted to know if we would be interested in taking him back."
When fellow cornerback Keenan Ellis went down with a head injury in BYU's season-opening 24-16 win over Arizona (a game played in Herron's hometown of Las Vegas), the "next man up" in the situation was Herron.
With a steady backup of Oregon State transfer Kaleb Hayes and former East High standout Jaylon Vickers, Herron had perhaps the most impactful game of his BYU career, making two tackles with two pass breakups and recovering a fumble — one of two turnovers — in the Cougars' 26-17 win over rival Utah that snapped a nine-game losing skid in the traditional rivalry series.
Yet his example off the field may make an even bigger difference. Herron has a chance to be a shining example at a school where 81% of the 33,181 undergraduate students are white, and barely 8% are Black, according to the university's most recent statistics.
In many ways, his difference means more than football. Much, much more.
"I was able to have a few different meetings with the VP and the president of the school to talk to them about things we can do to make the university a bit more diverse," Herron said. "They've put me in positions where I can use my voice to change some of the things I went into the portal for."
It's hard to know how much of a change Herron brought to the university, but there's little question he helped spur a movement that was already underway on the Provo campus. The school launched a nine-member committee on equity and equality last year, which delivered 26 recommendations to Worthen's office in a 63-page document that included institutional and organizational reforms, student belonging and equity reforms, and faculty reforms.
University spokesperson Carri Jenkins said BYU Advancement Vice President Keith Vorkink met with Herron several times, as well as other minority student-athletes, even as the committee was meeting with a number of minority students — both athletes and otherwise — as they conducted their work.
Those meetings, while private, were to help Vorkink and others "discuss the contributions Isaiah could make at BYU," Jenkins added.
That committee directly led to the creation of the forthcoming Office of Belonging, which will be led by a vice president-level administrator in Worthen's cabinet that "will focus on helping campus members achieve the community of belonging, outlined in the statement of belonging."
"Using the guiding principles it sets forth, the office will not only be core to our efforts to root out racism, it will also help us combat prejudice of any kind, including that based on race, ethnicity, nationality, tribe, gender, age, disability, socioeconomic status, religious belief and sexual orientation," Worthen added.
And Herron, like many other Black students on campus, will be at the center of it.
"There's not a lot of growth that occurs without struggles, and he's had a lot of struggles and a lot of triumphs," Lamb said. "I'm so proud of him right now, and so happy to see him every day, and what he brings to the field."
How to watch, listen and stream the game
No. 19 Arizona State (2-0) at No. 23 BYU (2-0)
Where: LaVell Edwards Stadium, Provo
When: 8:15 p.m. MT
TV: ESPN (Dave Flemming, Rod Gilmore, Stormy Buonantony)
Streaming: WatchESPN
Radio: BYU Radio 107.9 FM, KSL Radio 1160 AM/102.7 FM (Greg Wrubell, Riley Nelson, Mitchell Juergens)
Series record: ASU leads, 20-7
WAC to the Future: The two schools were former members of the Wester Athletic Conference from 1962 to 1978, when Arizona State departed for the Pacific-10. During that time, ASU won 11 of the 14 meetings. BYU won the most recent meeting, when Ronney Jenkins ran for 171 yards and a touchdown in a 26-6 win over No. 14 Arizona State at LaVell Edwards Stadium.
Home Cougs: Arizona State is a 3.5-point road favorite, according to FanDuel Sportsbook. The Sun Devils are playing their first road game of the season after opening against Southern Utah and UNLV in Tempe, Ariz. BYU has won 11 in a row at home, including a 7-0 mark in 2020.
×
Photos
Related Stories