PROVO — The release didn't come nearly as late as a year ago, when BYU basketball pushed a handful of games as late as December — but the Cougars have their 2021-22 men's basketball slate in hand.
The release of 16 nonconference games to go along with a 16-game West Coast Conference scheduled was unveiled Tuesday morning, and it's highlighted by a brutal start.
The Cougars open the regular season with four NCAA Tournament teams in their first five games, including a back-to-back run beginning Nov. 12 at home against former Mountain West rival San Diego State followed by a trip to Portland four days later to face Oregon in the Phil Knight Invitational on Nov. 16.
It's a brutal start to the schedule — and just how BYU likes it.
"We got a taste of the NCAA Tournament, and we want to be even more prepared headed into this season, BYU assistant Nick Robinson told BYUtv in announcing the schedule. "It is a challenge, but coach Pope loves challenges.
"We really feel like we've got the guys and the players that are excited about these opportunities."
BYU opens formal practices Sept. 28 to prepare for the upcoming season, but they may be able to sneak a few extra hours on the court the day before under NCAA rules.
Any extra help they can get would be appreciated, head coach Mark Pope said of the "daunting" schedule.
"Our agenda in putting together a schedule is not complicated, we're just trying to find as many of the best games as we can get," Pope said. "Would I love to have a little break between San Diego State and Oregon? Yes, 100%. Would I love to not start with four out of five NCAA Tournament teams? I'm not sure anyone would say that's smart.
"But we just start with making the hardest possible schedule we can, and then when it's done we start full-time prayer and fasting hoping that we can actually get into it."
In all, the nonconference schedule features 10 projected Quad 1 or Quad 2 opponents — or games projected to be against top 30-75 opponents, depending on location, which would make 2021-22 the most challenging schedule in Pope's three seasons on the bench.
The Cougars' neutral-site matchup with Oregon is part of a one-off challenge in the Nike founder-named invitational, but the date with Creighton begins a two-year, neutral-site series that will continue next season in Las Vegas, Robinson said.
Bringing top programs to the Marriott Center has been a challenge for BYU, especially after back-to-back seasons finishing in the Associated Press Top 25 — which makes home dates with San Diego State and in-state rival Utah State a luxury, as well as Gonzaga and Saint Mary's in WCC play. Instead, the Cougars will take to the road for a lot of the biggest games, or neutral-site invitationals with multi-length deals like Creighton in the Sanford Pentagon in South Dakota.
"It's been a real challenge," Robinson said. "The team has proven night in and night out that we can compete with anybody in the country, finishing in the top 25 the last two seasons, and the desire for teams to come to the Marriott Center — especially with the ROC and 19,000 fans — make it a really challenging place to play.
"We're excited for that challenge, but we're also really excited to have that Big 12 slate in a few years."
BYU will play four in-state Division I opponents from the state of Utah, with three of them on the road — arguably the hardest combination of the top-four teams in the state playing each of the other three available. The only home game in that span comes Dec. 8 against Utah State, while Utah (Nov. 27), Utah Valley (Dec. 1) and Weber State (Dec. 18) will all come on the road.
Apart from the regular trip to the Huntsman Center, the Cougars will visit Orem — just five miles up the road — for just the second time in program history and first under Pope, who coached Utah Valley for four seasons prior to returning to Provo to take over for former BYU coach Dave Rose.
The Cougars will also close out nonconference play against another in-state opponent — Division II Westminster — on Dec. 29 in the Marriott Center.
"We feel like BYU fans travel extremely well to all of these venues, and to be able to compete with such intensity and have an opportunity to win those in-state games is a real treat," Robinson said, "not just for our staff, the players and the program, but for BYU Nation as a whole."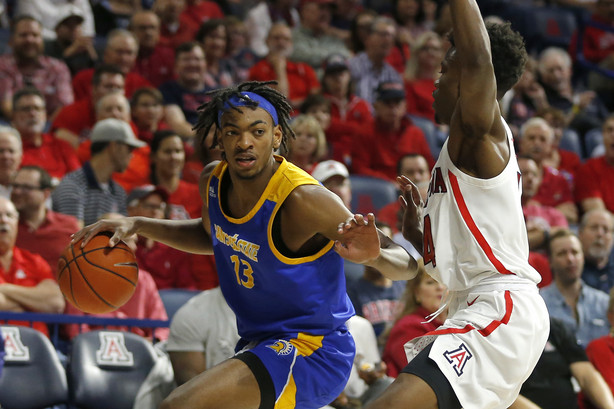 The schedule includes a projected 10 Quad 1 games, according to KenPom and a handful of other metrics, to help bolster a nonconference resume before the Cougars jump into West Coast Conference play, their penultimate season in the league before departing for the Big 12.
And the players are ready for it.
"It's definitely exciting playing teams like San Diego State, Oregon, at Utah," said combo guard Seneca Knight, a San Jose State transfer who initially committed to his home state's flagship LSU before re-entering the transfer portal to move to BYU. "But really every game looks exciting. I've never played for BYU before, and I'm just excited to play with these guys, with the coaches, and to rep the BYU jersey."
Coming off their first NCAA Tournament appearance in five years, the Cougars return a slew of talent, led by starting point guard Alex Barcello, who averaged 16.1 points and 4.3 assists per game in what should've been his senior year but for the free season of eligibility offered by the NCAA due to the COVID-19 pandemic.
BYU also adds Knight and Milwaukee transfer Te'Jon Lucas to a team that welcomes back big center Richard Harward, breakout forward Caleb Lohner, sharpshooters Spencer Johnson and Trevin Knell and long wing Gideon George. Newcomers from high school include big men Fousseyni Traore of Wasatch Academy and Atiki Ally Atiki, a 6-foot-11 graduate of Canada's London Basketball Academy originally from Tanzania.
Pope called Barcello and Lucas "two of the most experienced playmakers in the country," while also complimenting the size of the middle of his lineup, led by Knight and Lohner.
"The thing that stood out the most was how much fun they have coming to work every day," Knight said of his new teammates. "AB's intensity rubs off on the team. Being around guys like AB, Te'Jon, Spencer, Trev, it makes me just want to do my part. They accomplished a lot last year, and I just want to do my part to put them over the top."
The complete schedule is below, or can be read here.
×
Related Stories