PROVO — Mark Pope could hardly contain his excitement at the news.
The third-year BYU men's basketball coach was at Los Angeles International Airport, waiting for a delayed flight to come home after a recruiting trip, when he logged onto a Zoom call that included every head coach on the Provo-based campus.
Tom Holmoe would direct the meeting, and there was little doubt what the tenured athletics director of the past 16 years was going to say. A handful of informal conversations over the past two weeks likely spoiled the surprise.
When Holmoe revealed the news — that BYU was joining the Big 12 Conference in all sports except men's volleyball — the hoops coach couldn't contain himself. He let out a scream in a crowd of several hundred in the Delta terminal.
"They were like, 'What is wrong with this idiot, yelling?'" Pope said. "But I think we're all really excited, super grateful, super humbled; we understand that we are getting in over our heads, and that's exactly where we want to be."
Less than 24 hours later, sitting next to Utah Jazz owner Ryan Smith and behind head football coach Kalani Sitake, Pope still couldn't contain his excitement.
The Cougars are headed to arguably the best college basketball conference in the country — or by a conservative estimate, one of them. BYU will join the Big 12 for the 2023-24 season, while UCF, Houston and Cincinnati are set to join no later than July 1, 2024.
The decision was clearly football-centric and football-motivated for a conference on the verge of losing Texas and Oklahoma, replacing them with a top-10 Cincinnati and Group of Five busters BYU, UCF and Houston. But the biggest impact the league makes may come on the basketball court.
By the time the reshuffling is settled, the Big 12 may just be the best basketball conference in the nation. There's certainly an argument for it.
"We're excited about the work that we have in front of us right now," Pope said. "This move is historic for our program, for our opportunity, and historic for our players to have this chance. It's the best conference in the country — and getting better."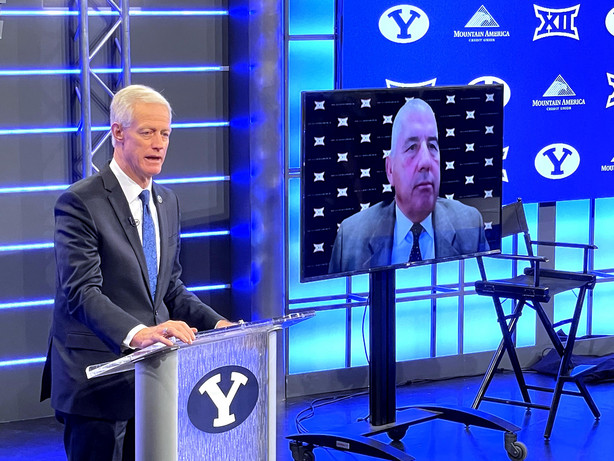 Not even former BYU basketball star Danny Ainge could dampen the head coach's excitement when he peered over a row of reporters to exclaim, "No weekends off anymore."
"Let's go, baby," Pope responded.
Weekends are overrated. Sleep is for the weak.
Kiss your wife Lee Anne, coach; you might not be seeing her as much as you were used to.
Life in the Big 12 won't be easy — the Cougars' nearest conference rival will be 872 miles away in Lubbock, Texas. Instead of weekend trips to Las Vegas for the West Coast Conference Tournament, where fans shared space with alums from the Pac-12, Mountain West and Western Athletic conferences, Cougar fans will be road tripping annually to Kansas City for the Big 12 championships (at least through 2025).
But the payoff will be worth it.
The Big 12 ranked No. 2 nationally in KenPom's conference rankings at the end of last season, just behind the Big Ten, the two leagues that have alternated the top spot over the past several years.
The conference had six teams ranked in the final Associated Press Top 25 of the 2020-21 season, including No. 3 Baylor, which went on to win the national championship. Texas, which will depart the league alongside Oklahoma for the SEC in 2025, was ranked ninth, followed by No. 11 Oklahoma State, No. 12 Kansas and No. 13 West Virginia.
Even with the departing schools, the league will add BYU, which finished No. 23 in the final AP poll; as well as Houston, which finished ranked No. 6 and advanced to the Final Four under Kelvin Sampson; and rising programs in Cincinnati and UCF.
"Our league has been one or two in the RPI almost every year for the past 10, and most of the time we're No. 1," Big 12 commissioner Bob Bowlsby said. "Bringing in BYU, which is consistently in the Top 25, Cincinnati is a top team, and Houston was a Final Four team this year — I think a very good basketball league will get even better, and we expect to be in Kansas City to contest the men's and women's tournaments, where the T-Mobile Center is a great showcase.
"It's going to be no fun to play in the Big 12 Conference. It's gotten even tougher than it was before."
Texas and Oklahoma have combined for one postseason AP Top 25 appearance over the past two years. BYU has doubled that by itself.
"That's terrifying to think that the conference is going to get tougher," Pope said. "But we're really excited about it."
Giving up the chance to compete annually on a home-and-home basis with top-ranked Gonzaga is a sacrifice. But the benefits of the sacrifice are a deeper league, and one that won't require BYU to navigate conference play nearly unbeaten just to make the NCAA Tournament's field of 68.
The Cougars could finish 7-9 in the new league, and still be considered a tourney-bound team — or at least "on the bubble." They weren't given the same benefit of the doubt out of the WCC, as unfair as that was.
Mid-major basketball programs simply aren't viewed the same way, no matter how much schools like Gonzaga, BYU and Wichita State worked to change those dynamics.
And recruiting will change, too.
"We're going to have to recruit great," Pope said. "The only reason people will not come to BYU that has anything to do with the conference is because the conference is too good. And those kids we probably don't want anyways."
The Cougars recruit throughout Utah, Idaho and Arizona, and bring in as many top-tier players who are members of The Church of Jesus Christ of Latter-day Saints from around the country as they can. California has also been a recruiting hotbed for BYU.
But the move to the Big 12 may shift that focus, too. The simple nature of playing more throughout Texas, Oklahoma and the plains states will have an effect on the type of athletes recruited by BYU.
Then there's the chance to make regular trips to the Orlando area to face UCF.
"We've been taking a bit of national approach lately, too. Our last two signings were a kid from Milwaukee and a kid from New Orleans," Pope said. "We've been trying to reach as far as we can.
"I think we we're having some good success internationally right now, too. But this takes something off the table. For those kids who are motivated to play in the toughest conference in the country, who want to face a life-or-death situation every second of every single night, then we're one of 12 teams that are in theat setup. And that's pretty great."
Another benefit will be bringing teams to the Marriott Center more frequently — even outside of conference play.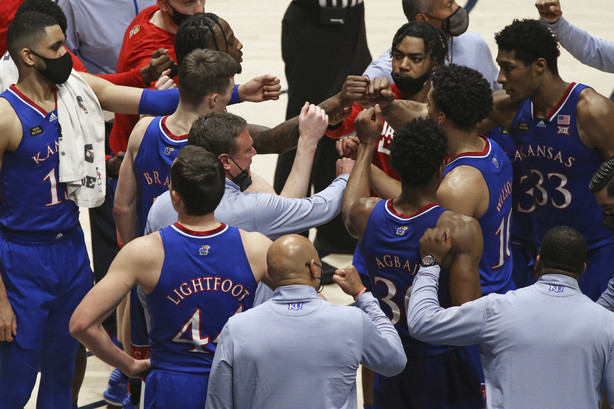 For as good as the conference has been for years, the national consensus is that it just got better.
"I look forward to the future of Big 12 basketball," Oklahoma State coach Mike Boynton said. "I'm thankful for the leadership within the conference for working diligently over the last few months to position the conference for future success.
"While our league has been the most competitive from top to bottom during my four years as head coach, adding UCF, Houston, BYU and Cincinnati will enhance that competitiveness even more. I have great respect for each school and know the success that they've all had on a national level."
Sure, legendary coach Bill Self and Kansas will visit Provo every year, as will rising powers like Scott Drew's Baylor and Bob Huggins' "Press Virginia," to say nothing of Texas Tech or a Houston team fresh off its first Final Four appearance since 1984. But other schools will want to visit now, as well, with the opportunity to face a Big 12 program on a Big 12 stage.
The Cougars can still tap into their West Coast Conference connections — a long-term home-and-home series would certainly be mutually beneficial for BYU and Gonzaga, and interleague rivalries with Saint Mary's, San Diego and San Francisco may be on the table, as well.
BYU will depart the WCC after two more seasons, which means they'll likely owe the league around $500,000 for leaving before the expiration of a 24-month notification period from the most recent fiscal year.
That's a small price to pay for Big 12 admittance, as well as for a conference that saved BYU's nonrevenue sports a decade ago when the Cougars launched their bid for football independence.
"BYU is a better place academically, athletically and spiritually because of our relationship with the West Coast Conference," BYU President Kevin J Worthen said. "We want to thank them for that, and hope that our relationship can continue as we transition to this new affiliation."
But the door is expanding, both in conference play and nonconference opportunities.
"I'm telling you guys — it's been such a challenge," Pope said. "Those coaches brought this program to such an elite level that it was a challenge to bring teams to this gym.
"Over the last 16 months, we've literally been going to teams and saying, 'what if we did a three-for-one?'" he said. "We were willing to come to your gym three times for just one visit here, or even a three-for-neutral, with Vivint Arena one time.
"We don't have to have those conversations anymore, and I'm so excited for our fans. … You think about the parade of teams to roll through this Marriott Center, one of the epic arenas in the country. We got to see it at its peak in the No. 1 team in the country, but now it's going to be a game-after-game deal. I'm so happy for Cougar Nation and BYU fans."
×
Related Stories