PROVO — There was one person who was loudly in Alex Barcello's ear as he wrestled and marinated with a decision to return to BYU basketball for the free season of eligibility the NCAA granted every senior from the 2020-21 season due to the COVID-19 pandemic.
It wasn't head coach Mark Pope, though Barcello consulted with him frequently. It wasn't his best friend Matt Haarms, the former Purdue transfer and Cougars 7-footer who had already decided to move on with his basketball career.
It wasn't even his girlfriend-turned-fiancee Zoe Simpson, though her opinion mattered more than anyone short of Barcello himself.
The person who was actively trying to get Barcello to return for another season was someone who wasn't in Utah or Arizona or anywhere else Barcello happened to be over the spring; it was Te'Jon Lucas, the Milwaukee transfer who signed with BYU just a few days before Barcello made his very public announcement that he was coming back in front of a packed Smith Fieldhouse to kick off the BYU sport camp season.
No doubt Lucas was recruiting Barcello back to BYU, while Barcello was recruiting Lucas from Milwaukee — all the while without knowing with certainty if they'd be there to link up, Pope said.
"Those dudes are so excited about playing together," Pope said moments after inviting a throng of campers to engulf Barcello on the volleyball court where he'll spend his third season on campus. "Both of them are playmakers, and it was really important to have two playmakers on the floor."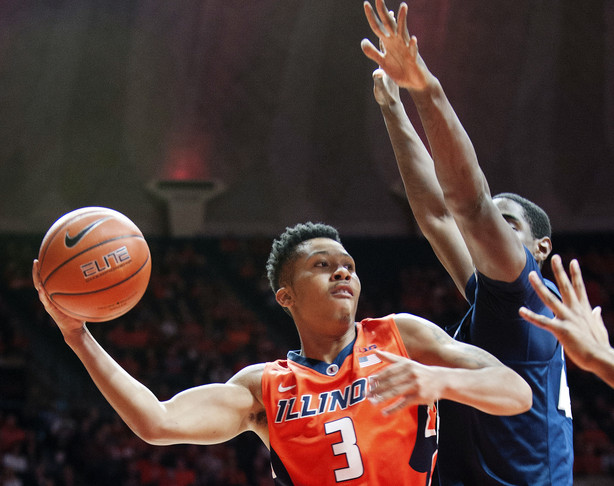 Barcello was the point guard for the BYU basketball team, but he was so much more than a primary ball handler. In that respect, the 6-foot-2, 180-pounder from Chandler, Arizona, wasn't alone, even; he often shared the Cougars' distribution role with Brandon Averette.
But Barcello was so much more. He was the motor on the BYU squad, originally the lone senior on the 2020-21 roster before Pope brought in Averette from Utah Valley and Haarms from Purdue. Together, they helped BYU to a 20-7 record, a second-place finish to top-ranked Gonzaga in the West Coast Conference, and the program's first NCAA Tournament berth in five years.
Whenever anyone asked who was the leader on the team, though, Haarms, Averette and the rest of the roster were unanimous: It was Barcello. The Cougars' leader since transferring from Arizona had earned a coveted spot in the practice facility, on the court and among the fan base, being immediately embraced by a unique group of college basketball fans whom Barcello hardly knew before the summer of 2019.
And while Barcello repaid everything BYU gave to him — a renewed love for the game, a new lease on life, and the chance at happiness as his relationship with his girlfriend progressed to the point where they are due to be married after the 2021-22 season — he still feels like he owes the university and the fans something.
"We had a phenomenal season, battled COVID and a lot of adversity," Barcello said. "But for what we wanted to accomplish, we didn't make it. Only one team makes it every year, and we weren't one of them; hopefully 63 teams are feeling the same way."
In Barcello, the Cougars have an Associated Press All-American honorable mention, one of four All-Americans returning to college basketball next summer. They also have a point guard who averaged a team-high 16.1 points, 4.3 assists and 0.9 steals per game, a 47% 3-point shooter whose 48.2% shooting from deep leads the nation over the past two seasons.
In Lucas, BYU has a similar player. The 6-foot-2, 180-pound former four-star recruit from Milwaukee averaged 14.9 points, 4.6 rebounds and 5.8 assists a year ago for his hometown university UW-Milwaukee, where he transferred after spending two years at Illinois. Barcello and Lucas join a BYU backcourt that also includes former SLCC and American Fork standout Spencer Johnson, Woods Cross native Trevinos Knell and rising sophomore guard Hunter Erickson, among others like flex wings Gideon George and Caleb Lohner.
While those two primary ball handlers are similar players, Lucas will slot into the role vacated by Averette, who has signed with the Dallas Heat of the semiprofessional Evolution Basketball Association in his native Texas.
"You could tell sometimes last year we got really stagnant when only one playmaker was on the floor," Pope said. "Te'Jon had six assists a game last year; you can count on two hands that many guys in the country that averaged six assists a game last year.
"The space those guys will provide for each other is going to be very special. We think it's gonna be a spectacular back court."
Thethe duo insists they can play together — largely because the two-point guard system is how Pope likes to play, whether that was his previous stop at Utah Valley or in his current role at BYU.
That's why they were actively recruiting each other — even before either one of them was fully committed to BYU.
"He's a phenomenal guy, a phenomenal player; I'm so excited to get on the court with him," Barcello said of Lucas, who will report to campus June 11. "The conversations were great. We're both winners, we both want to win, and he knows the coaching staff is a winning staff — they do everything they can in order to get the best teams to play and to win those games and make the most out of every season.
"I think that's what drew him in. Being able to play with another great backcourt guy is awesome. You love to play with great players, and he's a great player. I'm excited."
Haarms was as involved as anyone else in the recruitment (or re-recruitment) of both players — even after the 7-footer had already decided to begin his pro career.
"Since we actually played against each other in the Big Ten, he remembered me," Lucas said. "It was good to pick his brain."
The recruiting went both ways, too.
"I consider Matt one of my best friends. He just started to get this feeling that it's time to go, and I fully respected it," Barcello said, before quickly mentioning one of the later conversations he had with the Netherlands international.
It started with this: "You know I'm going to try to recruit you, right?"
×
Related Stories