LAS VEGAS — Since the end of the 2020 season, the best in over a decade no matter how one slices it, BYU football has been plagued with questions.
If there weren't questions about the Cougars' schedule against which they went 11-1 with a top-15 national ranking in every major poll, there were questions about Kalani Sitake's contract status.
If it wasn't that, it involved how to replace offensive coordinator Jeff Grimes, or breakout offensive line coach Eric Mateos, who Grimes took with to his new job in the same role at Baylor. Maybe those questions were directed at first-year offensive coordinator Aaron Roderick, whose previous play-calling experience at Utah left several fans on the Hill with questions of their own.
Then there was the personnel.
How could BYU possibly replace Zach Wilson, the meteoric rising No. 2 overall draft pick by the New York Jets? What about Dax Milne, the seventh-round wide receiver who recently made the 53-man roster with the Washington Football Team, or Brady Christensen, the dynamic lineman and former three-sport athlete at Bountiful High who proved tackles are more than big dudes en route to a third-round pick by Carolina?
And when BYU finally did replace Wilson, how will his replacement, Jaren Hall, fare when the snaps are counting and pass rushers start blitzing?
On defense, how could the Cougars possibly replace a dynamic nose tackle like Khyiris Tonga — who is now with the Chicago Bears — or his pass-rushing linemates like Zac Dawe and Bracken El-Bakri, to say nothing of linebackers like Isaiah Kaufusi? If they could, would this finally be the year where defensive coordinator Ilaisa Tuiaki's assortment of drop-eight and blitz packages finally yielded a consistent pass rush?
On Saturday night, and amid the backdrop of a potentially forthcoming invitation to a Power Five conference, BYU will take a big step towards answering most — maybe even all — of those questions.
The Cougars open against Arizona tonight (8:30 p.m. MT, ESPN) inside Allegiant Stadium, the Death Star-like stronghold of the Las Vegas Raiders that will be filled with masks but free of a vaccine mandate that takes effect a week from Monday, where football is returning in droves and more than 57,000 fans pre-ordered tickets to get their first glimpse of some of these answers.
And many of those answers will come, at least if you believe defensive lineman Uriah Leiataua.
.@lopa54 joins the show and shares that the defensive line believes in themselves and are ready to show what they got.#BYUFOOTBALL#GoCougspic.twitter.com/b4rZpFxioI

— BYUtv Sports (@byutvsports) September 1, 2021
"We're excited to show people what we got; it's going to be dope," Leiataua said in a now-viral interview with local media early in the week. "Our defensive line is super excited. You know, we're not Amish people; we read the internet sometimes. Our D-line gets super insulted by some of this stuff sometimes. I think our D-line is itching to get ready."
The player who most call "Lopa," from Compton, California, on the south side of Los Angeles elaborated while sitting alongside his coach on BYUtv.
"Our defensive line knows that Khyiris, Zac Dawe, and Bracken El-Bakri have left," he said. "We know that everyone is like, 'Oh now, they're gone; what's going to happen now?' But speaking as one of the guys, we're ready to show everyone what we've got. Our D-line is not going to skip a beat. Good luck to all of our guys in the NFL, but I think we're going to be all right."
BYU will receive several answers, one way or another, Saturday night in the desert.
Hall will start his first college game in two years, the product of a host of injuries and Wilson's strong rise since 2019 that kept him on the sideline. But the son of former BYU running back Kalin Hall and gymnast Hollie Hamilton has been prepared for this moment for a long time, a two-sport athlete who skipped a season with the baseball team to recover and focus on football.
The first Black starting quarterback in BYU history, Hall will have his hands full with an Arizona defense that brings back nine starters and is installing a new scheme under former Michigan defensive coordinator Don Brown — who has earned the nickname "Dr. Blitz" for good reason after 45 years in the industry.
"We have a ton of confidence in (Hall)," BYU running back Lopini Katoa said. "He's dynamic, he can make plays. He's a leader; we voted for him for captain because he's one of those people you look to and will get the offense going.
"I have all of the confidence in Jaren."
Katoa and fellow co-starter Tyler Allgeier are among the proven backs in BYU's offensive system, a list that also includes lead returning wide receivers Neil Pau'u and Gunner Romney. The duo joins with incoming Pac-12 transfers Puka and Samson Nacua to form a dynamic skill position talent around Hall, who welcomes seven returning starters on offense — including three on the offensive line.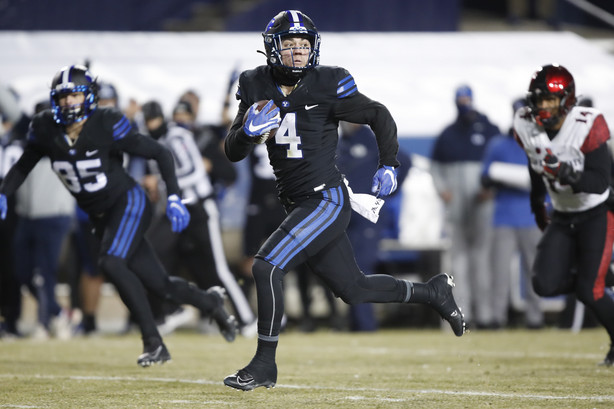 Led by Rimington Trophy candidate James Empey at center, BYU brings back starting experience along the offensive line in left tackle Blake Freeland and right tackle Harris LaChance. Even Connor Pay, the backup center who could also start at right guard, showed promise as a freshman, as did left guard Clark Barrington.
There have been questions about BYU's line, and that's to be expected after Christensen was taken in the third round of the draft and fellow starters Tristen Hoge and Chandon Herring departed for the NFL.
But Roderick feels those questions are overblown.
"I keep getting a lot of questions there about our depth, and I don't get it," he said. "A lot of those guys have played a lot of football.
"It's a good group, and I have a lot of confidence those guys are going to play well."
Yes, the Cougars have a lot of questions. But so do the Wildcats, who are breaking in a new coach in former New England Patriots assistant Jedd Fisch, tasked with rebuilding on the remnants of the Kevin Sumlin era that went 0-5 in 2020 and 9-20 over the past three seasons.
Arizona hasn't even decided on a quarterback, electing instead to platoon redshirt freshman Gunner Cruz with true freshman Will Plummer under center. Will the move pay off, or will someone win the job outright with standout play against the Cougars?
That's the question Wildcat fans will be eagerly watching.
"They know a lot more about us than we know about them. We've been practicing and trying to learn as much as we can about coach Brown's defense," Roderick said. "But he has a lot of options and a lot of things schematically on who he can go to.
"It presents a challenge, for sure; that's definitely an advantage they have in this game."
BYU fans will also be looking for answers.
Finally, after nine long months, they're coming.
Time to SHINE!! 😎 pic.twitter.com/1oqvKIAKst

— BYU FOOTBALL (@BYUfootball) September 4, 2021
---
How to watch, listen, stream the game
BYU (0-0) vs. Arizona (0-0)
Where: Allegiant Stadium, Las Vegas
When: 8:30 p.m. MT
TV: ESPN (Dave Flemming, Rod Gilmore, Stormy Buounantony)
Radio: BYU Radio 107.9 FM, KSL 1160 AM/102.7 FM (Greg Wrubell, Riley Nelson, Mitchell Juergens)
Streaming: WatchESPN
Series: Arizona leads, 12-11-1
Fun fact: BYU will debut an all-royal blue uniform combination for the first time in program history, sporting the new look complete with royal helmets. The Cougars added a glossary of new looks in the offseason, one that also includes navy blue helmets for an all-navy look that the Cougars will debut in the future.
×
Related Stories