PROVO — The Las Vegas Raiders became the first team in the NFL to open their home stadium to full capacity for the regular season with unmasked fans, the team announced Monday night.
To do so, the Raiders will require all patrons attending games at Allegiant Stadium in Las Vegas to show proof of a COVID-19 vaccination through a mobile app by CLEAR, which will allow fans to attend games without wearing a mask.
The policy comes after Nevada Gov. Steve Sisolak issued an emergency directive Monday regarding large events, an order that creates an exception to the state's current mask mandate for "eligible large events in counties with 'substantial' or 'high' transmission rates if all attendees are vaccinated."
"Health and safety has always been our number one priority," Raiders owner Mark Davis said in a statement. "After consultation with Governor Sisolak and other community leaders, this policy ensures that we will be able to operate at full capacity without masks for full vaccinated fans for the entire season."
The policy officially goes into effect prior to the team's home opener Sept. 13 against the Baltimore Ravens on Monday Night Football. Unvaccinated fans will also have the opportunity to be vaccinated onsite on game day, permitting them to attend the game with a mask, the Raiders added.
The New Orleans Saints previous announced a similar policy requiring fans to present proof of vaccination for all home games, or proof of a negative PCR test within 72 hours of kickoff.
More details of the Raiders' policy will be available at a news conference Tuesday in Las Vegas.
The stadium is also home to UNLV football, which opens the 2021 season Thursday, Sept. 2 against Eastern Washington.
The Raiders played their only preseason home game Saturday, opening Allegiant Stadium to a full capacity of mask-clad fans that included a number of stars, including musician Carlos Santana, members of the WNBA's Las Vegas Aces, and performer Marie Osmond, who also lives in Provo.
The team will play at SoFi Stadium in Los Angeles against the Rams in Week 2 of the preseason Saturday, followed by a trip to Levi's Stadium to face the San Francisco 49ers on Aug. 29. The first game of the season will be its regular-season opener at home against the Ravens.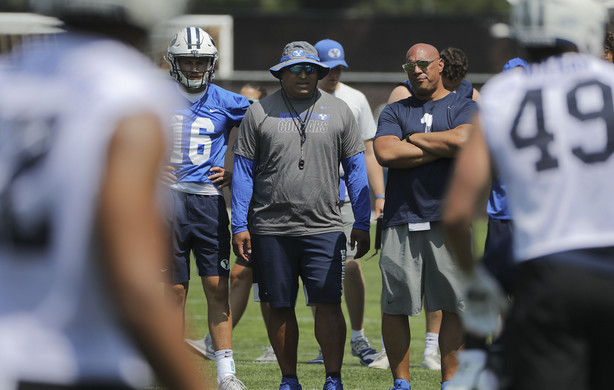 In between the final preseason game and the first of the regular season, though, Allegiant Stadium will be host to BYU's college football opener against Arizona. The Cougars and Wildcats are scheduled to kickoff Sept. 4 at 8:30 p.m. MT in Las Vegas.
While the decision is independent of the NFL and Southern Nevada health officials, the Raiders' statement implies that it was made with consultation from local health authorities, who are experiencing a surge of cases in Southern Nevada.
Would the order then be extended to other events at Allegiant Stadium, including BYU's opener? That's likely one of the many questions that will be asked during Tuesday's news conference.
BYU coaches and officials have been hesitant to publicly disclose the team's vaccination numbers, though several individual players have told KSL.com anecdotally that "most of the team" has been vaccinated. The university will require all students and faculty to self-report their vaccination status prior to the start of the fall semester
The NFL have left COVID-19 vaccination policies up to its individual teams, but have strongly encouraged vaccination among players, coaches, staff and personnel. The league said Monday that Atlanta was the first team to reach 100% vaccination, after opening training camp at more than 90% vaccinated.
With 100% vaccination, the Falcons are permitted into team facilities to eat and work out together without masks.
×
Related Stories