PROVO — Traveling to Las Vegas for Saturday's 2021 season opener between BYU and Arizona will mark the 25th all-time meeting between the old, old Western Athletic Conference rivals.
None of the previous 24 meetings will look anything like this one, or even the previous two under head coach Kalani Sitake, including the one remembered for then-freshman kicker Jake Oldroyd's bright green shoes.
The Wildcats won't just be breaking in a new team, but a new coaching staff, with first-year head coach Jedd Fisch making the move to Tucson after spending the past three years in the NFL.
"As far as Arizona goes, there's really no correlation at all," said BYU offensive coordinator Aaron Roderick of the Wildcats and Fisch, who last faced the Cougars as Michigan's passing game coordinator in 2015. "It's a totally different staff and players; I think there's one defensive back I remember on the roster.
"But as far as our offense goes, we're a very different team now."
Arizona went 0-5 last year during the Pac-12's abbreviated fall season, but that doesn't tell much of the story of the team's experience — or lack thereof. The Wildcats return eight offensive starters from that squad, but only one total start at quarterback.
They also bring back nine defensive starters, but a group that played in a completely different system and scheme (more on that in a moment).
Like BYU, Arizona is a very different team. And it's not just Fisch and his coaching staff, a complete upheaval from the previous regime that brought in Cam Newton's former quarterback coach in New England for his first collegiate head coaching job.
When the Wildcats line up Saturday at Allegiant Stadium (8:30 p.m. MT, ESPN), they'll do so with two starting quarterbacks.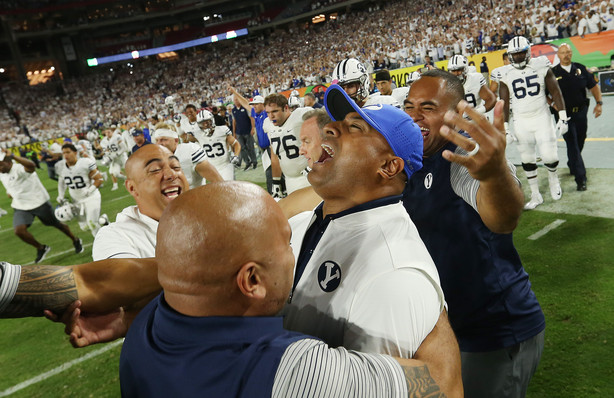 Redshirt freshman Gunner Cruz, who grew up in Gilbert but transferred closer to home from Washington State, will take the first snaps, while true freshman Will Plummer — another Gilbert product — will go next, Fisch said last week when he announced the setup.
Of course, if Cruz has success — say, leads an immediate touchdown drive, and then even another — don't expect the platoon system to last long, either.
"I'm not bound to put in another person if we have two touchdown drives in a row. We call that a 'champagne problem,'" Fisch said with a laugh.
Of course, preparing for that two-quarterback setup presents the most obvious challenge for a BYU defense that finished the 2020 season ranked No. 11 nationally in total defense but returns just four full-time starters.
It's also made practice time more relevant, as the Cougars cycle through a host of scout team quarterbacks to give them a look at both Cruz and Plummer.
"Certainly, we've got to make sure we're sound in having a backup plan and contingency plan with both of their quarterbacks and the challenges that they bring," BYU defensive coordinator Ilaisa Tuiaki said.
The Cougars don't have a lot of film on Arizona — and what they do have is likely filled with projections of the old Kevin Sumlin regime in Tucson. But what they do have is film on previous teams coached by Fisch and his assistants, including offensive coordinator Brennan Carroll, the former USC and Miami assistant who also coached under his father Pete with the Seattle Seahawks; and passing game coordinator Jimmie Dougherty, who spent the past four years at UCLA.
"We don't have a lot of film, but we're getting as much of the film as we can on both of them (the quarterbacks)," BYU safety Malik Moore said. "I think it will all come down to who can adjust in the game.
"When you see one quarterback run a lot, pay attention to the down and distance. You've got to pay more attention in the game, along with the film that you're watching. We know one might throw more or one might want to run; we've got to know the difference on the field, so we can adjust."
It's anything but easy, linebacker Payton Wilgar added.
"It's tough. There are a lot of unknowns," he said. "We don't have a ton of film on them, with their new coaching staff. So I'm not too worried on what they're going to do, but just what we can do on our end. As they come out and do what they want to do, we can make some changes."
Perhaps BYU defensive end Tyler Batty put it best in his weekly BYUtv appearance.
"I think they're going to try to be tricky," he said of Arizona. "I'm excited to see what they try to pull on us on the field, and we're going to try to shut them down."
The changes aren't just on offense, either. The Wildcats are breaking in a brand-new defensive coordinator, but a legendary one at that.
Don Brown earned the nickname "Dr. Blitz" for his aggressive, blitz-heavy packages spent in 45 seasons of coaching experience, including most recently five years at Michigan. The five-time Broyles Award nominee has had 29 defensive players selected in the NFL Draft, including 10 first-team All-Big Ten selections during his first four seasons in Ann Arbor.
"Defenses are allowed to do that, and we have to be ready to give him an answer," said Sitake, who was recently awarded a two-year contract extension through the 2025 season. "That's the whole strategy of the game, to figure out the defense. I can't predict what they're going to do on defense; I know what we can do on offense and defense, and then figure out if we're ready at our stuff."
Brown is familiar with BYU, even if he just missed the Michigan team that held the then-No. 22 Cougars scoreless in a 31-0 win in 2015. He also heavily scouted Jaren Hall, the Cougars' starting quarterback who hasn't played since 2019, with more than 100 snaps on tape.
"They execute at a high level, especially a year ago," the Doctor told Tucson media this week. "In watching Hall's snaps, there are over 100 of them, if you look over the last few years. He's an athletic guy who can throw the ball down the field, and get out of trouble.
"They had big years last year, in the air and on the ground."
When asked if it's an "advantage" that BYU doesn't have Brown's defense on film, the tenured college football assistant responded simply: "I think they do."
"I don't know if that's an advantage. Every year we change," he added. "But I can assure you this: they know we're coming over the walls. I promise you that. And really, selling them the threat of us coming over the walls is what we're concerned about."
×
Related Stories