PROVO — Maybe head coach Kalani Sitake oversold it, or maybe training camp just solidified a number of positions more than even he expected.
But when the BYU football team released its first depth chart of the 2021 season Monday as the Cougars turn the page to a full week of prep for Saturday's season opener against Arizona in Las Vegas (8:30 p.m. MDT, ESPN), there was surprisingly little left to decide.
Whatever the case, it's finally time to start talking about real, live football — not the nebulous cloud of conference realignment that will surely involve the Cougars until at least 2025.
Sure, there were a handful of scattered "or" markings on the two-deep, perhaps most notably at the wide receiver spot that has brothers Puka and Samson Nacua competing for the same nod. Likewise, freshman Connor Pay holds the narrowest of edges of redshirt-junior Joe Tukuafu at right guard, and newcomer Jakob Robinson seems to have a mild edge over incumbent Caleb Christensen at nickel — but none enough to fully decide their respective positions.
For the most part, the battles have been decided — at least for now — as the Cougars focus on a Wildcats program in flux with a new head coach, offensive and defensive coordinators, and not one, but two freshman starting quarterbacks.
"There are a few 'ors,' but we expect everyone to play," Sitake said. "We know we have a bunch of guys that can play. It's only 11 at a time, so we'll see what happens. But I like that all of the guys have improved."
Sitake noted that he expects Puka Nacua to be with the team when it travels to Las Vegas for the season opener, either Thursday night or Friday morning, despite the Orem High product being limited through part of fall camp after missing time a year ago at Washington with injuries.
In addition to his role as receiver, Samson Nacua is also listed at punt returner, where the Utah transfer joins converted Dixie High baseball standout Hobbs Nyberg and former Lone Peak quarterback Talmage Gunther at the position.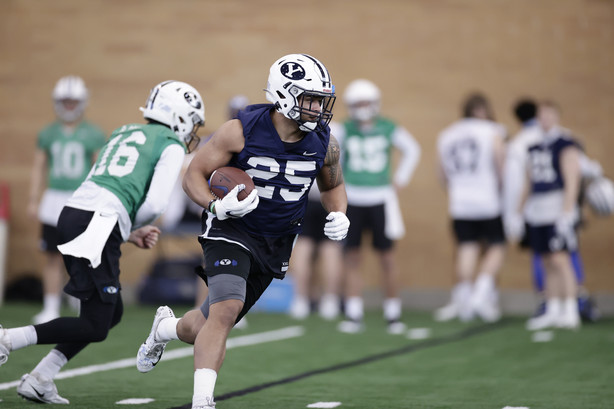 He also expects to travel at least all nine linemen listed on the two-deep, including center James Empey and Pay, his backup in addition to the co-starter tag team at right guard. The other starts on the offensive line include left tackle Blake Freeland, left guard Clark Barrington and right tackle Harris LaChance.
Baylor Romney was listed as the first backup to starting quarterback Jaren Hall, a notion offensive coordinator Aaron Roderick teased at the conclusion of training camp while also noting that third-string freshman Jacob Conover may also see time at backup this season — depending on the matchup.
For Romney, losing out on the starting job stings. But he's also fully supportive of Hall, his younger brother Gunner told the media Monday.
"Obviously, he's taking it hard. He wanted to be the starter," Gunner Romney said. "But Baylor's a mature guy, and he's really supportive of Jaren. He's going to keep working because you never know when you're going to be that guy."
As expected, Tyler Allgeier and Lopini Katoa were listed as co-starters at running back. Less expected, though, was the absence of Miles Davis, the freshman camp breakout player who turned heads through the summer and into August.
"That guy is a good player, and he's going to play for us," Roderick said of Davis during training camp. "That one needs to be said; he stands out every time he plays. He just plays at a different speed than everybody else."
When asked about the young running back's absence from the two-deep Monday, though, Allgeier declined to comment on the young speedster from Las Vegas High.
Defensive shuffling
On defense, perhaps one of the top standouts was the emergence of Leiataua at defensive end. The 6-foot-4, 225-pound fifth-year senior has emerged from role player to key contributor on the defensive line.
Perhaps the most intriguing undecided position is at nickel back, where Utah State transfer Robinson is listed as a co-starter with incumbent Christensen, with sophomore Jacob Boren just behind the duo. Also in the secondary, Chaz Ah You and Malik Moore have separated themselves as starters at strong safety and free safety, respectively, while D'Angelo Mandell and Keenan Ellis topped a deep cornerback rotation that includes six players on the two-deep.
"They have great instincts and practice really well. They made a lot of plays (during training camp)," Sitake said. "We feel really good about the corners and the depth at both safety and corner spots. I have a lot of confidence in those two starters at safety."
Leiataua has appeared in 36 games in his BYU career but never started at any position. Now he'll get that chance, a year after totaling 13 tackles and 2.5 tackles for loss, including 1.5 sacks, during the Cougars' 11-1 season of 2020.
What does starting mean for a consummate contributor like Leiataua?
"It's cool. I'm just excited to play my part and do everything I can," he said. "I've always been a solid contributor on the team, and right now I feel like it's taking a different step."
Leiataua also named himself starter at another position Monday morning: chief ping pong professional. The Cougars' newly remodeled locker room in the Student Athlete Building includes a brand-new table that the players have been using frequently after practices, with several viral videos coming from the group.
But is Leiataua the best on the team?
"For sure, it's me," he said while looking across the room at giggling and snickering teammates Allgeier and Gunner Romney.
"Why are you guys pointing at yourselves?" he added, with tongue firmly in cheek. "It's definitely not Gunner and it's definitely not Tyler. It's for sure me."
CAPTAINS. pic.twitter.com/OQg9NFgEwq

— BYU FOOTBALL (@BYUfootball) August 30, 2021
'I'm the captain now'
Later Monday afternoon, BYU revealed four team captains for the 2021 season.
Hall headlines the offensive captains ahead of his first season opener as starting quarterback, joining Empey, a preseason All-American center who was also a captain last year.
Sophomore linebackers Keenan Pili and Payton Wilgar were named defensive captains. The team will also rotate 10 alternating co-captains on offense, defense and special teams, comprising a 14-player leadership council voted on by the players.
Running backs Lopini Katoa and Allgeier, wide receivers Gunner Romney and Neil Pau'u, defensive linemen Leiataua, Lorenzo Fauatea and Tyler Batty; cornerback D'Angelo Mandell; kicker Jake Oldroyd; and punter Ryan Rehkow were all named co-captains.
"We have quality leaders in our program, which is represented well in who the players chose to lead them," Sitake said. "I know it is an honor for these young men to be recognized by their teammates to help lead our team."
×
Related Stories