PROVO — If BYU wants to play football in the Big 12, the opportunity could come sooner rather than later.
The Action Network's Brett McMurphy reported Friday that BYU and the American Athletic Conference trio of Cincinnati, Houston and UCF could receive invitations to join the Big 12 by the end of September. But that's not the earliest timeline the Cougars could secure passage to the current Power Five league.
KHOU sports director Matt Musil, who covers the red Cougars for the eastern Texas television station, reported Friday that an invitation to join the Big 12 could come as early as next week for all three American teams, and presumably the FBS independent. That means the Cougars could potentially join the conference as early as 2022, though that seems unlikely.
"College Football sources are telling me that the proposed move by the #Big12 to bring BYU, Houston, Central Florida and Cincinnati into the league is basically a 'done deal,'" Musil wrote on Twitter. "Formal invitations are expected to go out within the next 7-10 days."
The Athletic reported Thursday that Big 12 expansion talks had focused on BYU and the American trio, and — as one can imagine — things have progressed quickly, even without either side publicly confirming mutual interest in one another.
Of course, there are a lot of contract details to work out. BYU has games scheduled through the 2035 season, including a long-ranging contract with Boise State — which is not on the Big 12's top shelf of expansion candidates, according to McMurphy — that includes game dates most years through 2034.
College Football sources are telling me that the proposed move by the #Big12 to bring BYU, Houston, Central Florida and Cincinnati into the league is basically a "done deal." Formal invitations are expected to go out within the next 7-10 days. #KHOU11

— Matt Musil (@KHOUSportsMatt) September 3, 2021
The Cougars have at least four games scheduled through 2028, including eight or more games each year through 2026. How quickly could athletic director Tom Holmoe rearrange those contracts in order to join the Big 12?
Earlier reports indicated that the Big 12 would not be interested in expanding until 2025, when the league's Grant-of-Rights expires and Texas and Oklahoma are set to depart for the Southeastern Conference — in exchange for 18 months' notice and two years of revenue distribution. McMurphy said that amounts to around an $80 million exit fee per school.
But the Sooners and Longhorns could be inclined to join the SEC early, and other Big 12 schools may be inclined to allow them — for the right price. The conference is expected to take a pay cut from its new media rights deal that is currently set to expire in 2025, but the thinking is that bringing in a national brand like BYU, in addition to top AAC and Group of Five contenders like Cincinnati, UCF and Houston, could help offset some of that lost revenue.
Yahoo's Pete Thamel said that a "reasonable expectation" would be for the entire quartet to join in 2023, with plans to eventually move to 14 full-time members. Texas and Oklahoma could stay for two seasons while the new schools get acclimated, as well.
The Big 12 will open discussions regarding a television contract set to expire in 2025 in two years, Thamel said, which makes 2023 an optimal year for entry of the four new schools.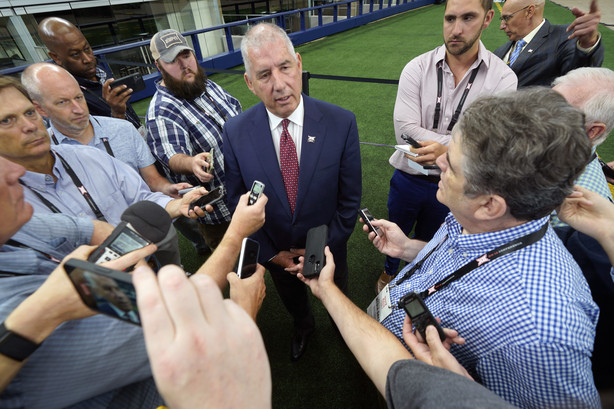 Sports Illustrated reported Friday that the four schools are expected to join for the 2023 season, or possible as late as 2024. That would leave at least 1-2 years of competing alongside Texas and Oklahoma, if the Longhorns and Sooners don't negotiate an early exit.
The four new members are not immediately expected to take full distribution of their new television revenue, but joining under the current television contract would at least double the current revenue of the AAC distribution, SI noted.
Perhaps most importantly is the conference's designation as an Autonomy Five league, the official title of what most consider to be "Power Five," that is granted autonomy in legislative matters given to the Big Ten, SEC, Pac-12, ACC and Big 12.
"With the additions, the Big 12 will retain its status as an Autonomy 5 league, college football leaders believe," according to SI.
As a private independent school, BYU does not disclose its full revenue streams. But the Cougars renewed an exclusive media rights deal with ESPN in 2020, adding a seven-year extension to air its games on the Worldwide Leader. Part of the deal also included a bowl-game contract with ESPN Events, including sending BYU to the Independence Bowl in Shreveport, Louisiana, if they are bowl eligible and do not have a higher-end bowl (i.e. New Year's Six or College Football Playoff) in 2021, 2023 and 2025.
A reasonable expectation for the BYU/Cincy/UCF/Houston crew to join is 2023. BYU could be more flexible because they are independent. AAC schools need to give 27 months notice. But we've learned that's negotiable.

— Pete Thamel (@PeteThamel) September 3, 2021
ESPN also pays around $7 million annually to members of the AAC for exclusive broadcast rights to their games, which is believed to be close to but slightly under what BYU makes for its own deal. Industry estimates for media rights to the remaining Big 12 schools following the departure of Texas and Oklahoma project the schools to make between $10 and $15 million each.
The Cougars also aren't necessarily required to inform anyone of their intent to move, and Holmoe has told media in the past that all contracts with ESPN have a contingency plan if BYU joins a conference — specifically a Power Five conference.
The American requires its members to give 27 months' notice and pay a $10 million exit fee, though that number is negotiable. UConn recently left the AAC on just 12 months' notice by paying $17 million and re-joined the basketball-centric Big East while going independent in football.
BYU is also a member of the West Coast Conference in most other sports, including men's and women's basketball. The conference isn't known to require a significant exit strategy in the past — league power Gonzaga has somewhat openly flirted with other conferences, for example — but the Cougars would certainly like to give the consortium of religious-based universities based mostly in California as much notice of an exit as possible.
The Cougars could also join the Big 12 as a football-only member, alleviating many of those concerns, as well as BYU's oft-maligned policy prohibiting games and practices on Sundays. But the preferred plan for the Big 12 is to add BYU in all sports, McMurphy reported.
"There's no definitive date (when the official invites would be extended), but I think it's better it happens in September, rather than later on," the veteran college football reporter wrote. "Particularly with those four (BYU, Cincinnati, Houston, UCF)."
The next step, then, belongs to the Cougars.
×
Related Stories