PROVO — In the end, experience won out.
The season after sending Zach Wilson to the NFL as the No. 2 overall draft pick by the New York Jets, BYU will rely on its most-tenured signal caller in the 2021 season.
Jaren Hall will start the Cougars' season opener Sept. 4 against Arizona in Las Vegas, offensive coordinator Aaron Roderick announced Wednesday afternoon after notifying players of the decision.
Roderick said the redshirt sophomore from Spanish Fork "earned the job" in the week since he laid out for the three quarterbacks vying for the spot a depth chart that included Hall at the top. What he wanted was for either Baylor Romney or Jacob Conover to take the job away from Hall, or the former Maple Mountain High School star to solidify his role.
What the first-year BYU offensive coordinator got was a little bit of both, with what he called "elevated game" from both the former starter of two games two years ago and his current backups.
"He's been through a lot," Roderick said of Hall. "He really knows our offense better now than he did then. I think the time of being in the program is going to serve him well when he gets out there."
Those two years have served Hall well. A dual-threat quarterback by nature, Hall has the athleticism to run the ball when plays break down along with the arm strength to make all of the throws needed in Roderick's offense, which will be similar to the former "RVO Offense" that former offensive coordinator Jeff Grimes took to the same role at Baylor.
In two years since sustaining a season-ending concussion, as well as sitting behind Wilson, Romney and a host of other quarterbacks while rehabbing a hip injury, Hall has learned a lot of things about his game. He readily admits that he was "kind of relied on my athletic ability," a reliance that may have played a role in those early injuries.
Hall came to BYU as a dual-sport athlete, and a potential Major League Baseball draft pick, to boot. But he gave up baseball last spring to focus on health and football — and that sacrifice appears to have paid off.
"You've seen guys in college do both," Hall said of playing two sports. "But I think being healthy was a big part of this, so it was a good time to focus in on football and take care of some of the things off the field that were affecting that."
Two years since his last start, he's more quick to think, to check down, or even to throw the ball away if the quarterback is being put in a tough situation. Part of the game of football is knowing there are at least three downs in a possession — sometimes four, with head coach Kalani Sitake's occasionally unique punting style — and Hall has learned how to manage down and distance as he's come back from injury.
"I think it's understanding before the play even begins," Hall explained after being named the starter. "It allows me to get through things quicker. My process will be much faster. I understand when to take care of the ball, and when to just get rid of it and take what we can get."
He also knows that he isn't done competing. While Sitake doesn't want to put Hall on a short hook, or "force anyone to look over his shoulder," Hall knows the quality of at least two quarterbacks behind him. He beat out fellow sophomore Romney and freshman Conover for the starting spot right now, but all three had their moments in camp during a tightly contested race.
"Now the work really begins," Hall said. "It's time to focus in on Arizona. Today I'll enjoy it with my wife and my family; it was fun. But now we've got to go win on Saturday."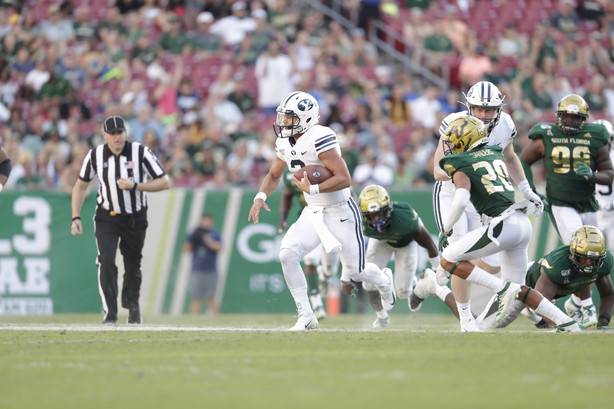 Hall has simply had more of those moments, due in large part to his position as backup quarterback for the most camps, including the fewest turnovers and most explosive plays during training camp, Roderick said. He then took those moments and made big plays out of them, Sitake added.
"He made plays consistently. Everyone had their moments," Sitake said, adding, "It was decided on the field. That's every position here. I think competition gets the best out of all the guys, and I'm really happy with what I saw out of all three of those quarterbacks. I think they really elevated their game."
The name of the starting quarterback was the most high-profile position battle in training camp, but if Sitake and his assistant coaches are to be believed, it may matter the least.
The Cougars lost plenty of talent to the NFL draft, including Wilson, third-round offensive tackle Brady Christensen and seventh-round receiver Dax Milne. But they returned talent at every skill position from one of the most productive offenses in the country.
Obviously, much of that production was centered around Wilson. But BYU brings back top returners Neil Pau'u and Gunner Romney at wide receiver, and replace Milne with Pac-12 transfers Puka and Samson Nacua. Freshman All-American Isaac Rex anchors a deep tight end room, which adds former Lehi standout Dallin Holker after the latter returned from a church mission in the summer.
Tyler Allgeier is also back at running back, a top-10 draft-eligible tailback nationally according to Phil Steele Magazine. That's in addition to Lopini Katoa and a suddenly resurgent running back room highlighted by the emergence of Las Vegas freshman Miles Davis.
The Cougars are all-but rebuilding the offensive line, which sent Tristen Hoge and Chandon Herring to the NFL preseason in addition to Christensen. But returning center James Empey will make rebuilding a little easier on any team.
"For me, camp was really just about taking care of the ball and executing our offense to get the ball into our playmakers' hands," Hall said. "But it's easy when you've got the guys that we do around us."
The 6-foot-1, 205-pound quarterback out of Maple Mountain is only a sophomore by eligibility, but will be entering his fourth year in the program after serving a two-year mission for The Church of Jesus Christ of Latter-day Saints in Roseville, California out of high school.
That makes the son of former BYU star running back Kalin Hall and BYU gymnast Hollie Hall among the most senior players on the team, though backup quarterback Romney has more appearances in a football uniform than him.
Hall redshirted his true freshman season in 2018, then used a medical redshirt while he recovered from a hip injury in 2020. He also struggled with a head injury suffered in 2019, when he played in seven games — including two starts — in relief of Wilson.
In starting the Cougars' 27-23 loss at South Florida, Hall became the first Black starting quarterback in BYU football history. He went on to complete 31-of-46 passes for 420 yards and one touchdown, while running for 139 yards and three scores in a season that ended prematurely following a concussion suffered in a 42-14 win over Utah State.
The official depth chart will be released Monday, when Sitake and his staff hope to have the fewest "ORs" as possible on the two-deep.
But that doesn't mean the competition is over, either. In many ways, it's just begin. Hall knows that, and so do Romney and Conover. Just like with the quarterbacks, every position is a battle.
Hall won the most high-profile derby in camp. But it's only the beginning.
"The final say was the field, and A-Rod is very capable of making every decision that is right for the offense. I'm always going to support him," Sitake said. "But we have a great line of communication from all of our staff.
"The positions are won on the field. That's where they are won, and that's where they are also lost. There's a race to improve and get better every week. That's not just limited to the quarterbacks."
×
Related Stories