Estimated read time: 5-6 minutes
This archived news story is available only for your personal, non-commercial use. Information in the story may be outdated or superseded by additional information. Reading or replaying the story in its archived form does not constitute a republication of the story.
SALT LAKE CITY — With hot, dry weather in the immediate and long-term forecasts, Gov. Spencer Cox on Thursday called on Utahns to pray for rain this weekend as Utah's drought conditions continue to worsen.
In a pre-recorded video, the governor called on Utahns of all faiths to join him in a "weekend of humble prayer" from Friday through Sunday.
"We need more rain and we need it now," he said. "We need some divine intervention. ... By praying collaboratively and collectively, asking God or whatever higher power you believe in for more rain, we may be able to escape the deadliest aspects of the continuing drought."
The U.S. Drought Monitor released its latest drought report for Utah earlier Thursday. It listed no changes from the previous week, which is when the percentage of the state in the "exceptional" drought category rose to about 62.2%. At least 90% of Utah remains in "extreme" drought status and all parts of the state are experiencing at least a moderate drought.
There are no signs that it will get better anytime soon. The National Weather Service issued excessive heat warnings and heat advisories for many parts in Utah Thursday and Friday due to record heat in the forecast. Hot and dry conditions are expected for the few days after those warnings and advisories expire.
The NWS Climate Prediction Center's long-range summer forecast calls most of the same to continue in northern Utah while it remains unclear if southern Utah will receive its ever-important summer monsoons.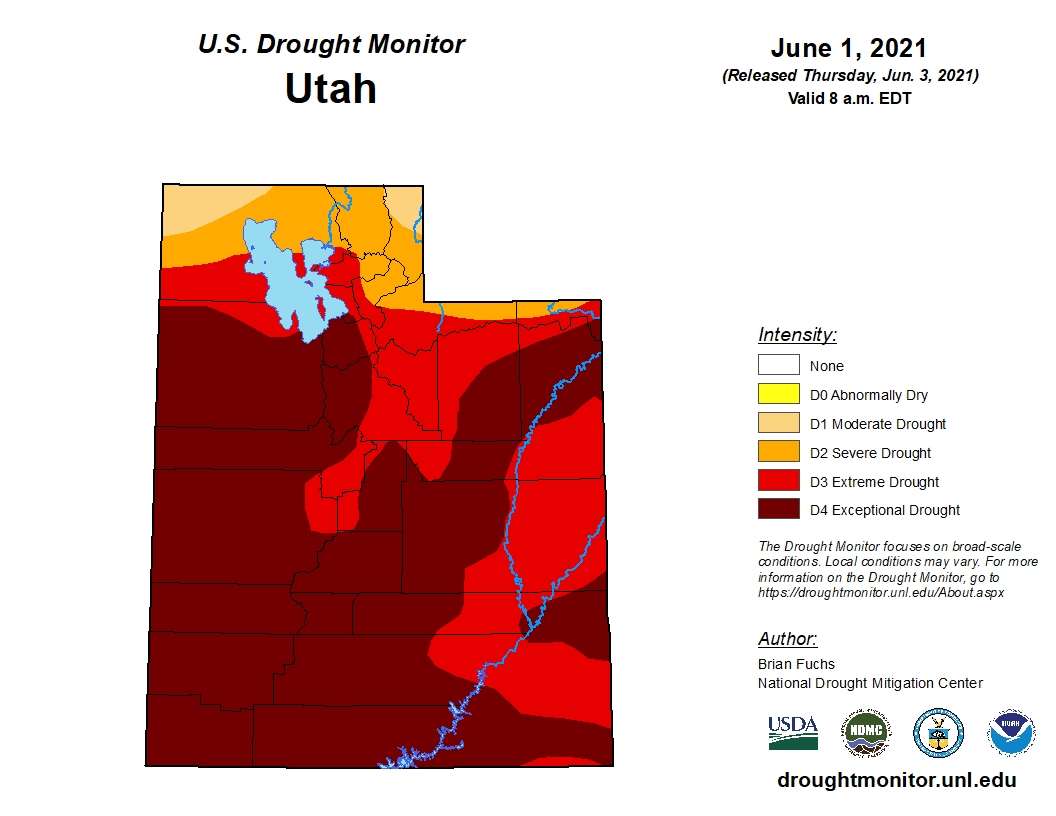 Most of Utah received more rain over the meteorological spring months than in spring 2020, which is when the current drought began to form; however, Cox pointed out that Utah is still in trouble. As of May 1, the statewide average reservoir (excluding Lake Powell, Flaming Gorge, Strawberry) was 69% capacity, according to the Utah Division of Water Resources. That's 14 percentage points below the same point last year.
"It's simply not enough to fill our reservoirs or offset the low levels of moisture in our soils," Cox said of the spring rain. "The extremely dry conditions this year bring the potential for deadly fires; and the lack of water threatens our crops, our livestock and wildlife, our food supply chains and our way of life."
Craig Buttars, the commissioner of the Utah Department of Agriculture and Food, added his support for the governor's call for prayers in another video posted Thursday. In the video, he said the drought could lead to an impact to the state's food supply in grocery stores.
"Our farmers and ranchers do all that they can to conserve water but at this time that's not enough," he said. "We are requesting citizens of the state of Utah to support this weekend of prayer here in the state."
Zachary Frankel, executive director of the Utah Rivers Council, a nonprofit water conservation group, on the other hand, said he believed the state should look at better policies to handle the drought as the situation worsens. Some of that, Frankel argued, is that Utah's water rates remain cheap enough that there's no real incentive to conserve water.
At the same time, he said Utah's water conservation plan for municipalities pales in comparison to neighboring states also facing a similar drought situation.
"There's nothing wrong with prayer but there's a suite of state policies we could implement to address this drought which are being ignored," Frankel said in a statement Thursday.
The call for prayers comes as local communities ponder and issue more water use restrictions. For example, the Utah County Commission on Wednesday unanimously passed a declaration of emergency tied to drought conditions. It remains in effect through the end of the year unless otherwise terminated.
Utah County Commission Chair Bill Lee said the declaration was requested by "multiple mayors" in the county and will allow the county time to continue to educate residents about the drought and its effects.
"I am eager to stand with them in helping our communities to mitigate the negative consequences of the drought," he said, in a statement Wednesday. "I urge all Utah County residents to do their part to conserve water and help protect the health and safety of our residents by exercising common sense in preventing costly wildfires during these potentially dangerous times."
Just to name some of the most recent updates local governments have made, the Utah County order was passed a few days after Lehi city officials said they were considering possible water restrictions, including fines, tied to water shortages.
In northern Utah, Pineview Water Systems managers said this week they may run out of water by mid-August if water is consumed at the rate it has been so far. Meanwhile, Salt Lake City moved to the second of its five-phase water conservation plan last week for the first time since 2004.
Cox issued two different executive orders this year tied to the drought: a state of emergency in March and an order to cut back watering at state facilities last month. Through those, the governor asked Utahns to find ways to cut back water use by taking shorter showers, fixing leaky faucets, watering their lawns less or by planting landscapes that don't require much water.
×
Related stories
Most recent Utah stories