SALT LAKE CITY — A storm that passed through the Wasatch Front over the weekend provided Utah with some much-needed rain but barely made a dent in Utah's ongoing drought situation.
As the calendar moves into the summer, the National Weather Service's Climate Prediction Center calls for a higher probability of above-average temperatures and, at least for northern Utah, drier than average conditions throughout the meteorological summer that begins next week. It was already a long shot for the summer to end Utah's drought, but the long-range forecast essentially says that Utahns should prepare for drought conditions to continue for at least the next few months.
Where we're at in the water year
The National Weather Service recorded 0.51 inches of precipitation at its Salt Lake City International Airport station on Sunday from the weekend storms. It bumped the amount of rain collected this water year to 7.9 inches since the water year began on Oct. 1, 2020; however, the city remains 4.11 inches below normal with a little more than four months to go in the water year, according to the agency's database.
Christine Kruse, the lead meteorologist at the National Weather Service's Salt Lake City Office, points out that a big reason it didn't make too much of a difference is that storms of that caliber are typical for spring.
"Just because you have a nice storm — a half-inch of rain — doesn't mean that you're making a substantial reduction in the drought," she said. "You also have to remember that normally you'd get maybe a half-inch of rain every week (or) every two weeks so you're just seeing normal precipitation. What we really need to turn the drought around is above-normal precipitation through a more extended period of time."
The rain situation has been much worse at the weather service's other Utah station, located in Cedar City. The southern Utah city entered Monday with just 2.04 inches of precipitation at this point in the water year, which is 5.67 inches below normal, according to weather service data.
All of this is happening after Utah, as a whole, recorded its driest calendar year on record in 2020. That's what created the drought situation in the first place.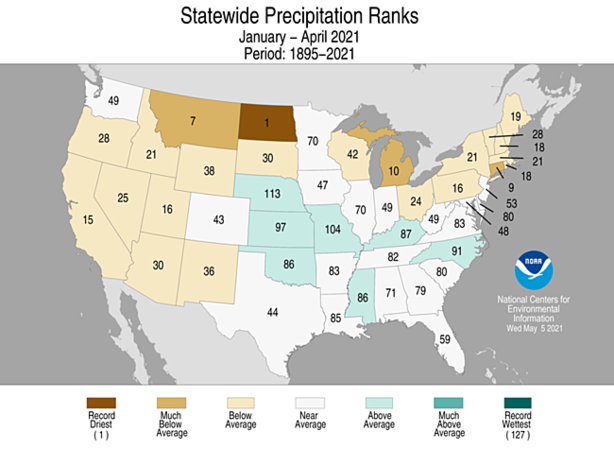 The 2021 calendar year is currently on pace to be wetter overall but is also off to a rough start, which has helped prolong and even worsen conditions. Based on data collected through April, the National Centers for Environmental Information listed Utah as having the 16th driest year through the first third of a calendar year on record. It also listed Utah as having the 30th warmest start on record.
Needless to say, it's been hot and dry overall. And that's why the U.S. Drought Monitor still lists 58% of Utah in an "exceptional" drought, which is its most severe category. About 90% remains in the second-worst category, which is "extreme" drought. Every portion of the state is considered in at least a moderate drought.
That's why Gov. Spencer Cox issued an emergency order in March over the statewide drought, urging Utahns to conserve water the best they can. It's also why fire experts have warned about fire danger this summer.
What's on the horizon
June 1 is the beginning of the meteorological summer and National Weather Service's Climate Prediction Center projects that conditions will remain warmer than average statewide. It also projects a stronger likelihood of drier than average conditions for central and northern Utah for the summer months of June, July and August. The projections are based on typical trends seen from current and expected oceanic patterns and don't offer a precise forecast.
The model gave southwest Utah an "equal chance" in terms of the summer precipitation forecast. Kruse explained that means there wasn't enough data to indicate whether or not the region would have a drier or wetter season.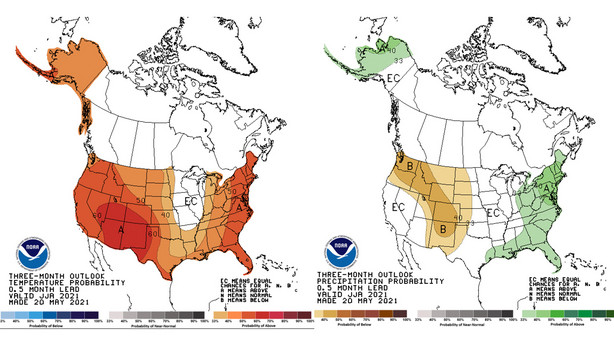 What does the long-range Utah forecast mean exactly? June, July and August are typically the three driest months of the year in Salt Lake City, which represents most of northern Utah. National Weather Service data shows that it leads to an average of about 2.28 inches, or a little less than 15% of a normal year's worth of water. The seasonal temperature average is 75.1 degrees for the three months, as well.
It's not exactly the season that would produce a significant amount of rain anyway, which is why Kruse said forecasters didn't really anticipate it saving Utah from its drought situation. She said summer rain in central and northern Utah is more helpful in reducing the immediate need on irrigation or sprinkler systems.
Summer, in terms of precipitation, is a bit of a different story in southern Utah because of monsoonal patterns. For example, August is typically Cedar City's third-wettest month of the year on average and that represents what those monsoons mean for the southern Utah region. Cedar City's meteorological summer precipitation average is 2.5 inches, or a little more than one-fifth of its average water haul. At a higher altitude than Salt Lake City, its average temperature is about 70 degrees for those months.
Monsoons are something that didn't happen in 2020, which is about when drought conditions emerged in southern Utah. Meteorologists like Kruse, as well as farmers and firefighters, are all focused on what will happen this summer since the monsoons are a large water source for the region.
"We have to watch how the weather patterns evolve over the next month or so and see if we can induce the strong monsoon this year," she said. "Last year, we essentially had no monsoon so most of southern Utah saw very little precipitation and it was well-above average for temperatures for the entire summer and into the fall."
Given the drought conditions and probability that those will remain in place, Kruse said Utahns should be careful around dry vegetation especially when doing activities that could spark a fire, and Utahns should follow practices to conserve water.
The Utah Division of Water Resources offers a weekly watering guide to inform Utahns when they should and shouldn't water their lawns. Utah also has its "Slow The Flow" campaign, which offers many tips on how to conserve water both indoors and outdoors.
×
Related Links
Related Stories