Estimated read time: 4-5 minutes
This archived news story is available only for your personal, non-commercial use. Information in the story may be outdated or superseded by additional information. Reading or replaying the story in its archived form does not constitute a republication of the story.
SALT LAKE CITY — Gov. Spencer Cox on Wednesday issued an executive order declaring a state of emergency due to ongoing drought conditions in Utah.
The order, which goes into effect immediately, allows counties and cities to begin the process of implementing water restriction plans for the irrigation season and encourages all Utah residents to reduce indoor water waste by consuming less and fixing any "irrigation inefficiencies."
It also encourages water suppliers and irrigation companies to "where possible, delay the start of the irrigation season or end irrigation early: encourage efficient landscape water; and as needed, contact the Division of Water Resources for assistance with developing a drought response plan."
The order is the beginning of the process for communities, farmers and anyone else affected by persistent drought conditions to request government resources "as reasonably necessary to cope with a state of emergency."
In a statement Wednesday, Cox said he met with the state's Drought Review and Reporting Committee, which recommended an emergency declaration. The declaration also activates the Drought Response Committee. Both committees are chaired by Utah Department of Natural Resources executive director Brian Steed.
"We've been monitoring drought conditions carefully and had hoped to see significant improvement from winter storms," Cox said. "Unfortunately, we have not received enough snow to offset the dry conditions. I ask Utahns to evaluate their water use and find ways to save not only because of current drought conditions but also because we live in one of the driest states in the nation."
Most of Utah has been in at least a moderate drought for a full year now. The U.S. Drought Monitor listed nearly 59% of the state in a moderate drought on March 10, 2020. The number only increased during what became the driest calendar year on record.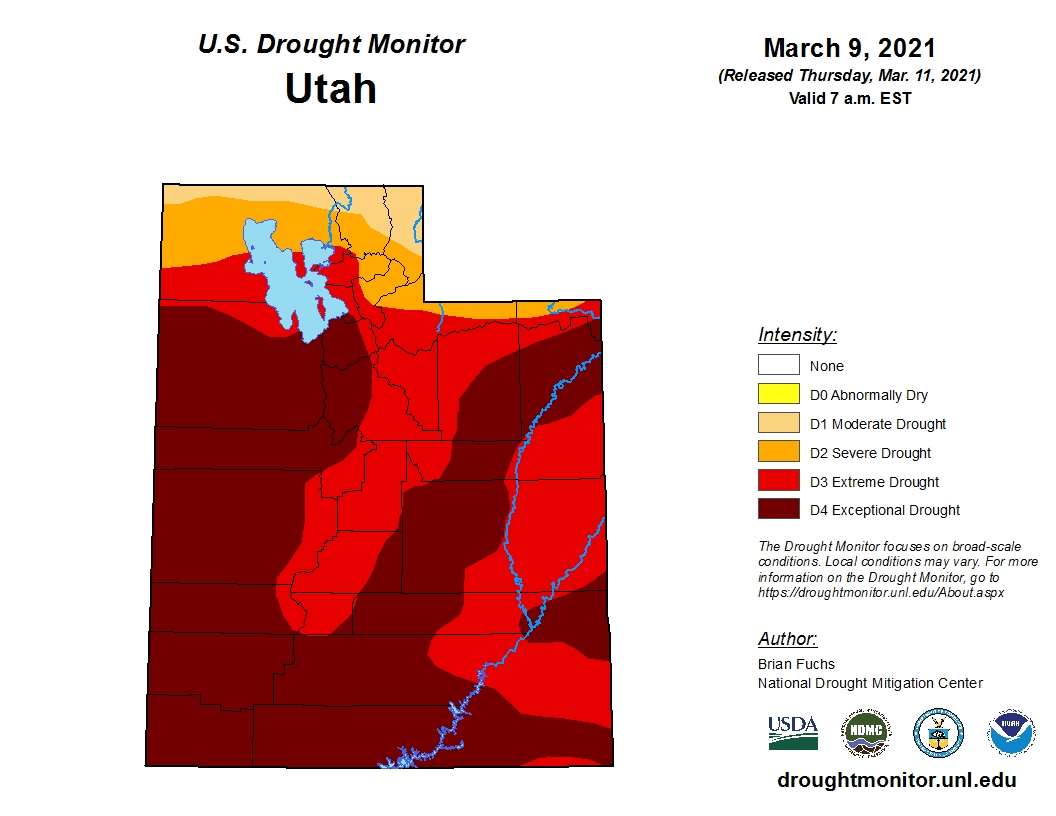 The agency listed 100% of the state in at least a moderate drought, and at least 90% in an extreme drought as of the latest report, which was released last week. A little more than 57% of the state was listed in an exceptional drought, which is the driest possible condition on the map.
The U.S. Drought Monitor also shows that 20% of the entire Western region is in an exceptional drought.
The last emergency drought declaration was issued in October 2018 by then-Governor Gary Herbert. The drought ended after a prolific winter and spring season in 2019.
That's not the case this time around; Utah's current drought problem is compounded by the below-average snowpack, which will equate to below-average spring runoff. The runoff from the snowpack is mainly what fills state reservoirs every year.
The order issued Wednesday says that state reservoir water storage has decreased 14% over the past year and current forecasts call for runoff to be 72% of the state's seasonal average.
While the snow season is still underway, the state says there's just a 10% chance that Utah would be able to get even an average snowpack. The National Weather Service's Climate Prediction Center March-April-May projections call for a higher chance of a warmer, drier spring, as well.
The governor's office said Wednesday that the state's current soil moisture levels are the lowest in the 15 years the state's soil has been monitored.
"Extremely dry soils mean that when we do receive precipitation, the ground will soak it up first and reduce the runoff that typically fills reservoirs, lakes and streams," Steed said in a statement. "We urge people to consider ways they can save water and help be part of the solution. The state also offers water-saving and money-saving rebates to help with both indoor and outdoor conservation."
In his declaration Wednesday, Cox argued drought conditions and forecasts have wide-ranging impacts on the state, from agriculture to wildfire threats.
"The extreme drought conditions have adversely and significantly impacted agribusiness and livestock production, as well as wildlife and natural habitats," the order states. "Increased recreation in dry vegetative conditions has contributed to an increased and prolonged threat of wildfire across the state."
The state provides ways to reduce water consumption through its "Slow The Flow" program. Tips include reducing shower times, fixing water leaks, and running full dishwasher and washing machine loads. That's on top of reducing the use of water on lawns and using "water-wise" landscaping.
More tips can be found on the program's website.
×
Related stories
Most recent Outdoors & Rec stories