Estimated read time: 4-5 minutes
SALT LAKE CITY — Citing current and projected drought conditions all over the county, Salt Lake City Mayor Erin Mendenhall on Wednesday issued a "Stage 1 Advisory" for water conservation under the city's water shortage contingency plan.
"Our public utility professionals have been monitoring our snowpack, our streamflow and our soil moisture conditions, and the data collected indicates that it's prudent for Salt Lake City to be proactive and activate Stage 1, which is the advisory stage of the city's water shortage contingency plan," she said, standing in front of the Salt Lake City-County Building.
The city's plan states that the first stage results in an "increase in public education and information to assist all customers impacted by the shortage in order that those customers better understand the state of the water shortage condition and the need for voluntary action."
Laura Briefer, the director of the city's Department of Public Utilities, said the first stage is voluntary and serves more as a message that drought conditions can result in water shortages.
"It's not new for us to be in a drought year," she said. "But it is important that we take the conditions seriously."
Mendenhall argued that providing clean and safe drinking water is one of the city's "most important responsibilities." She asked residents and businesses in Salt Lake City or that use Salt Lake City utilities for water to find ways to reduce water consumption waste under the advisory issued Wednesday.
The city also provides water for most of Cottonwood Heights, Millcreek and townships on the east bench of Salt Lake County, as well as smaller parts of South Salt Lake and Murray, according to Salt Lake City's website. Briefer said that the city's system provides water to more than 360,000 residents in the county.
Under the advisory, Salt Lake City officials said its fire and public services department will look into ways to reduce water waste such as ensuring water hydrants aren't leaking and monitoring water use at city-managed parks. State water resource officials have also shared water conservation tips, such as taking shorter showers and waiting to water lawns.
"We can prevent serious shortages for the rest of the year by planning and preparing well now. That's why this is so important," Mendenhall said.
The city's advisory comes a week after Gov. Spencer Cox issued an emergency declaration regarding the state's drought conditions.
Among other things listed in the emergency declaration, Cox's order recommended that municipalities and counties across the state develop and implement water restriction plans. That's why Salt Lake City issued its advisory.
A little more than 90% of the entire state remains in at least an "extreme" drought, and over half the state is in an "exceptional" drought, according to the U.S. Drought Monitor.
More than half of Salt Lake County is listed as being in an "exceptional" drought, with the remaining portion by the Wasatch Mountains and east bench in an "extreme" drought. Mendenhall said Wednesday that the Drought Monitor expected poor drought conditions to remain through at least the end of May, if not longer.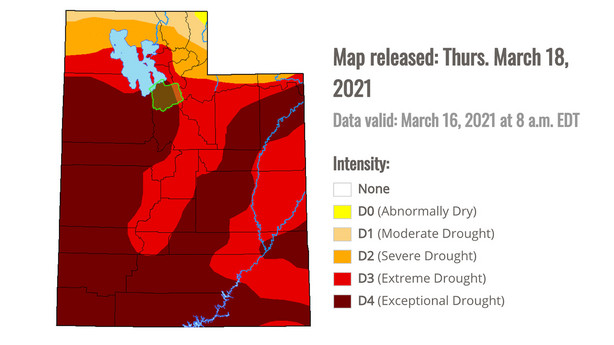 In addition to the drought, the state's ever-important snowpack remains below average for this point in the year.
Briefer said about 60% of the city's water comes from creeks at Little and Big Cottonwood, City Creek, Millcreek and Parleys canyons. The Provo-Utah-Jordan snowpack basin that melts into those creeks was 80% of the normal as of Wednesday afternoon, according to the Department of Agriculture's SNOTEL system.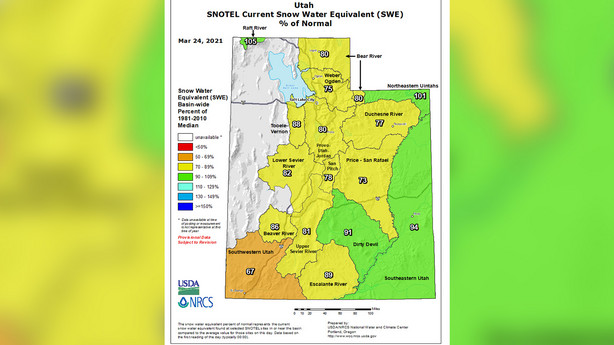 "Due to the combination of a low snowpack this year (and) the dry soils cause persistent drought, we are anticipating our stream flows to be well below normal," she said. "Thankfully, we have many, many decades of planning behind us so that we can plan and provide water during these dry years."
The city's contingency plan has five total stages. Some prohibitions on water waste may be enforced with fines, flow restrictors or disconnection if conditions worsen and the city moves to "Stage 2" of the plan. Briefer said the city will continue to monitor the situation closely throughout the next few months to see if those restrictions would need to be put in place.
×
Related Stories