SALT LAKE CITY — A pair of Salt Lake City precipitation records fell as a result of a storm system that passed through the state over the weekend; however, the state would need a few more storms of that quality to get out of its extreme drought conditions.
That's why state water officials are launching a new set of public service announcements over the statewide drought conditions and residents can reduce water consumption amid the drought.
"One hundred percent of Utah is in drought, reservoirs are low and wildfire risk is dangerously high. Do your part to save water: fix leaks, take shorter showers, run full loads and wait to water landscapes," one radio advertisement says.
The PSAs were set to air less than a week after Gov. Spencer Cox issued an emergency order over the prolonged drought conditions.
Where the latest storm left the state's snowpack
The state's entire snowpack did receive a boost from large storms the past two weekends. The most recent storm ended up sending most of its precipitation a little more south than originally forecast. It provided Salt Lake County the most precipitation.
Salt Lake City, for instance, received 0.85 inches of precipitation on Saturday, snapping a record set in 1946, according to the National Weather Service. Data from the agency show the airport received 1.11 inches of precipitation over the weekend.
As of 2pm we've tied the record precipitation for the day (0.69" set in 1946) at the Salt Lake Airport, and its still raining steadily! #utwx

— NWS Salt Lake City (@NWSSaltLakeCity) March 20, 2021
The Mountain Dell Dam by Parleys Canyon received 0.81 inches on Saturday, which broke a record set in 1932 as well. Precipitation records may not have been set elsewhere in the state, but there was plenty of rain and snow provided by the most recent storm.
One Ogden station recorded close to 1 inch, Farmington received 0.70 inches and Provo received 0.84 inches, according to information from the weather service.
Meanwhile, Alta received the most snow from the latest system. Both of its locations recorded 23 inches of snow, according to weather service data. The best news is that the snow was packed with water. The Utah Department of Transportation station at Alta recorded 1.89 inches of precipitation from the 23 inches of snowfall.
Other stations nearby in the Cottonwood Canyons also got more than 1 ½ feet of snow and over 1 ½ inches of precipitation. In fact, many stations within the Wasatch Mountains and Western Uintas mountains received well over an inch of precipitation, according to the weather service.
It helped bring the statewide snowpack back to nearly 80% of normal for this point in the snow season as the season reaches closer to its regular peak, according to the Natural Resources Conservation Service that tracks snowpack. The normal peak of snow collection before the spring runoff is April 5 and current projections would indicate that the entire snowpack would be melted by early-to-mid June.
Still falling short
Utah is coming off its driest year on record, which is why the current statewide snowpack is still below average even after some heavier storms since late January.
On a more localized level, the most recent storm that produced 1.11 inches for the National Weather Service's Salt Lake City station helped it return to the positive side in terms of precipitation norms for a calendar year; however, NWS data show the location entered Monday still 2.98 inches below average for this point in the water year, which began on Oct. 1, 2020.
The past year left Utah in a large hole with some of the worst drought conditions ever reported by the state. A vast majority of the state entered an "extreme" drought by last September, according to the U.S. Drought Monitor. The monitor is a program composed by the National Drought Mitigation Center at the University of Nebraska-Lincoln, U.S. Department of Agriculture and the National Oceanic and Atmospheric Administration.
A little more than six months later, the group listed 57% of the state in an "exceptional" drought in its latest report released Thursday. At least 90% is in at least an "extreme" drought. Outside of a tiny sliver in northeast Utah registering as 0.18% of the state listed as "abnormally dry," practically the entire state was still in at least a moderate drought.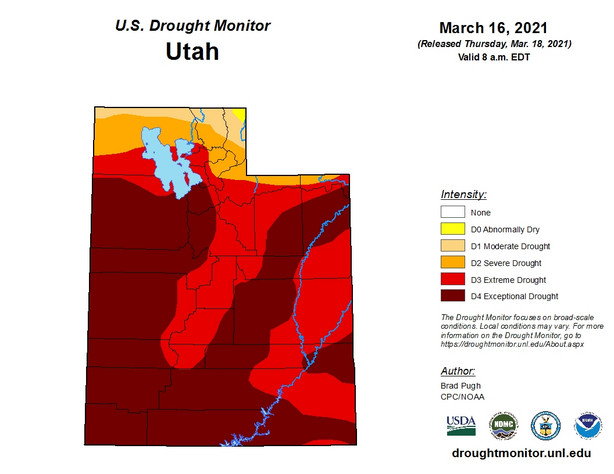 Drought conditions are based on recent soil moisture levels, as well as current streamflow and precipitation data, according to its website. The U.S. Drought Monitor states that when a location is listed as "extreme," that "fire danger increases: fire bans on public land are implemented; native vegetation is stressed and streamflow is low." Fire restrictions increase and irrigation water allotments are typically cut after an "exceptional" drought is reached.
That's the sort of language found in Cox's emergency order last week.
"The extreme drought conditions have adversely and significantly impacted agribusiness and livestock production, as well as wildlife and natural habitats," the order stated. "Increased recreation in dry vegetative conditions has contributed to an increased and prolonged threat of wildfire across the state."
The order stated that state reservoir levels decreased 14% from last year.
While the state has experienced many droughts in the past, the current situation is a bit different and that's what prompted concerns and ultimately a statewide order. Extremely dry soil levels will also factor in "well-below normal runoff," officials for the Division of Water Resources said Monday.
"Our current soil moisture is an all-time low since monitoring began, so that means any precipitation we receive is going to be soaked up by the ground," said Kim Wells, a spokesperson for the agency. "That reduces the runoff that typically fills those reservoirs, lakes and streams."
Cox's order issued last week estimated that the runoff into reservoirs will be about 72% of the seasonal average. These figures are also why the state is turning to the public's help in ensuring that the state water supply isn't used up if conditions continue to linger further into the future.
A plea for help: Getting the word out about water conservation
The Division of Water Resources this week sent out a 15-second and 30-second radio advertisement that will play across stations in the state. On top of that, the division will spread its information on social media.
The agency also began to forward information to the League of Cities and Towns and to public information officers across the state, so you may soon receive a reminder or information about water practices by your local municipality about water consumption.
"Water scarcity affects everyone and everything, we were looking to cast a really broad net in terms of public outreach, trying to reach as many people as possible and inform them of the seriousness of this drought," Wells said.
Wells added that since 60% of residential water supply is used for lawns, that cutting back on that purpose would significantly help residential water consumption rates.
Tips can be found through the division's water conservation program website. The division is also among the agencies that compose the "Slow the Flow" campaign for water conservation in Utah. Top tips for water conservation include:
Fix leaky faucets and water pipes
Take shorter showers
Turn off the water while you are brushing your teeth or shaving
Use larger dishwasher and laundry loads
Convert to "water-wise" plants in your yard
Use more mulch, which can reduce evaporation around your plants and shrubs. A drip system can also be used to reduce water waste
Don't overwater plants. Plants are more likely to die from overwatering than underwatering.
Remove weeds that siphon water from healthy plants
Adjust your mower to a higher grass setting because longer grass blades hold moisture and shades root systems better than shorter grass blades
Wash your pets outside near plants that also need water to reduce water needed for plants and washing your pet
The Division of Water Resources also plans to post weekly watering schedules on social media for residents to know the best times to water their lawns to avoid water shortages. The current map through Thursday asks northern Utah residents to wait before they water their lawns and plants, while adding that they will tell southern Utah residents when the right time to water lawns and plants are.
"So when should you start watering your landscape? We will tell you when! We promise that we don't want your landscape to die and we won't make recommendations that would do that," the agency wrote in a Facebook post Saturday.
Wells said many of the complaints the division receives are about parks that water their lawns through the day but added that the size of parks makes the water schedules complex, often resulting in longer and different watering schedules. That's why the agency is currently focused on residents doing what they can do to help on a more individual level.
Meanwhile, the state also offers rebates for smart irrigation controllers and low-flow toilets, Wells added.
"If we just do the simple things, it can all add up to a lot of savings," Wells said. "I think a lot of it is about raising awareness that we're in a very serious drought and we all know Utahns are very responsive when you put out a plea to help. So I think if people know how serious the situation is, they can take some of these small steps and it helps reduce our water use."
×
Related Stories