ST. GEORGE — The landscape in St. George will soon include a second temple for The Church of Jesus Christ of Latter-day Saints, with construction officially ready to start on the Red Cliffs Utah Temple.
St. George native Elder Jeffrey R. Holland of the church's Quorum of the Twelve Apostles presided at Saturday morning's groundbreaking ceremony.
"May the breaking of this soil and the development of this site not only be evidence of the dedication of a parcel of land, but may it also mark a rededication of our personal lives," Elder Holland said during the dedicatory prayer.
The three-story building will be about 90,000 square feet and constructed on a 14-acre plot northeast of 3000 East and 1580 South in St. George. A golden Angel Moroni statue will be placed atop the building, according to an artist's rendering of the design.
Latter-day Saints, who make up just under two-thirds of Utah's population, consider temples to be a sacred place where members can make covenants, or promises, with God.
The Red Cliffs Utah Temple, which was announced by church President Russell M. Nelson in October 2018, will make St. George the third city in Utah and fifth in the world with two temples either announced, in operation or under construction — joining South Jordan; Provo; Manila, Philippines and Lima, Peru.
Along with the Red Cliffs Temple, the Taylorsville, Orem, Layton and Saratoga Springs temples are all currently under construction, meaning Utah is on its way to having 25 temples across the state. Temples have also been announced in Syracuse, Tooele Valley and most recently Lindon.
Utah currently houses 17 temples, with the Salt Lake and St. George temples currently under renovation. Saturday's groundbreaking was held the same week the St. George Utah Temple hit the one-year milestone of construction.
The temple, which was the first completed in Utah in 1877, is undergoing a renovation designed to bring the building into the 21st century and ensure it stands for at least another hundred years, according to the church.
"This temple has lasted 142 years on the existing foundations," Eric Jamison, field project manager who oversees temple construction, said in a news release. "After beefing this up, we're going to be able to ensure that the foundations last far beyond that."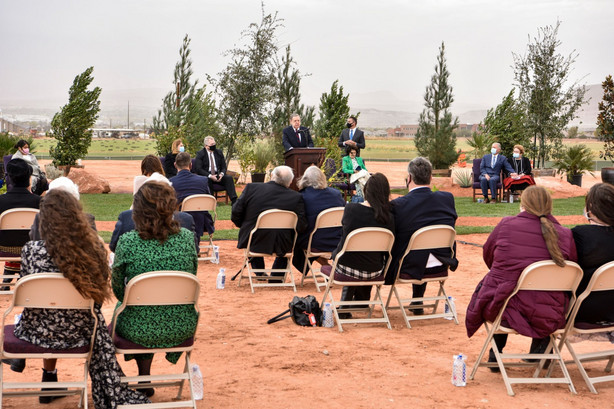 The St. George Utah Temple is expected to reopen in 2022. A timeline for the Red Cliffs Utah Temple's construction, open house and future dedication will be announced in coming months, church officials said.
A limited number of guests were invited to Saturday's event per local COVID-19 health guidelines.
"Sadly, the limitations and dangers of the COVID-19 pandemic are still with us," Elder Holland said. "We pray that this plague will soon be lifted and that the many who are restricted from witnessing this groundbreaking will soon be able to witness the dedication of a beautifully completed house of the Lord."
Editor's Note: Deseret Digital Media, Inc., the operator of KSL.com, is a subsidiary of Deseret Management Corporation, which is owned by The Church of Jesus Christ of Latter-day Saints.
×
Photos
Related Stories