OREM — With a few dozen ceremonial turns of dirt, The Church of Jesus Christ of Latter-day Saints officially marked the beginning of construction of its newest temple.
The church held a small groundbreaking ceremony Saturday for the Orem Utah Temple located at approximately 1471 S. Geneva Road. The temple is just west of the University Parkway exit of I-15.
"It's really to start the process," Utah Area President Elder Craig C. Christensen told reporters following the event. "The emotions, the excitement, the feelings of our members. People are going to drive by this site and mark their time, their days as they watch it take place."
Due to concerns over the novel coronavirus pandemic, the groundbreaking was limited to 30 attendees. The crowd included Orem mayor Richard Brunst, Vineyard mayor Julie Fullmer and Utah Gov. Gary Herbert — Gov. Herbert was raised in Orem.
"We are grateful for the legacy of faith that exists among the Saints in this part of the Lord's vineyard," Elder Christensen said in his address during the abbreviated meeting. "The Orem Utah Temple will become an added refuge of strength in an increasingly uncertain world — a holy place where we learn and live more fully the great plan of happiness made possible by our Savior, Jesus Christ."
The temple will be three stories tall, cover about 70,000 square feet and will include a center spire.
"It'll face to the west so people come in off Geneva Road, and they see this beautiful backdrop with (Mount) Timpanogos and the mountains that have been hallmarks in Utah County from the very beginning of time," Elder Christensen said.
The temple is expected to be completed in 22-24 months, Elder Christensen said, and the building will begin to take shape in about six months.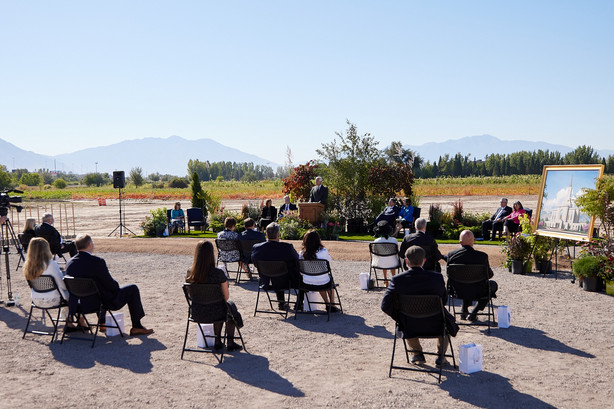 "This will become a hub for this whole valley; this will become a huge community over time," Elder Christensen said.
The temple will serve communities in Orem as well as church members in nearby Provo and Vineyard — a city that has experienced massive growth in recent years.
"It's for the people," Elder Christensen said of the site's location. "It's not for the mountains, not for the hill. This is built where the people can have access, can work here, can come here, can serve here. That's really what the temple is all about."
The Orem Utah Temple is one of many temples currently in the planning or construction stages in Utah. Temples have been announced in Syracuse, Taylorsville, Tooele Valley and Washington County, with temples in Layton and Saratoga Springs currently under construction.
Editor's Note: Deseret Digital Media, Inc., the operator of KSL.com, is a subsidiary of Deseret Management Corporation, which is owned by The Church of Jesus Christ of Latter-day Saints.
×