Estimated read time: 2-3 minutes
This archived news story is available only for your personal, non-commercial use. Information in the story may be outdated or superseded by additional information. Reading or replaying the story in its archived form does not constitute a republication of the story.
THE PITCH — Who doesn't love a good sports blooper?
Back in the day, there were VHS tapes dedicated to sports bloopers that you could buy or even rent at Blockbuster Video. "SportsCenter" does the "NOT Top Ten" filled with the best worst plays of the week.
Like any other sport, fútbol, or soccer, has seen its share of bloopers. But there's something about a player missing a wide-open goal that is the king of soccer bloopers.
One of the greatest misses was in the 2010 World Cup when Nigerian striker Yakubu Aiyegbeni somehow wasn't able to tap in a ball that was served up on a platter.
Recently, Manchester City's Raheem Sterling missed a wide-open shot literally footsteps from the goal. It was so bad, his team's manager Pep Guardiola fell to the ground in disbelief.
So as you can see, there have been some pretty bad misses/bloopers, but the one you're about to see is arguably the biggest blunder in soccer history! You've seen wide-open misses in soccer before, but you've never seen one this bad — ever.
To Belgium we go. It's a league match between KV Mechelen vs. KV Oostende this past Saturday and the match is 0-0. A Mechelen player (team in orange) crosses the ball into the box. An Oostende player intercepts the cross and the ball goes straight up. The Oostende goalkeeper tries to punch the ball out, but fails and goes directly to an opponent, who shoots it over the keeper.
Unfortunately for the Mechelen player, his shot hits the crossbar, however, it lands close to one of his teammates and — I cannot emphasize this enough — there is no one near him!
All he has to do is tap it in! He can literally walk and push the ball in.
And it's a gooo...nooo!
This sequence of play from the Belgian league might just be the most entertaining we've ever seen.pic.twitter.com/rzf5wLOMMa

— Balls.ie (@ballsdotie) September 12, 2020
Perhaps the Mechelen player didn't realize how wide-open and onside he was, as he seemingly rushed it, tried to kick the ball as soon as the ball hit the ground. However, he mistimed his kick and his foot actually went onto the ball, causing him to trip on the ball right by the goal post. An Oostende defender comes in and knocks the ball out for a corner kick.
The Mechelen player grabbing his head in shock and disbelief said it all. Pure agony … and embarrassment, certainly.
I mean, how am I going to explain to my future kids he missed this?!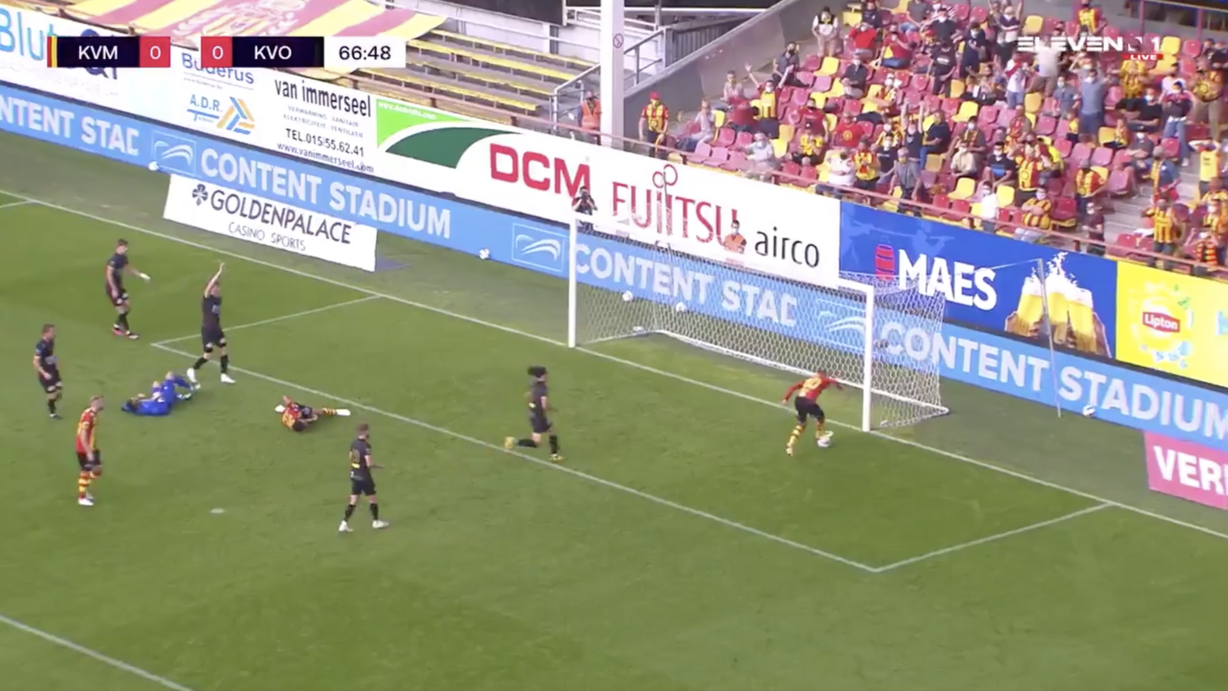 And, as what happens in sports, that blooper would cost KV Mechelen, as they'd go on to lose the match 1-0.
So next time you think you have something in the bag (or in the back of the net, in this case), remember to focus and finish it out all the way through.
Or maybe just don't overthink it.
Have You Seen This?
×
Related Stories