PROVO — Football is back in Provo.
Or at the very least, football practice is.
But as BYU returns to the field for the first practice of fall training camp Tuesday, the Cougars also enter a preseason unlike any other as a result of the coronavirus pandemic.
BYU's schedule has been pillaged in recent weeks, with the team losing all six of its previously scheduled games against Power Five opponents, including the season opener Sept. 3 at archrival Utah.
There are no dates current set up on the Cougars' schedule before the traditional general conference weekend showdown Oct. 2 against Utah State. And while the Cougars were among the teams granted a waiver to begin limited training last week for walk-throughs, meetings, and strength and conditioning for the past week, Tuesday marks the first day of mandatory workouts under the NCAA's 20-hour rule.
With that in mind, here are five things to watch as BYU kicks off a fall camp unlike any other.
Will the Cougars play college football this year?
That's the million-dollar question, and there are no good answers right now.
The NCAA board of governors is scheduled to meet Tuesday, when a decision about the upcoming fall season for all sports may provide some clarity.
"It is clear that the format of our championships will have to change if they are to be conducted in a safe and fair manner," NCAA president Mark Emmert said last week. "We will continue our discussions in August."
The NCAA does not govern college football at the FBS level, but it will provide input on the Power Five conference commissioners in how it is approaching the pandemic for all other sports, including football at the FCS level. The governing body of college sports also coordinates championships in fall sports such as men's and women's soccer, women's volleyball, and cross country, among others.
BYU currently has six games scheduled, but it seems unlikely that a full 12-game season is going to work in the pandemic-stricken U.S. Even BYU Athletic Director Tom Holmoe admits as much.
"I would say that the full schedule probably won't happen," Holmoe said. "It could, but the Big Ten and Pac-12 already aren't doing that, and ... the number of games will probably be reduced."
Should college football be played this fall?
While every school, institution and conference connected to the sport has a boiler-plate addition to every press release or announcement that "health and safety" are the guiding principles for all upcoming football decisions, the reality is that no team or sport can guarantee a COVID-free environment until a vaccine can be introduced to the general population.
That won't happen until at least early 2021, according to even the most optimistic scientists on the front lines of the pandemic response.
In the meantime, schools are beefing up their COVID-19 protocols, and four out of five power conferences have already adjusted to some variation of a conference-only scheduling model to those protocols (and promote future scheduling changes should an outbreak occur on any campus).
But are those protocols going far enough? At least a handful of players in the conference say no.
That's why players from the Pac-12 released a list of demands Sunday calling for better, player-approved COVID-19 return-to-play guidelines at their member schools. Among other medical, social and financial demands, the players — which now include Utah offensive lineman Nick Ford and former Provo High receiver Ty Jones of Washington — want players to be able to opt out of the 2020 season for COVID-19 concerns without respect to their scholarship or roster spot. They also want the conference to invalidate coaches and administrators' attempts to waive liability if an athlete contracts the virus, in addition to social justice initiatives like the creation of a task force for racial equity in Pac-12 athletics.
The players say they are prepared to opt out of practice and games if their demands aren't met, though it's unclear how many will actually sit.
Other sports have returned to play, from the National Women's Soccer League to the NBA to Major League Baseball, with varying degrees of success. But these are all professional athletes who earn a paycheck.
Does the NCAA have a moral obligation to prevent the spread of the novel coronavirus on university campuses by delaying or postponing athletics, especially with an unpaid labor force like college athletes?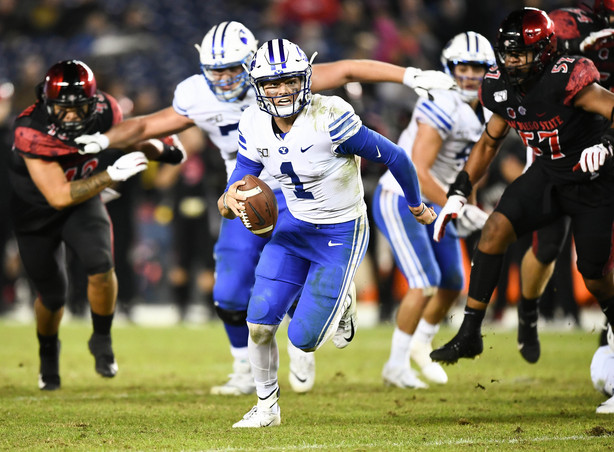 Who will start at quarterback?
While less pressing than matters of medical well-being and social justice, the Cougars also have a quarterback competition that needs to be resumed.
Back in the spring, head coach Kalani Sitake said all three returning signal callers with starting experience — junior Zach Wilson and redshirt sophomores Jaren Hall and Baylor Romney — would enter fall camp with an opportunity to seize the No. 1 QB role, if for no other reason than he wants all of his players to compete for playing time. BYU also signed dual-threat quarterback Sol-Jay Maiava, who starred at Kahuku High School in Hawaii before moving to the Washington, D.C., area and finishing his senior season at St. John's College High School.
It would be difficult not to consider Wilson the favorite to win the starting job, with 3,960 passing yards, 23 touchdowns and 12 interceptions in two seasons as the starter. But sources close to the program insist that Hall's athleticism can't be overlooked — though the former Maple Mountain star and BYU baseball outfielder has struggled to stay healthy. Neither can Romney's 3-1 record at quarterback, including wins over Boise State and in-state rival Utah State.
Even as off-the-field events swirl at BYU, a sense of normalcy returns with the start of football on the turf.
What about the backfield?
BYU's backfield looked set just a few months ago, when returning starter Lopini Katoa was keen on returning to join Utah graduate transfer Devonta'e Henry-Cole for his final season of eligibility.
But with Henry-Cole's move to Utah State, the Cougars' depth at running back is once again in question, and only new running backs coach Harvey Unga has an answer. Beyond Katoa — a Doak Walker Award watchlist candidate who ran for 358 yards and four touchdowns as a sophomore — Jackson McChesney and Tyler Allgeier also showed promise carrying the ball. Jackson Kaufusi also saw limited time at running back during the spring, though it's unclear if one of the Cougars' top linebackers would make the move full-time.
Former Kearns High star Sione Finau could also be an option, but the sophomore's health status is in question following season-ending knee surgery after eight games in 2019.
The wild card in the race may be Theo Dawson, a former Wyoming running back who transferred to BYU after serving a two-year mission for The Church of Jesus Christ of Latter-day Saints in Chile. Dawson, who was named Gatorade Wyoming player of the year in 2015, sat out the 2019 season due to NCAA transfer rules.
Where's the leadership?
While BYU returns a fair amount of production at wide receiver — Gunner Romney, Dax Milne, Neil Pau'u and Utah transfer Batchlor Johnson IV all return, among others — they will be missing key leadership from that position group of last year.
Who will replace Micah Simon, the go-to wide out who sure-handedly led to the Cougars' upset win at Tennessee a year ago? What about Aleva Hifo, the wide receiver/return ace who is now in training camp with the Kansas City Chiefs?
There are spots to be filled, if not on the field then in the team room.
×
Related Links