PROVO — BYU football was supposed to kick off the road to the 2020 season Monday with BYU football media day.
Instead, after the Cougars had five games canceled by the Big Ten and Pac-12, athletic director Tom Holmoe found himself on a Zoom call with BYUtv while the Cougars await the proposed start of the season as a result of the COVID-19 pandemic.
BYU still has five spots to fill on its 2020 schedule, but it's not as easy as plugging in teams that had previous or current openings on those dates and reshuffling the deck, Holmoe said during Monday's broadcast of BYU Sports Nation.
The adjustments could include a shortened schedule from the original 12-game plan, an amalgamation of fellow FBS independents, or even no season at all. BYU already lost Power Five matchups against rival Utah, Arizona State, Michigan State, Minnesota and Stanford.
"Anything is possible, or on the table; this is a pandemic," Holmoe said with a smile and a laugh. "I'm not really surprised by many things that come my way."
One of those possibilities involves moving the college football season (and likely other sports) to the spring — to a time when the pandemic could be controlled better, or a vaccine discovered.
While Holmoe acknowledged the possibility of such a move, he also said it's currently a "last resort" for the NCAA and its member schools. What's less of a last resort? Playing a shortened schedule in the fall.
"I would say that the full schedule probably won't happen," Holmoe said. "It could, but the Big Ten and Pac-12 already aren't doing that, and ... the number of games will probably be reduced."
Still, a schedule of 8-10 games would require the Cougars to find at least some replacement games in the lineup. That possibility includes scheduling every other FBS independent — think UConn, New Mexico State, Liberty and Army, namely — or a report over the weekend from AL.com that BYU and perennial power Alabama are a "strong possibility" to face each other in the first week of the season.
While not confirming those reports, Holmoe said he's had conversations with a lot of athletic directors about playing the Cougars. That, presumably, includes Alabama's Greg Byrne, who previously scheduled a series with independent BYU during his tenure at Arizona.
"It might take me a year to put together a schedule normally," Holmoe said. "When those two conferences … opened up games, most of those athletic directors and coaches who had games canceled had to start sprinting, so I've had a lot of conversations with a lot of people.
"I think they will continue until they are rescheduled."
An all-independent schedule would seem to be a last resort — short of moving to the spring — for the Cougars. Holmoe mentioned that several conferences operate on an odd-number schedule, meaning teams regularly have an "off week" that could leave openings for BYU to slide into, even in the event of a conference-only schedule. Concerns over a standard protocol for coronavirus testing would be ameliorated by the Cougars' own testing protocols, which Holmoe eluded is on the same level as most Power Five leagues.
The natural fit would involve BYU and Notre Dame, which still owes the Cougars at least one contracted home game from a series announced in 2010. But news on that front may be a ways off, Holmoe said.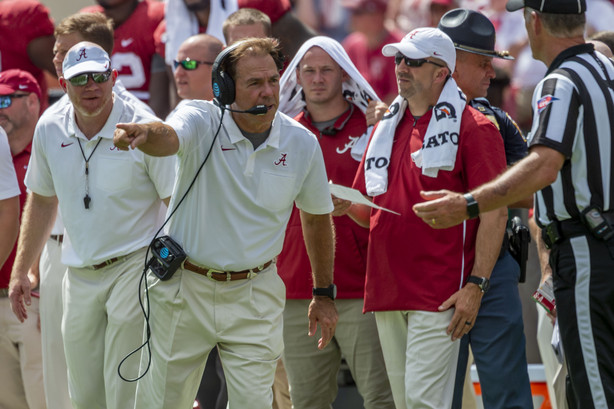 "Notre Dame is an entity on its own," he said. "They have a scheduling agreement with the ACC in football, and right now Notre Dame and the ACC are trying to work out how they might do their scheduling.
"It's just still in a holding pattern to see what they want to do and how their schedule will play out."
What isn't in a "holding pattern" is the Cougars' plans to start the fall season in other sports not named football. The West Coast Conference announced last week that it was delaying the start of the fall season to Sept. 24, canceling or postponing previously scheduled nonconference games before that date in the process.
Holmoe said the decision was made with the seven schools based in California in mind, because those schools have been unable to allow student-athletes to return to campus and begin voluntary workouts.
Among the coronavirus hotspots nationally are the Los Angeles area — where Loyola Marymount and Pepperdine reside — and the Bay Area, home to San Francisco and Santa Clara. San Diego, Saint Mary's and Pacific are the other California teams in the WCC.
"It became unrealistic that those seven schools would be able to compete in a nonconference situation," Holmoe said. "That's why we came together as a group and set the starting date of Sept. 24."
If games — any games, from football to soccer to volleyball and everything in between — were to be played, they would likely be played with limited fans in attendance. That may be as few as none, even, according to local health and safety protocols designed to reduce the spread of the novel coronavirus.
If the Cougars were to play today, or under current conditions, they likely would be doing so in front of mostly empty arenas.
"If we were to open tomorrow, we would be in a situation where it would be with a reduced number of fans," Holmoe said. "We've worked through all the contingencies … of where they would sit and how they would be spaced for social distancing, to be safe."
×
Related Links