PROVO — Another BYU baseball product is getting a shot at The Show.
How long that shot lasts is anyone's guess, though.
BYU pitcher Justin Sterner signed a free agent deal with the Miami Marlins on Thursday, joining former teammate Jarod Lessar with an opportunity to play Major League Baseball. Lessar signed with the New York Yankees in June.
Sterner was part of a historic pitching staff with the Cougars. The right-hander from Laguna Niguel, California, was a key part of the first-ever West Coast Conference title-winning team in 2019, and ranks No. 4 all-time in his BYU career with a career 2.86 earned run average. The mark is the best from a BYU pitcher since Mike Tucker posted a 2.60 ERA from 1976-78.
Sterner also ranks ninth all-time with 9.21 strikeouts per nine innings, and departs the program with a 1.31 WHIP. He departs BYU after three seasons, including a shortened season in 2020 in which he started four games, after serving a two-year mission for The Church of Jesus Christ of Latter-day Saints in Apia, Samoa.
"I couldn't be happier that Justin has this opportunity," BYU head coach Mike Littlewood said. "He's been a great leader for us the past few years and the anchor of our staff. He's done nothing but get better and better every day and I know he'll be great at the next level."
Sterner's signing with the Marlins comes at a time of much uncertainty, not just with Miami, but across MLB.
The Marlins became the first team to suspend play after a rash of positive tests for COVID-19 — a number that has only gone up in the week since — and the outbreak has now spread throughout the league.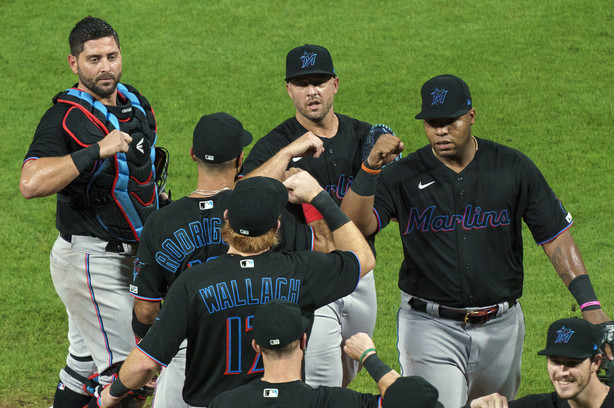 Miami has been signing several players as roster replacements as COVID-19 tests have hit a league-high. After the shortest MLB draft in league history of just five rounds, teams have been permitted to sign as many free agents as needed at $20,000 salaries. Those players will be eligible to make a team's 40-man roster, or they could be assigned to a future fall league, such as the one regularly scheduled in Arizona.
The Marlins added relievers Mike Morin, Justin Shafer and Josh D. Smith earlier this week, and has reportedly reached deals with reliever Pat Venditte, infielder Logan Forsythe and catcher Wilkin Castillo, pending physicals, according to MLB.com.
"Miami's front office is tasked with finding players with either big league experience or ones who are considered close to being big league ready in the aftermath of the club having been hit hard by the coronavirus pandemic," MLB's Joe Frisaro wrote.
If a player is placed on the disabled list due to COVID-19, teams are permitted to add any player to the 40-man roster to take their place while they recover, according to league protocols.
Major League Baseball has postponed all of Miami's games through Sunday. The team is currently scheduled to return to play at home next Tuesday against the Phillies.
On Friday, MLB suspended six teams' seasons after more coronavirus cases emerged, including more than 15 players from the Marlins, according to the Associated Press.
In addition to Miami, New York, Philadelphia, St. Louis, Milwaukee and Baltimore have also had games postponed or rescheduled due to the virus. Other teams are also dealing with the ramifications, which grow by the day.
"Some things aren't looking too good right now, but we have to play up to that point. Players are seeing what can happen," Houston manager Dusty Baker told the AP.
"The rest now is up to us and the virus," he added.
The six idle teams represent 20% of MLB, which returned to much fanfare July 18 after pushing back the season on account of the global coronavirus pandemic.
But the league barely got past opening weekend before the first round of positive tests came out of the Marlins' camp.
MLB revealed 29 positive tests across the league, a rate of 0.2%, for the week that ended Thursday. Apart from the Marlins, just eight positive tests remained from the other 29 teams, and only two involved major league players, the league said.
Miami's season has been suspended for five games, but one source told the AP that at least one of the positive cases was revealed since the team suspended play.
Commissioner Rob Manfred spoke with players union leader Tony Clark about the importance of following league protocols to stem the spread of the virus, according to a report first issued by ESPN and later confirmed by the Associated Press, among others.
The conversations reportedly centered around what needs to be done to be able to finish the shortened season. Manfred told Clark that failure to adhere to various protocols could lead to the cancelation of the season, according to ESPN.
"Obviously, we saw the message. They sent a memo. Just be more diligent, wear a mask in the dugout when you're not playing, what we've thought to be the rules all along," Arizona Diamondbacks catcher Stephen Vogt said. "So it's just like every other rule that MLB has for players — now it's going to be enforced, so to speak. Just strongly encouraging."
"Everything gets a little bit lax when you get in the game because the habits of what we've been doing our whole life takes over. When one of your teammates gets a big hit, you want to high-five them. You want to celebrate the way you've always done," he said. "And the last thing I want to do when I'm trying to play and do my job is be worried about COVID, but that's the times we're in right now."
Baseball's plan for a return to play included converted a lab in Utah, the Sports Medicine Research and Testing Laboratory in South Jordan, from its usual work that included testing for performance-enhancing drugs used by Minor League Baseball to coronavirus testing.
But the lab, which reportedly promised rapid turnarounds in testing, was also under intense scrutiny before the season began when tests were coming back after more than 72 hours in wait time for several preseason contests, according to the Washington Post. MLB contracted with a second lab at Rutgers University in July to help expedite the process.
All the while, MLB and SMRTL defended their testing program, despite mounting criticism and early difficulties that they blamed on shipping problems related to sending results back around holiday weekends.
"You couldn't put a better protocol together," Daniel Eichner, president and laboratory director at SMRTL, told the Post.
Still, baseball's coronavirus protocols are unraveling. And how much more time Major League Baseball has left this season is yet to be determined.
Contributing: Associated Press
×
Related Links