Estimated read time: 7-8 minutes
This archived news story is available only for your personal, non-commercial use. Information in the story may be outdated or superseded by additional information. Reading or replaying the story in its archived form does not constitute a republication of the story.
SANDY — For the firs time in NWSL history, the Houston Dash are hoisting a cup.
Sophie Schmidt converted a penalty kick inside the first five minutes, and Jane Campbell made four saves to make it stand up as the Houston Dash won their first NWSL title with a 2-0 victory over Chicago in the NWSL Challenge Cup championship match Sunday at Rio Tinto Stadium.
Schmidt gave the Dash a 1-0 from the penalty spot just five minutes into the match. After Kristie Mewis earned the penalty while being dragged down by Chicago's Kayla Sharples, Schmidt calmly beat Red Stars goalkeeper Alyssa Naeher inside the right post for a lead that Houston would never give up.
Shea Groom scored an empty-netter in stoppage time to seal the win for the Dash, taking a pass from Rachel Daly out of the midfield and notching her third goal of the tournament for an emphatic punctuation mark.
Campbell made four saves on 15 shots faced to preserve the shutout.
"I wanted to be a part of a club that valued me, and that's what they've done (at Houston). They really took me under the wing," said Groom, a former FC Kansas City standout who moved to Sky Blue FC, Orlando and Houston when the bulk of the team's roster relocated as Utah Royals FC.
"Once I got to Houston and saw how much the girls welcomed me, I look back and you strive every day to be consistent. I'm just excited that we could come in here and show that the Houston Dash is a good organization, that it's not a joke."
Earned by @KristieMewie, converted by @sophieschmidt13 👊@HoustonDash lead early!

1-0 | #HOUvCHI

Tune in now on @CBS, @CBSAllAccess, and @Twitch.#NWSLChallengeCuppic.twitter.com/eXlO2npkkL

— NWSL (@NWSL) July 26, 2020
The league unveiled its Best XI at halftime of the championship, which included four players from No. 1 seed North Carolina in Debinha, Lynn Williams, Abby Erceg and Jaelene Daniels. The list also included Portland's Lindsey Horan, Washington's Rose Lavelle and Portland's Britt Eckerstrom, in addition to two players from each finalist.
Houston's Rachel Daly and Shea Groom represented the Dash, while Julie Ertz and Casey Short made the Best XI from the Red Stars.
Daly, who tied for the most goals in the tournament, also won Challenge Cup MVP, as awarded Saturday night by the league. Groom was named MVP of the championship match.
"It's been a long five years. It's been a difficult five years. But it paid off today," said Daly, who survived a World Cup with England and a coaching change at Houston before winning her first knockout-round match via penalty shootout against host Utah en route to the title. "Chicago are a fantastic team. But I'm so proud of the girls today. It wasn't luck. It wasn't a fluke. We comfortably hung with the top teams (in the league)."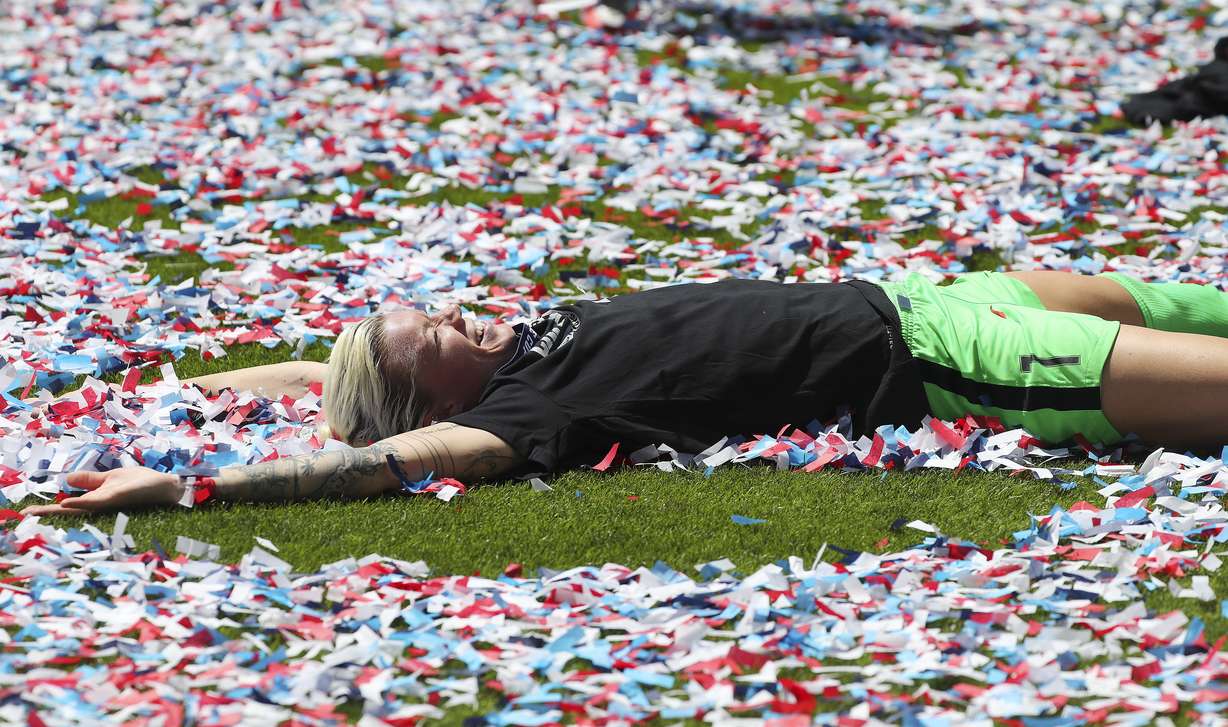 It was also a long month, the first North American tournament subject to health and safety protocols played under the thumb of a global pandemic.
The match marks the end of a month-long sprint involving eight of the NWSL's nine teams to play some semblance of a season. The first professional outdoor league to return to North American sports, the NWSL hosted the tournament in Utah with every team guaranteed to play at least five games, as well as a three-round knockout tournament that crowned a new champion for the first time since 2016.
It also pulled off what many consider to be a medical miracle: a full tournament in the throes of the most wide-spread pandemic in 100 years without a single positive case of COVID-19 from inside the heavily-monitored "bubble" spread over Herriman and Sandy.
"I don't think anyone would've predicted this matchup," NWSL commissioner Lisa Baird told reporters prior to Sunday's final. "But if nothing else, we know that great leagues are built on parity between teams — and I think this matchup demonstrates that we have some exciting teams that can compete in an intense tournament."
Along the way, plenty of credit is owed to several people — both inside the league and out. Certainly, Baird is among the top of the list, having recently assumed her role as commissioner less than two weeks before the pandemic shuttered most sports in the North America (and the world, even).
Baird also credited Utah Royals FC owner Dell Loy Hansen, who helped set up the tournament and pitched his Zions Bank Real Academy as the host site, as well as Utah Gov. Gary Herbert, Salt Lake County Mayor Jenny Wilson and Maj. Gen. Jefferson Burton, who leads Utah's COVID-19 response team.
More than 2,000 COVID-19 tests were administered over four weeks and 23 games — with no positive results — by the medical task force that included help from Intermountain Healthcare and front-line responders from around the Salt Lake Valley.
Certainly Jeff Robbins, CEO of the Utah Sports Commission, also deserves credit as he's helped guarantee a list of sports in the Beehive State that range from supercross to professional golf to lacrosse, in addition to the Challenge Cup.
Then there's also the small army of medical personnel and local staff members who helped keep the bubble impenetrable; not a single positive case of coronavirus infected any of the league's test among active players since arriving in Utah, and even the Orlando Pride — which withdrew from the tournament days before traveling to Salt Lake City — came back with several false positive results after initially testing for as many as nine cases amongst players and staff.
"We think the tournament has gone extraordinarily well," Baird said. "We're really pleased about our No. 1 principle, which was to keep every individual here healthy and well. We're well on the way with our last in-tournament test coming in, at our medical protocols and how we're engaged with that.
"I think the excitement of the games has been extraordinary. Life in the bubble and competing in the bubble is intense, and I'm really proud of our players and the team staff for the quality and excitement of play."
It took more than just health officials and staff to make the bubble as "safe" as could be, though.
"Everything here in Utah, making sure everything was clean, everyone did a good job," Chicago's Savannah McCaskill said. "It was as safe an environment as possible. But also good job to the players, because we all took it seriously.
"We did everything we could do to make everyone safe. I think the combination allowed the tournament to be played safely."
Baird admitted on Saturday's conference call with league media that the board of governors has broached the subject of additional competition within the league, though the parameters of that competition remain yet to be seen.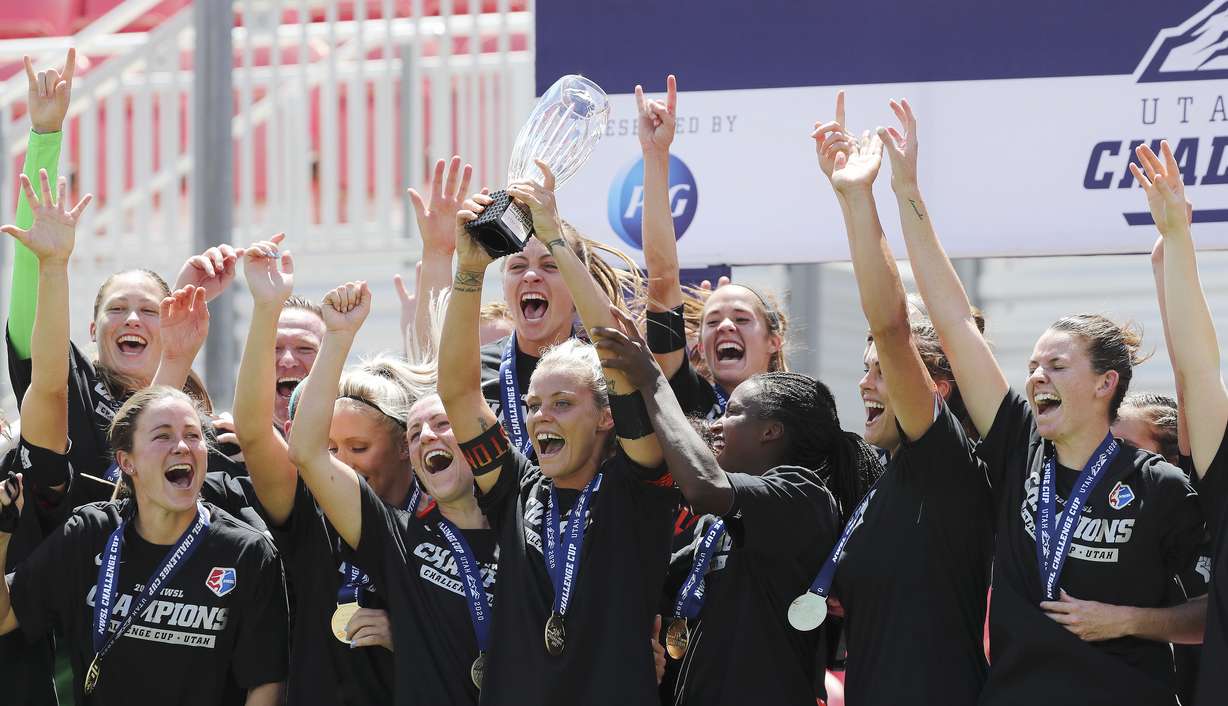 One report in the The Athletic postulates a handful of regional tournaments or exhibition matches to be played between August and November, which Baird describes as a yet-to-be finalized "Phase 5" of the 2020 season, building on return to individual, small-group and team training prior to the start of the tournament. Those regional exhibitions may even include a limited number of fans, in accordance with local public health protocols.
Before next season, which will welcome the league's 10th team in Racing Louisville FC, there will be plenty for the league to figure out: expansion drafts, a collegiate draft, and how to rightfully seed a system that usually relies on a much longer regular season than one month.
What the NWSL won't figure out, however, will be playing during a global pandemic. The first American league to return to play during the pandemic, the NWSL can move on to the additional challenges of hosting in-market exhibitions in a country still reeling from the pandemic, with restrictions on travel and commerce that will likely affect its return to play.
"I think 31 states have some sort of travel restrictions," Baird said. "We are going to have to work very closely with them.
"But we were able to do it in Utah, and that was from working very closely with Gov. Herbert, Maj. Gen. Burton, the mayor of Salt Lake County to do that — and that's what we'll use as the guiding principle around travel, first and foremost."
For now, though, the league will celebrate a successful tournament — even if it didn't look like a normal season, and the circumstances prevented anything remotely approaching a "normal" year.
And Houston? While the season was anything but normal, the hoisting of the Dash's first Cup in franchise history — and the post-match celebration in the locker room — made the format change more special, but also a bit more normal.
"This is just a new chapter for the Dash and the organization, with all the resources and the coaching staff. It just needed a winning mentality," Groom said. "I think we brought that now.
"It's a team that wins championships."
×
Photos
Related Links