PROVO — The expected always stayed closed to the front of mind as BYU football searched for its next running backs coach.
Now it's official.
Harvey Unga, the former all-time leading rusher in Cougar program history, was named the next running backs coach at his alma mater, BYU head coach Kalani Sitake announced Thursday.
The hiring fulfills a longtime dream for Unga, he told reporters during a conference call Thursday afternoon. It's a dream he had since his freshman year, when he even joked with then-BYU running backs coach Lance Reynold that he was coming for his job.
This was before he became the Cougars' all-time leading rusher (a mark usurped by Jamaal Williams, and only Williams, since then). Before he was an NFL-caliber talent. Before he was anything but a local kid from Timpview High School living out his dream of playing Division I college football.
And his goal? Come back to BYU to coach the next generation of running backs.
"From that point on, it was then that I knew what I wanted to do," Unga said. "This is what I love, and it was something I'm passionate about."
Unga replaces AJ Steward, who took the same role with Arizona just over a month ago.
"Couldn't be more happy for (Unga), whom I consider a brother," Steward wrote on Twitter by way of congratulations. "I wouldn't be where I am today without him. It's great to know that the players you care so much about are in good hands when God gives you a new assignment. BYU got the best man for the job."
Steward played a significant role in preparing Unga for his new job, too. Shortly before the now-Arizona running backs coach moved to Tucson, he called Unga and told him to apply for the job.
In essence, he went to bat for the former BYU back, as he did for the two years they worked together. Because of his Polynesian background and upbringing, Unga admits he regularly deferred to his leaders — the actual position coaches, the head coach, offensive coordinator, and so forth — before speaking up. Sometimes, it even became a personality fault, Unga admits.
But Steward saw through that. He was there as mentor, not only to the running back room that included graduate transfers Ty'Son Williams and Emmanuel Esukpa, among others, but also to his young grad assistant.
"I'm grateful for AJ, because he went to bat for me, and he let the coaches know when it was my voice, at the time," Unga said.
"I feel like it's my time now. I can say what I want, and be that loud and vocal coach that some of these guys need. I think there's always a time and a place for it, as a coach. Now I feel like I can chime in more and offer whatever tidbits I have. I think that's definitely something that will be different."
BYU is Unga's first full-time coaching job, after spending the past four years as a graduate assistant. A 2011 graduate of BYU who recently completed a master's degree in public administration, Unga also spent time working with the offensive line (2016) and wide receivers (2017) before mentoring players at his former position the past two years.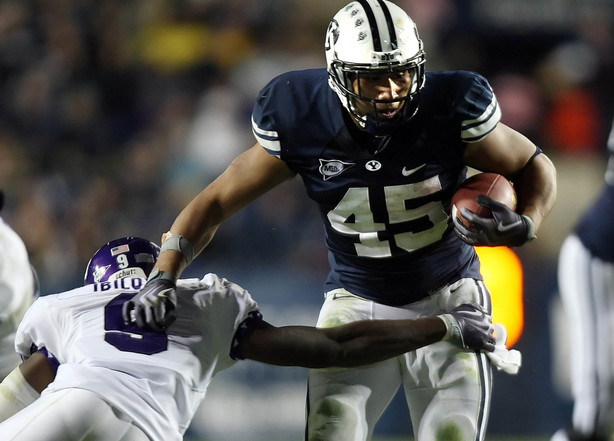 "Harvey is a great young coach who was an elite player for BYU and is an extremely humble person," Sitake said of the Provo native and former Timpview High standout. "He knows the game, relates well to the players, and has done an outstanding job the past four years on our staff. We are excited to have him step into this role, and know he will excel in helping the young men in our program learn, grow and develop."
Unga is the only BYU player in school history to rush for 1,000 yards in three consecutive seasons and was the Cougars' all-time leading rusher with 3,455 yards when he departed for the NFL in 2009. That record stood until 2016, when Williams broke through in Unga's first year as a graduate assistant — a moment that thrilled rather than depressed Unga's legacy.
A 2010 NFL Supplemental Draft pick of the Chicago Bears, Unga spent parts of five seasons with the Bears, Carolina Panthers and Jacksonville Jaguars before retiring in 2014.
Unga's wife, Keilani, is a former BYU basketball standout who just completed her first year as a full-time assistant coach at nearby Utah Valley University. The couple has four children.
And now they won't have to move any of them.
"She's always been my No. 1 fan, from the playing days until now," Unga said of his wife. "She's been my rock, and she was ecstatic. She was pumped. We both just kind of started crying; it was tough. For so long, I think she had been supporting me in everything I had been doing football-wise, grinding through years of being a GA."
×
Related Stories