This archived news story is available only for your personal, non-commercial use. Information in the story may be outdated or superseded by additional information. Reading or replaying the story in its archived form does not constitute a republication of the story.
SALT LAKE CITY — Three professional sports organizations, a college conference and a handful of schools and universities with ties to Utah were among the 50,000 loans given to Utah-based businesses as part of the Paycheck Protection Program, according to a report by the U.S. Small Business Administration released this week.
In all, about 800,000 jobs were saved for Utah employees, the SBA reported, with $5.2 billion allocated to local businesses. A list of businesses with loans over $150,000 can be viewed below.
Utah Democratic congressman Ben McAdams was among the members of Congress calling for the administration to release data over the past four months, when the coronavirus pandemic shuttered much of the United States economy across all but the most essential sectors.
"I'm glad the Treasury Department listened to my call for the release of Paycheck Protection Program loan data," McAdams told the Deseret News. "My concerns have always been that those who need and deserve these loans receive them and that taxpayers are able to see where their tax dollars are being spent during the COVID-19 economic response.
"Today's list covers more than 70% of the loan amounts, which is a good start. Taxpayers deserve a full accounting for how we spend their tax dollars."
Most loans totaled fewer than $150,000 — or 43,954 of them – were for less than $150,000. But a few were allocated on a multimillion-dollar scale, including several to Utah-based sports organizations. Just under 800 businesses received $1-5 million, while 41 local businesses were allocated between $5 million and $10 million.
Nearly 33,000 loans went to Utah businesses with fewer than 10 employees.
Among other conditions, organizations were required to not lay off employees for at least eight weeks upon accepting the loan. Congress recently approved an extension of the program through Aug. 8.
Major League Rugby, a limited liability corporation based in Woods Cross, received a $1 million to $2 million loan on April 10. The loan was reported to have saved 300 jobs in the organization, which canceled its 2020 season in March.
The league, which includes the Utah Warriors franchise based in Herriman, was heading into its third season at the time of the cancellation. It is expected to expand to 12 teams with the additions of Los Angeles and Dallas in 2021.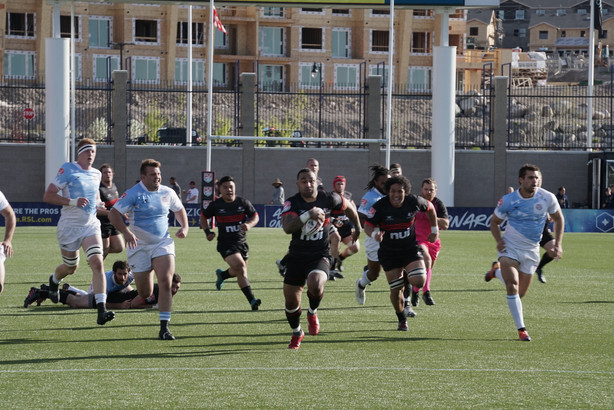 Westminster College received a $5 million to $10 million loan on April 15, estimated to support 434 jobs, according to the Treasury Department.
The private university based in Sugarhouse was also allotted between $768,000 and $1.9 million via the Coronavirus Aid, Relief, and Economic Security (CARES) Act supporting higher education. Each university in Utah was allocated funds from the congressionally backed CARES Act, though several returned the money, such as Brigham Young University in Provo and LDS Business College in Salt Lake City.
The Westminster Griffins weren't the only school to receive a loan. Waterford School in Sandy received a loan in the $2 million to $5 million range, as did Skaggs Catholic Center, a nonprofit that operates Juan Diego Catholic High School, among other organizations.
Rocky Mountain University of Health Professions in Provo received a loan of between $2 million and $5 million, as well.
The U.S. Ski Association was approved for a $2 million to $5 million loan on April 11, which reportedly led to the support of 166 positions. The Utah Athletic Foundation, also based in Park City, received a loan in the same range on April 6 that supported 373 jobs, according to federal documents.
The National Women's Soccer League, which is hosting its league-run NWSL Challenge Cup in Herriman, also received between $1 and $2 million for the nine-team league to stay afloat.
"Our sole intent in applying for the PPP loan was to continue player compensation," NWSL commissioner Lisa Baird told the New York Times. "With ours, the calculus was pretty simple. Either you're going to pay your players or you're going to furlough them. What could we do?"
OL Reign, an NWSL team based in Tacoma, Washington, received a PPP loan between $150,000 and $350,000, while Carolina FC, which owns and operates the North Carolina Courage as well as North Carolina FC in the USL, received between $2 million and $5 million.
Five MLS clubs received loans, including Seattle Sounders, Orlando City, Philadelphia Union, Inter Miami and D.C. United. But Real Salt Lake owner Dell Loy Hansen has said his holding company Utah Soccer, LLC, which also owns Utah Royals FC and the USL's Real Monarchs, was denied a PPP loan, leading to several layoffs and furloughs in the organization — many of whom remain unemployed.
The Premier Lacrosse League, which will host its 16-day, 20-game Championship Series at Zions Bank Stadium in July, received a loan April 27. The nascent league of seven teams based in El Segundo, California received $1 million to 2 million, supporting 125 jobs.
Contributing: Matt Gephardt, KSL TV
×
Related Links