Estimated read time: 4-5 minutes
This archived news story is available only for your personal, non-commercial use. Information in the story may be outdated or superseded by additional information. Reading or replaying the story in its archived form does not constitute a republication of the story.
HERRIMAN — It took a viral pandemic to bring professional lacrosse to Utah.
The Premier Lacrosse League announced Thursday that it will host its three-week, seven-team, quarantined Championship Series season tournament at Zions Bank Stadium in Herriman, the home of Real Salt Lake's second-division affiliate Real Monarchs.
The tournament, which will be held without fans, will run from July 25 through Aug. 9, with players arriving in Salt Lake City a week prior.
That would put their arrival shortly after the end of the nine-team Challenge Cup of the National Women's Soccer Leauge, which became the first professional team sports league to return to play in the United States since the hiatus inspired by the coronavirus pandemic.
All seven Premier Lacrosse League clubs will stay, train and play at Real Salt Lake Academy, its attached school and board room, and multiple indoor and outdoor training fields.
Prior to a knockout tournament involving all seven teams, a 14-game group stage in the first week will determine seeding for the single-elimination tournament. All games will air live on NBC, NBC Sports Network, and the network's paid streaming platform NBC Sports Gold.
"The support of Utah Governor Gary Herbert, Real Salt Lake owner Dell Loy Hansen and the larger Utah Sports Commission have been invaluable in the process of bringing the PLL Championship Series to a reality," said PLL co-founder and CEO Mike Rabil in a prepared statement. "With their world-class operators and state-of-the-art facilities, we can bring our best version of the PLL to fans around the world."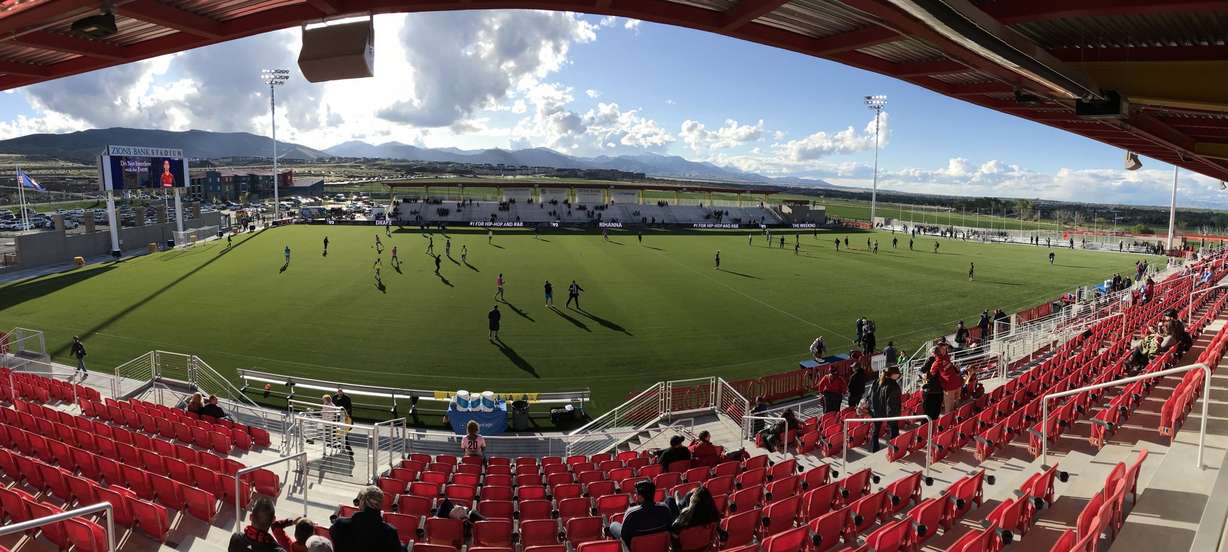 In addition to hosting games for the Monarchs and RSL's academy teams, Zions Bank Stadium has also served as the home venue for the Utah Warriors in Major League Rugby, as well as the men's and women's soccer teams at nearby Salt Lake Community College.
Holding another round of games on the state-of-the-art artificial surface won't be a problem for use and wear-and-tear, Hansen said in a written statement.
"The Zions Bank Training Center in Herriman was built for Real Salt Lake and the Real Monarchs to be one of the finest soccer training facilities in the world," he said. "We also constructed Zions Bank Stadium and the indoor training facilities to be versatile enough to host numerous sports, including rugby and lacrosse.
"The Premier Lacrosse League Championship Series is just the type of national-level event we envisioned. Utah's best in class healthcare system and dedicated medical professionals have created the public health and safety environment to allow us to host this event at such a critical time."
Among the Utahns playing in the PLL are University of Utah assistant coaches Adam Ghitelman, Will Manny and Marcus Holman for Archers LC.
According to guidelines from the PLL's COVID-19 medical response committee, players will self-quarantine for two weeks prior to traveling to Salt Lake City, where they will be tested on site. Everyone involved with the tournament — including players, coaches and staff members — will be tested regularly and monitored frequently for symptoms of the virus during their four-week stay in the Salt Lake Valley.
The league, which was the first to announce a return-to-play format back on May 6, will be the third North American professional outdoor league to resume play following the COVID-19 pandemic. In addition to the NWSL Challenge Cup that kicks off June 27 in Herriman, Major League Soccer will host a 54-match tournament with all 26 teams beginning July 8 in Orlando.
The NBA will resume play with 22 teams July 31 in Orlando, while smaller summer-time leagues like Major League Rugby have canceled the 2020 season due to the pandemic. The NHL has also announced its intent to resume play, but details of the hockey league's plan remain sparse.
Major League Baseball is still caught in several hurdles, medical and financial chief among them, as they attempt to reboot their season by mid-summer.
But Utah has caught notice as several outdoor leagues begin making plans to play some version of a condensed season after more than two months of nationwide quarantine efforts to combat the spread of the virus.
As the state has begun slowly reopening for business cases have steadily risen, with several smaller outbreaks around the state. Public health officials have said no one outbreak explains the current rise in cases of the virus, but have categorized it as "incidence growth," with a detection rate of 5.2% among tests conducted.
That's helped Utah Sports Commission CEO Jeff Robbins bring multiple sporting events, including the final seven races of professional supercross at Rice-Eccles Stadium, to Utah.
"The Utah Sports Commission is excited to partner with Dell Loy Hansen and his organization to host the PLL Championship series in Utah," Robbins said.
"The event will drive much needed, significant economic impact to Utah as we welcome the Premier Lacrosse League's Championship Series to our great state."
×
Related Stories