Estimated read time: 4-5 minutes
This archived news story is available only for your personal, non-commercial use. Information in the story may be outdated or superseded by additional information. Reading or replaying the story in its archived form does not constitute a republication of the story.
SANDY — The Real Salt Lake organization is reducing staff and cutting pay of its executives and staff as a result of the coronavirus pandemic.
"The club's executive team has been working diligently to develop a successful continuity plan to sustain operations during these extraordinarily difficult and unprecedented times caused by the severe impact of the COVID-19 pandemic," RSL announced in a statement Tuesday.
The organization will not be eligible for the Federal CARES program — part of the $2 trillion stimulus package recently signed by President Donald Trump, they said.
"As a result, we are forced to adapt and align our workforce appropriately to face these new challenges and difficult circumstances," the statement said. "This will require a reduction in salary for all executives and staff as well as a decrease in staffing levels across the organization, which includes a furlough of some of our staff members.
"This is obviously a distressing outcome as we deeply value and appreciate each of our employees."
The club added it will re-staff accordingly after the pandemic subsides, and its teams return to play.
Major League Soccer is on hiatus until at least May 10. All teams are on a training moratorium until at least April 24, barring players, coaches and club personnel from team facilities unless they are receiving medical treatment or rehabilitation under the direction of the club's medical staff.
RSL owner Dell Loy Hansen owns three professional clubs under the Real Salt Lake umbrella, including the MLS first team; its second-division affiliate Real Monarchs, which competes in the USL Championship; and Utah Royals FC, which competes in the top women's soccer league in North America, the National Women's Soccer League.
USL clubs are following a similar return-to-play timeline as MLS, in conjunction with public health officials, while the NWSL has postponed its preseason until at least May 5, with eyes on a late June start to the 2020 season for the nine-team league.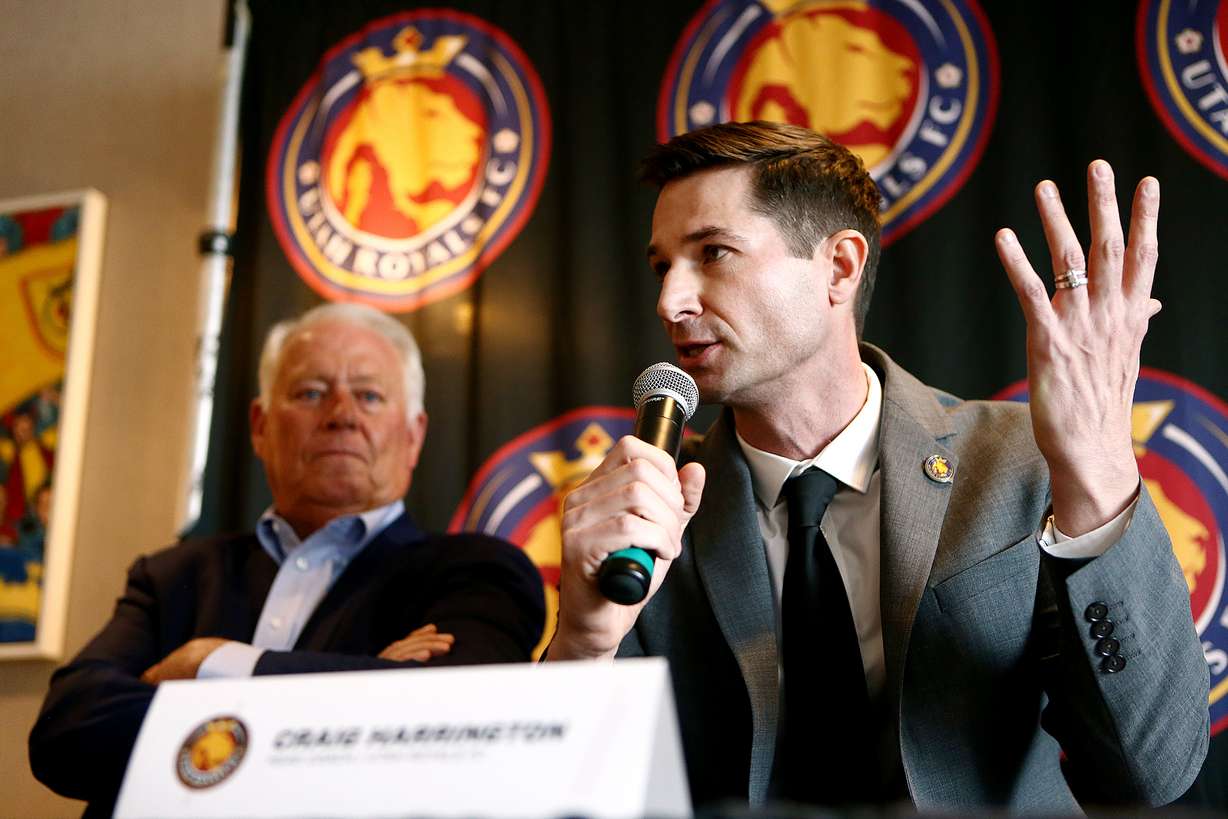 "We look very forward to all our teams returning to action and to our amazing community once again filling our stadiums with the energy, passion and excitement that only Real Salt Lake, Utah Royals FC and Real Monarchs fans can generate," the club's statement read. "Our thoughts go out to everyone affected by the COVID-19 pandemic in our community and throughout the world."
In the meantime, Hansen, along with other owners around MLS, is still paying the salaries of his players. As first reported by The Athletic, player contracts do not include a force majeure clause, which is a mechanism that releases liabilities for contracted payments during a major event out of both parties' control — such as a global pandemic. That means any cuts to a players' salary would have to be agreed upon by the player and the MLS Players' Association.
Major League Soccer also plans to cut the pay of its top executives and front-office employees by as much as 25 percent, according to ESPN and other news organizations.
The CEO and founder of The Wasatch Group, which espouses residential and commercial real estate, hotels and conferences centers, and other construction projects, Hansen is a self-made millionaire since acquiring his first apartment building in his hometown of Logan. The private and public contractor rose to become one of the top business minds in the state, and acquired full control of RSL from previous owner Dave Checketts in 2013.
Since then, Hansen has poured millions of dollars into the enterprise, which now includes two soccer-specific stadiums and a new 42-acre indoor and outdoor training center, academy and high school located in Herriman at the Zions Bank Real Academy. Originally valued at close to $50 million, the costs of the building's construction rose to $78 million shortly before its opening and tipped the scales at just over $80 million by the time sessions began for the attached RSL Academy High School public charter school.
An active philanthropist in the community who recently donated $1 million to Intermountain Healthcare for its research arm and $5,000 through the nonprofit RSL Foundation to the Utah Food Bank (in addition to 1,500 pounds of food that would've been sold at Rio Tinto Stadium), Hansen has also drawn attention for some of his private collections. The rare coin collector acquired a unique 125-year-old dime for $1.3 million that drew headlines last August, a purchase that came just eight months after spending $3.9 million for an 1885 trade dollar at another auction.
Utah's other professional sports franchise, the Utah Jazz, and its parent company Larry H. Miller Sports & Entertainment recently made cuts to "a small percentage of its workforce." The layoffs, which were limited to non-basketball staff, also include Megaplex Theaters, the Salt Lake Bees, and the Larry H. Miller car dealerships. Popular radio, television and local emcee personality Tony Parks was among those released by the company's radio station.
×
Related stories
Most recent Real Salt Lake stories