SANDY — With three clubs in 2019, the organization representing Real Salt Lake, Utah Royals FC and Real Monarchs SLC might have 30 top moments from the year.
But we've narrowed them down to 10, in no particular order, as the page turns to 2020.
The Mike Petke era abruptly ends
The only head coach in Real Salt Lake history with a Supporters Shield on his CV exited the organization after dropping an alleged slur at an official during a Leagues Cup match, a vicious back-and-forth of who said what, and a lawsuit over back pay that ultimately wound up in arbitration with MLS commissioner Don Garber. Petke was 34-23-25 as head coach of RSL.
Freddy Juarez steps up
After succeeding with RSL at the academy, youth development, Monarchs and as an assistant and interim head coach, Freddy Juarez was named RSL's fourth head coach in franchise history in November.
Real Monarchs win USL Cup
Led by two-time interim manager Jamison Olave (who was later promoted to the full-time position), Real Monarchs won its first-ever USL league title, with a 3-1 victory over Louisville City FC in the USL Cup championship in November.
Long live the G.O.A.T
Nick Rimando, who exits as arguably the greatest goalkeeper in league history and certainly the top netminder in RSL history, retired following the 2019 season with 1,705 saves, 33 penalty-kick saves, 154 shutouts, and an overall record of 223-174-117 — all MLS records for goalkeeping. But he never won the MLS goalkeeper of the year award.
3 Royals win the World Cup
Becky Sauerbrunn, Christen Press and Kelley O'Hara were three of the 22-member body known as the U.S. women's national team that captured the 2019 Women's World Cup title in France — the fourth world title and second-straight for the Americans, prompting a key-to-the-city celebration from Salt Lake mayor Jackie Biskupskie.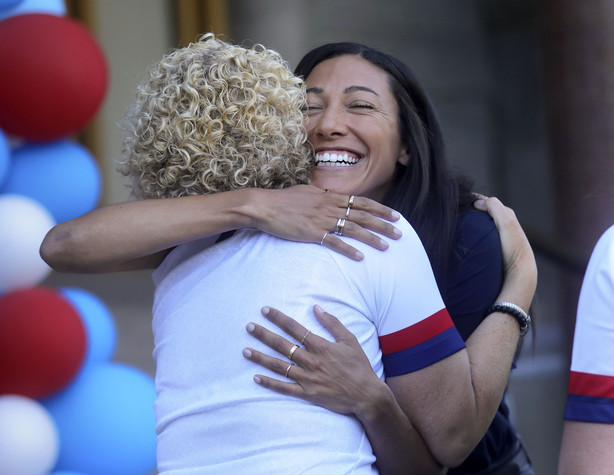 Back in the playoffs
After a brutal season of on-pitch and off-pitch drama, Real Salt Lake qualified for the playoffs for the second consecutive season, topped Portland 2-1 in the opening round, and advanced to the Western Conference semifinals, where it fell 2-0 to eventual MLS Cup champion Seattle in October.
Javier Morales' name risen to the rafters at Rio Tinto Stadium
RSL righted what many fans considered to be one of the franchise's biggest wrongs this season by finally raising "Javier Morales #11" into the rafters over the pitch where he presided in midfield for a fantastic MLS Cup run in 2009, and so much more. After one year with FC Dallas, Morales finished his MLS career with 50 goals and 83 assists, all but one goal and two assists coming in 10 seasons with Real Salt Lake.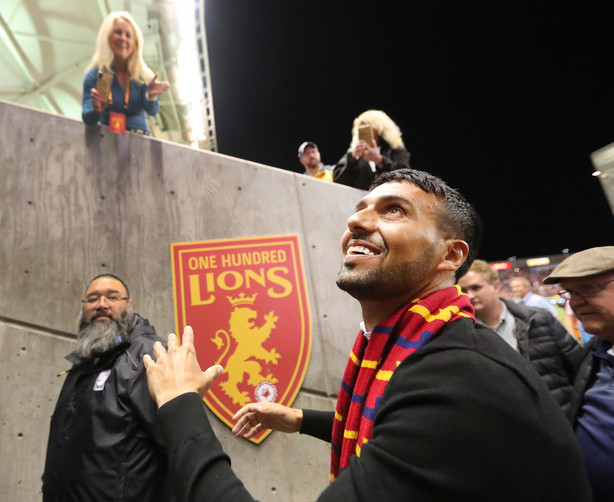 Royals fan banned from stadium for alleged use of slur
One Utah Royals FC fan was banned from Rio Tinto Stadium and all club events after the organization confirmed reports of racist slurs hurled at Portland goalkeeper Adrianna Franch during Utah's 1-0 win in September.
Craig Waibel out as general manager
In the aftermath of Petke's firing and lawsuit, RSL parted ways with longtime general manager Craig Waibel, who first came to the club as an assistant coach in 2014, then technical director a year later, and finally general manager for most of his tenure. Waibel, who was key in launching Real Monarchs SLC and Utah Royals FC, was replaced by assistant GM Elliot Fall in the position.
Royals Reserves' inaugural season ends in national runner-up finish
Coached by Utah Royals FC assistant coach Amy LePeilbet, Utah's top women's squad launched a semipro team made up primarily of the best from BYU, Utah, Utah State, Weber State and Utah Valley (among others) to finish second in the league in its inaugural season.
×
Related Stories