This archived news story is available only for your personal, non-commercial use. Information in the story may be outdated or superseded by additional information. Reading or replaying the story in its archived form does not constitute a republication of the story.
SANDY — Amy LePeilbet's professional coaching career to this point is far from the outside view of coaches, even in the burgeoning world of women's soccer.
The 37-year-old native of Spokane, Washington, is the second assistant to Utah Royals FC head coach Laura Harvey. Between the boss and first assistant Scott Parkinson, it sometimes seems like LePeilbet's role is designed for tactical review, video analysis, and maybe some individual work with various players.
LePeilbet doesn't even sit on the sidelines during most games, instead sliding into a reserved chair in the press box at Rio Tinto Stadium where she can break down tactics, subs and the game's nuances from a bird's-eye view.
So the chance to be a head coach when the Royals launched the Utah Royals FC Reserve squad in January was exactly what she needed to take the next step in her development as a coach.
LePeilbet had been a head coach at lower levels, most notably at Mountain Pointe High School in Arizona shortly after her playing days at Arizona State. But this was something new.
"All of a sudden, when you are managing a team year-round, it's a totally different ballgame," LePeilbet said. "I learned a ton. I learned tricks and ways to better share my knowledge with the players so that they can understand it. And I still have so much learning ahead of me."
LePeilbet's first season with the URFC Reserves almost yielded a championship, too; the club was halted in extra time of the Women's Premier Soccer League (WPSL) title match against Florida's Pensacola FC.
But what they learned along the way was more important. The URFC Reserves will be back next year to try to defend their Mountain division title, to make another run at a national trophy — and to build a bridge between the Royals and local college (and even high school) soccer outlets.
"We want to help develop players," LePeilbet said. "And if we can find players who have the potential to make it to the pro level, and we can help them get there, then it's a win all-around for us."
But before they could develop anyone this year, they first had to identify players. So when LePeilbet was named head coach, she started recruiting.
A few more 📸 from the second half before we resume play at Neal Patterson Stadium.#WPSLChampionship photos by @shuttrkingpic.twitter.com/T16uBC5YTk

— Women's Premier Soccer League (@WPSL) July 21, 2019
***
Among the first stops on the URFC Reserves recruiting tour: the BYU soccer offices, next to South Field on the Provo campus, where head coach Jennifer Rockwood is busy all year trying to find new ways to build on a franchise that has a 375-113-43 record in 25 years, with 19 appearances in the NCAA Tournament, 15 conference titles, 24 All-Americans and eight MAC Hermann Trophy nominees, including Mikayla Colohan and Elise Flake this year.
It's an impressive resume, arguably the best of any college soccer program in Utah. And that's where LePeilbet and the URFC Reserves wanted to start — to take top-tier talent at BYU, Utah, Utah State, Utah Valley and Weber State, mix with some former high school standouts, and maybe add a special player from beyond the Beehive State's borders to play in the WPSL all summer at the Herriman training facility.
Colohan, who had never played in a summer league before, was on board.
"Being able to train with the Royals really helped us move to the next level," Colohan said. "It's kind of like the transition from high school to college. This was a whole new level."
Playing for LePeilbet — a former U.S. women's national team defender with 84 caps on the senior level and a six-year professional career beginning with the Boston Breakers in the now-defunct WPS in 2009 — helped seal the deal for a first-time summer player.
"Getting to meet her face-to-face really started it, in my opinion," Colohan said. "It wasn't just 'come play on some team in the summer.' I knew it would be competitive, worthwhile, and being linked to the Royals really added to it."
Of course, playing for "the Royals" — even the Reserve team of Utah's first fully professional women's soccer outlet — also brought added pressure. The Reserves didn't just want to win; they wanted to dominate.
And they did — all the way to a first-place spot in the Mountain division, with a 9-1 record and an 11-2-1 record overall in their inaugural season. URFC Reserves scored 41 goals, allowed just 10, and goalkeepers Kaytlin Bradley (Weber State) and Carly Nelson (Utah) combined for a 1.64 goals against average and a .714 save percentage while running roughshod over clubs from Utah Red Devils, Utah Arrows SC, FC Boulder, Indios Denver and the Colorado Rapids Women in WPSL.
"Just being linked with the Royals, we were held to a higher expectation," said BYU forward Cameron Tucker, a Lone Peak product who finished the URFC Reserves season with a team-high 10 goals and eight assists. "I didn't want to let the Royals down. They invested a lot of time and money into us. I felt like we had the skill and the drive to be a championship team."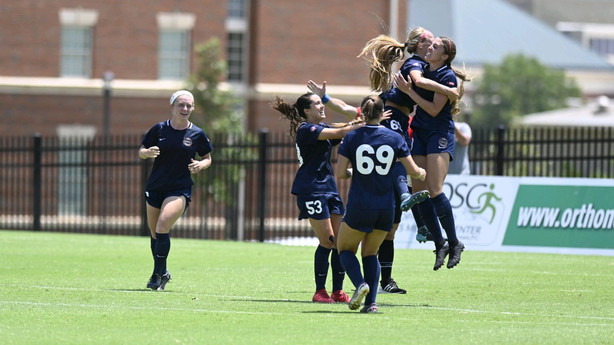 ***
Of course, BYU wasn't the only stop on LePeilbet's recruiting tour. In addition to Cougar standouts like Colohan, Tucker, Flake, Danika Serassio and Alyssa Jefferson, the Royals Reserves made similar pitches and presentations to Utah, Utah State, Utah Valley and Weber State.
That's how they also earned the commitment from the likes of Amber Marshall and Ashley Cardozo from the Aggies, Sadie Brockbank and Katie Haskins from the Wolverines, and Bradley from the Wildcats — who went on to win the WPSL's Golden Glove, given to the top goalkeeper in the league.
But playing with athletes from rival Utah — players like Hailey North, Ireland Dunn, Holly Daugirda and Haylee Cacciacarne — was even more special for Colohan.
If not in high school, a lot of these players were together as teenagers in club soccer. So getting the band back together, so to speak? That struck a chord.
"A lot of us knew each other before, just growing up in the club scene," Colohan said. "It was fun to get back together with girls we haven't played with in a long time."
Colohan and Dunn were a prized partnership when Davis was a national name, including winning back-to-back mythical national championships by USA Today HS Sports.
All that was missing was one other ingredient to make it perfect.
"It was like a reunion, going back to play with Ireland. If only we could've played with Olivia (Wade), too," Colohan said of the former Davis High and BYU teammate who is currently serving an 18-month mission for The Church of Jesus Christ of Latter-day Saints.
The Royals Reserves' first vision for the club was to build a high-level environment for local college and university women's soccer programs.
"We wanted to go after the top players in Utah," LePeilbet said. "Our goal was to bring players from out-of-state, too, and we got a couple of those. But I think we had to build a foundation, and create something that more people would want to be here. Hopefully we can do more of that next year."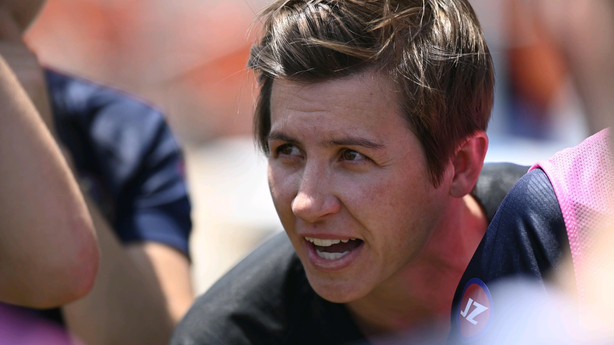 ***
Of course, building a foundation and wanting to win and play for a national championship can be different goals.
In the Reserves' first season, they wanted to win, as well. They wanted to contend for a title. They wanted to add to their trophy case — every team does, even the first-year franchises like Utah.
That's what LePeilbet told her bosses, including Utah Royals FC general manager Stephanie Lee and others in the Real Salt Lake organization. But did the first-year head coach really believe they could go all the way to the WPSL championship?
"We're going to put a team together, do it right, and end up in the championship at the end of the day," LePeilbet said. "That's what I was after. But did I know if we would actually do it? No."
It's not that the first-year WPSL head coach didn't have faith in her players.
But a new club is hard (just ask the Utah Royals FC founders from last year). Between assembling a coaching staff, a roster, scheduling practices and training facilities, and all the other administrative work that comes with a club that didn't exist before January, no one would blame the URFC Reserves if they were simply "good enough" in their first season.
This club was primarily set up for development, right?
"It was fun to be able to train with different people, and just be surrounded by great coaches," Tucker said. "We even got to train with the Royals a few times. That really helped us with speed of play."
But actually win a championship — or even come a goal away from it? That was a new challenge.
Turns out, the players were up to the challenge, too.
"That was the goal, from the beginning," LePeilbet said. "In talking to the team and the players, our vision was to get better every single day — and our mentality every time we showed up was to get a little bit better.
"Everyone committed to that, and we really believed in that mentality that we brought every single day of being together."
Congratulations to @UtahRoyalsFC Reserves GK Kaytlin Bradley, the 2019 #WPSLChampionship Golden Glove Winner, presented by @RenegadeGk! 🧤 pic.twitter.com/NcUcJWYH05

— Women's Premier Soccer League (@WPSL) July 21, 2019
***
So there they were, back on Sunday, July 21, at Neal Patterson Stadium in Stillwater, Oklahoma. All that stood in the way of the URFC Reserves and a first-year national title was Pensacola FC from Florida.
The three-time defending WPSL national runners-up were experienced, with their own squad of assembled Florida college all-stars and a player who recently returned from the Women's World Cup in France.
Just a few days later, Pensacola had a center back sign with England top-flight club Tottenham Hotspur.
"It was a super high-intensity game, and they were really good," Tucker said. "Knowing that we could hang with those girls, and even come back, was really cool. It was great knowing you can play against anyone in the country."
The Royals struck first, getting a 19th-minute goal from Colohan to take a 1-0 lead into halftime. Pensacola equalized just 3 minutes after the break, but Colohan's feed to Tucker reeled the match again in the 60th minute.
Pensacola took its first lead of the game with a pair of goals four minutes apart. But Tucker scored her brace in the 89th minute to force overtime before the Royals fell, 4-3 after 118 minutes of soccer — their second-straight overtime match in 24 hours.
"It was really cool to play back-to-back overtimes," Colohan said. "The experience was awesome; it's just too bad we didn't pull it out.
"It's a growing experience to know we can score against the best, and just need to keep your head in it all the time."
With under 2 minutes to go @UtahRoyalsFC Reserves tie the game 3-3! Watch the finish to the #WPSLChampionship on @MyCujoo at https://t.co/4v9UCd2Vtepic.twitter.com/zmxOfp9QaA

— Women's Premier Soccer League (@WPSL) July 21, 2019
***
Now the Royals Reserves return to their college seasons, where teammates will once again become rivals.
But the lessons learned over the summer will benefit the Utes, Cougars, Aggies, Wildcats, Wolverines and other programs touched by the first-year WPSL expansion franchise.
That includes BYU, which plays two exhibitions Aug. 10 and Aug. 17 before opening the regular season Aug. 22 on the road at Alabama.
Look for the Royals Reserves' fingerprints to be on that schedule, too. BYU lost just two starters from last year — Wade to a mission, and lone senior Madie Siddoway-Gates to graduation. And while Rockwood has added 10 freshmen, including Deseret News Ms. Soccer Jamie Shepherd from American Fork, to try to fill Wade's spot, the Cougars will likely promote Tucker into Gates' forward position.
"This summer was good to play games and get reps," said Tucker, a junior who spent most of the 2018 season coming off the bench. "It really helped me have a lot more confidence in myself.
"Coming off the bench so much can be hard. But I really saw what I could do (with the Reserves), playing around such great people and players."
×
Photos
Related Stories