This archived news story is available only for your personal, non-commercial use. Information in the story may be outdated or superseded by additional information. Reading or replaying the story in its archived form does not constitute a republication of the story.
SALT LAKE CITY — Nick Rimando turned in a performance for the ages in the final game of his storied career.
But Real Salt Lake's offense in front of him? That's another story.
Nicolas Lodeiro had a goal and an assist, and Gustav Svensson added a goal to help the Seattle Sounders eliminate 10-man Real Salt Lake from the MLS Cup Playoffs 2-0 Wednesday night in front of an announced crowd of 37,722 fans at CenturyLink Field in Seattle.
Rimando finished with eight saves for Real Salt Lake (16-14-8), who faced 18 shots from Seattle — including nine on frame.
"We were excited to play. We came out and battled. A set piece goal got us, and then a magic goal by Lodeiro, but the guys didn't give up," Rimando told Fox Sports after the match. "It was a tough one to swallow. But I enjoyed it. I enjoyed everything. I enjoyed my 20 years, and being here with my family. It's not the way we wanted to go, and credit to Seattle and good luck to them."
The Sounders (17-10-8) held RSL to one shot on target, playing the bulk of the second half in their own attacking third.
"The difference in the second half was that we played like a team," Lodeiro said. "We played with our family, with our fans, and with our heads. That was the difference."
"We were working on that one for a while. It was a good corner, I hit it perfectly, and it's such a good feeling to see it go in."
"We felt the spirit of the stadium help us a lot," Svensson said. "The fans cheering us; we were a little bit slow in the first half … but we came out in the second half and had a really, really good second half."
Through a Herculean effort by Rimando, including a reflex save to prevent an own goal just a few minutes after halftime, the two sides were scoreless through 60 minutes. The 40-year-old goalkeeper, playing in his 553rd career match, did everything he could to see No. 554 in Major League Soccer.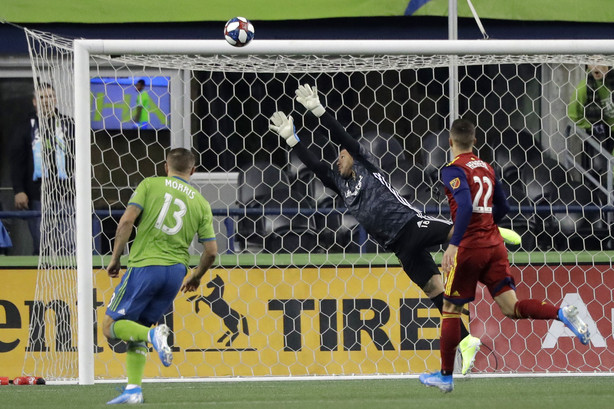 But something clicked for the Sounders in the second half. What did head coach Brian Schmetzer say to his team at halftime?
"Well, I hope someone recorded it," Schmetzer said with a smile, before praising "a very good" Real Salt Lake side and its legendary goalkeeper.
Even a goalkeeper who most agree is the greatest goalkeeper in MLS history has his limits.
Svensson found it in the 64th minute.
That's when the 32-year-old Swede's glancing header connected with Lodeiro's corner kick, and Svensson squeezed a shot between an onrushing Kyle Beckerman, Rimando's lunge and the near post to put the Sounders ahead, 1-0.
GUSTAV SVENSSON gives @SoundersFC the lead!#SEAvRSL //@Audi#MLSCupPlayoffspic.twitter.com/bUeMaLUOfu

— Major League Soccer (@MLS) October 24, 2019
Moments after Beckerman was subbed off with about 10 minutes remaining, Lodeiro sealed the win with a strike from short distance that put the Sounders up 2-0 with just under 10 minutes remaining. The striker finished off Raul Ruidiaz's counter with a shot from just inside the box that grazed underneath the crossbar to send Seattle on to a Western Conference final Oct. 29 against the winner of the "El Trafico" derby between the LA Galaxy and Los Angeles FC.
Everton Luiz, RSL's other defensive midfielder, was sent off in the final minutes after receiving a red card for a serious foul in the 83rd minute.
"It's hard to put into words," Rimando said of his career. "I gave so much to this sport. And to see it go — I'm just grateful for everything it's given me. Again, it's tough to lose like this, and we'll see what happens next. I'm just grateful for everybody that was involved in my career, everybody that supported me, Real Salt Lake, the fans.
"Sorry we couldn't get this one for you. But you know, there's some good years to come for this club."
×
Related Stories