This archived news story is available only for your personal, non-commercial use. Information in the story may be outdated or superseded by additional information. Reading or replaying the story in its archived form does not constitute a republication of the story.
SALT LAKE CITY — Salt Lake City mayor Jackie Biskupski doesn't often award the key to the city, and there's a reason for that.
It takes a special team, group or individual to merit that honor, by her own admission.
But when three members of Utah Royals FC — Becky Sauerbrunn, Kelley O'Hara and Christen Press — returned home with a FIFA Women's World Cup title with the U.S. women's national team, it got her thinking.
And then there were several other reasons — unrelated to soccer, even — that made the trio a no-brainer for the mayor, in conjunction with Salt Lake County mayor Jenny Wilson, to pull out the ultimate honor.
"We are lucky to have three World Cup champions here in Utah," Biskupski said. "And we are also lucky that they are setting an example, both on and off the field."
And so, in front of a crowd of a little more than 100 people Monday evening on the east steps of the Salt Lake City and County Building, the female leaders of Utah's largest population jointly honored the three Royals with world-class experience, fresh off a World Cup title that included a 2-0 win over the Netherlands in the final.
"How many people in this audience were glued to the TV the morning of July 7? I was one of them, trying to — like many of us — grab a piece of toast for breakfast, but it was such exciting action, even that was hard to do," Wilson said. "Thank you; thank you for your commitment to the sport. Thank you for being Utahns, along with your home areas. Thank you so much for the work you have done to support sports and women — and to create a little fun for us."
As the trio of Royals made their way on to the stage to each accept a key to the city, the crowd began chanting.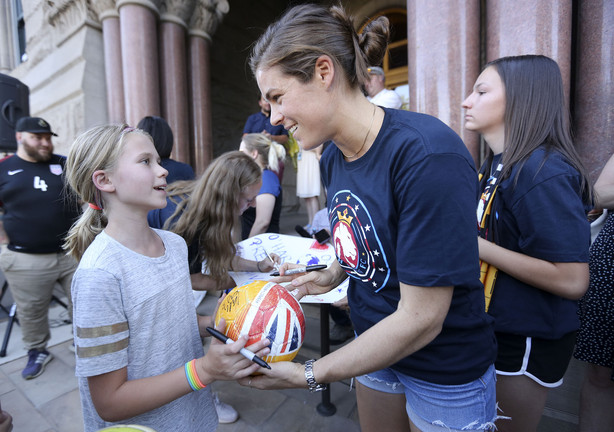 First, it was "U-S-A! U-S-A! U-S-A!"
Additionally, there were chants of "A-Women!" in affirmation.
And then, the final chant — mimicking two words printed on a poster near the podium that featured Press, draped in an American flag, her World Cup gold medal hanging from her neck: equal pay.
Equal pay for Americans. Equal pay for women. Equal pay for the 23 members of the U.S. national team who are currently locked in litigation with the U.S. Soccer Federation, including the three Royals honored downtown.
"I have known Christen and Kelley for many years. We have fought both on and off the field in this battle for bettering working conditions and equal pay," Sauerbrunn said. "If there is anything that this crazy journey continues to teach me, it is to believe in women, to empower women, and to invest in women."
Monday's rally was about honoring the past, as Biskupski brought to mind the triumphs of Billie Jean King, Title IX and the Equal Rights Amendment.
It was a chance to honor the present, the women's national team players who grew the game and sparked further conversations about equal rights.
And it was a nod to the future, with the promise of equality on the horizon.
🔑 🔑 🔑 for @UtahRoyalsFC. pic.twitter.com/nMRSHqTihZ

— Salt City FC (@saltcityfc) July 23, 2019
"Not everyone wants to be mayor. Not everyone wants to be a successful world leader in the game of soccer," Wilson said. "But we should be stepping up as women to support and create an example of every child and every young woman. I'm proud of that."
Biskupi pointed to Billie Jean King's triumph over Bobby Riggs in tennis' "Battle of the Sexes" as a launching point for equal rights for women. Arguably the most important sporting event for women of the 20th century, the match helped spur Title IX legislation and further implementation of the Equal Rights Amendment in 1973.
With 50 million people watching, change proved to be on the horizon.
And as the United States won their second-straight World Cup title, guaranteeing a fourth star to rise above the crest on their individual jerseys, the triumph was viewed by 700 million more.
Change, the Salt Lake City mayor said, is coming again.
"Judging by the reception these women received from Paris to New York City, I don't think the world is just listening. I think the world is saying 'it's time,'" Biskupski said.
"If nothing else, you and your teammates have shown every little girl and boy that we, as women, are stronger when we stand together. We are an unstoppable force when we actually work together. In 1973, 50 million people showed up to watch Billie beat Bobby, and it ignited a boom. In 2019, 750 million people watched the U.S. women's national team out-play the world, and beat the critics in what I think, what we all hope, becomes nothing short of a revolution."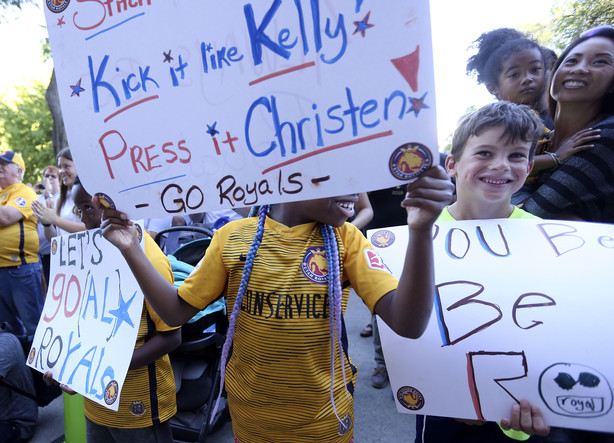 ×
Photos
Related Stories