Estimated read time: 5-6 minutes
This archived news story is available only for your personal, non-commercial use. Information in the story may be outdated or superseded by additional information. Reading or replaying the story in its archived form does not constitute a republication of the story.
SANDY — Mike Petke's three-match suspension with Real Salt Lake ended Saturday night, following the club's come-from-behind 2-1 win over Sporting Kansas City.
His tenure with the club ended a day later.
Petke's contract has been terminated, the club announced Sunday night in a statement. Assistant coach Freddy Juarez, who has been the interim manager for RSL during the past three matches, was named the interim head coach.
"At Real Salt Lake, we have the privilege to represent our great community and fans here locally and on a national and global basis," the team said in a statement. "We hold all of our coaches, players, executives and staff to the highest standards of professionalism. As an organization, it is vital that everyone, particularly our leadership, reflects and embodies our core values and the values of our community, treating all people with respect, civility and professionalism. Moreover, throughout our 15-year history, we have championed diversity, acceptance and inclusion throughout our organization, our stadiums and our community. This is a responsibility that we take very seriously.
"On Tuesday, July 30, after an investigation and in conjunction with Major League Soccer, the club levied the steepest sanctions ever imposed on an MLS coach when we suspended Mike Petke without pay for two weeks in addition to his three-match suspension in MLS and $25,000 fine. After further deliberations and a series of constructive discussions internally and with various members of our community, we have concluded, pursuant to his employment agreement, to immediately terminate Mike Petke's employment."
Petke, 43, has been the manager of Real Salt Lake since 2017 when he succeeded former coach Jeff Cassar following a one-match stint over second-division Real Monarchs SLC. The club was 36-35-14 under Petke's tenure, with one playoff appearance and one postseason victory — last year's knockout round win over LAFC.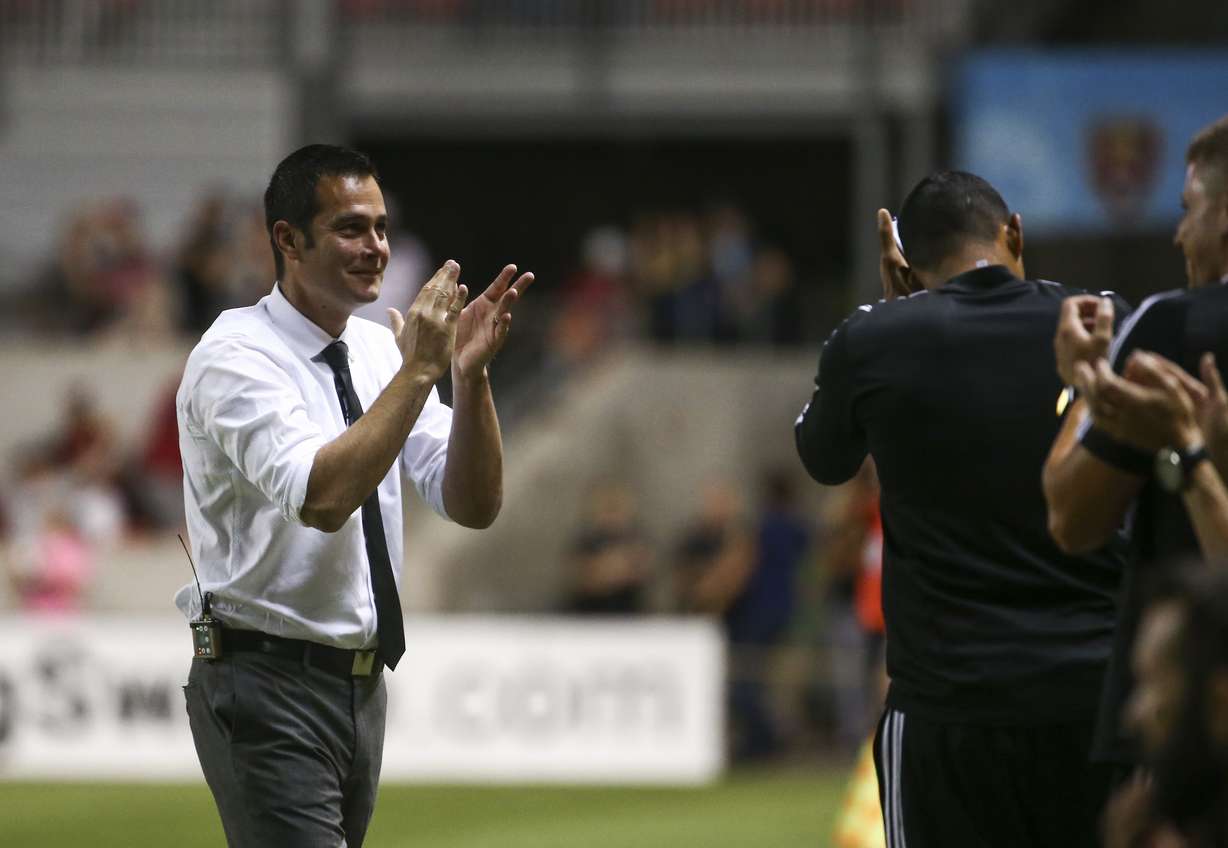 And while Petke's tenure will be defined by wins, losses and the on-field product of the club located in one of Major League Soccer's smallest markets, it's biggest headlines came from Petke's off-the-field responses to several incidents.
"Pass 'em out, Trey." "Fine me; I don't care anymore." The list goes on, as Petke racked up suspensions and fines for speaking his mind and publicly criticizing everything from MLS officiating to other inconsistencies he deemed with the league.
The latest one, however, crossed the line, the team deemed.
That began Wednesday, July 24, when Petke was seen yelling and verbally accosting visiting referee John Pitti of Panama following a 1-0 loss to Mexican power Tigres UANL in a Leagues Cup match.
Petke received a red card for the infraction, and was later reprimanded for his actions that — in his own words — were becoming the infraction, after Pitti delegated it as such.
"Afterwards, it was just extra. I told him what I felt," Petke said after the match. "(But) I honestly was pulling (his players) away, trying to get them back in the locker room. Maybe he was still thinking about the 4 minutes they put up, the cat running on the field, and him allowing the player to take a shot on goal — and then giving them the ball back after all that arguing with our players. But all I was doing was grabbing my players.
"What I said. Afterwards would've gotten me a red card. But I said it after I got the red card."
Those actions "afterwards" were what put Petke at end, according to an MLS investigation that was later detailed by The Athletic's Sam Stejskal, who previously worked for the club from 2012-14.
Mike Petke earned a red card after #RSL's 1-0 loss to Tigres.

Did you miss it? Here are a few other things you may have missed Wednesday night in the @LeaguesCup.

»» https://t.co/wJetfAwNw7pic.twitter.com/UDGqc74i1n

— KSL.com Sports (@KSLcomSports) July 25, 2019
In the report, Petke confronted both Pitti and his assistants on the field at Rio Tinto Stadium, shouting a Spanish-language insult that is commonly regarded as a homophobic slur. KSL.com has chosen not to republish the language, other than it starts with the letter "P." But according to The Athletic, Petke continued to use the slur to berate the referees as they entered the tunnel and post-match dressing room. He even wrote the word on a piece of paper and had it delivered to the locker room, according to the report.
Petke was suspended for the club's next match, a 0-0 draw at FC Dallas, and a full investigation ended a few days later. He was fined $25,000 by the league, suspended for three league matches as well as three additional Leagues Cup matches (to be served in subsequent years because of RSL's elimination) and sentenced to anger management courses and a three-week ban from all team activities by Real Salt Lake owner Dell Loy Hansen.
During that ban, RSL went on a tear, winning back-to-back matches against New York City FC and rival Sporting Kansas City with Juarez as acting head coach.
Likely emboldened by the team's play, a group of fans asked Hansen about Petke and the decision the club faced following last Wednesday's Utah Royals FC match against Sky Blue — a transcript of which was published on SB Nation's blog RSL Soapbox.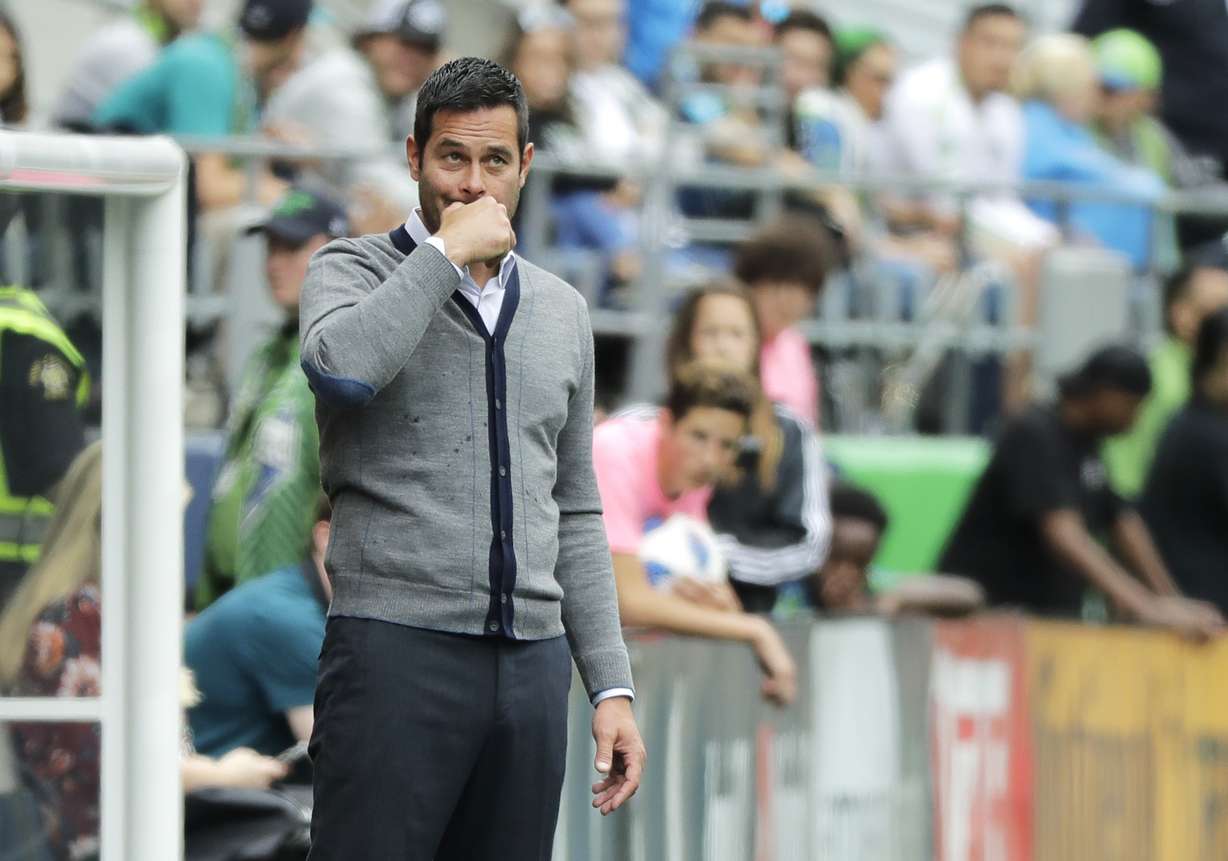 "Trust me, in my own business, nobody ever puts me in a room to fire somebody. They don't. Cause I'll lecture the hell out of you, and then I want you to reform, because I hate the consequences of taking things away from people," Hansen said according to the Soapbox transcript. "However, if you have a value structure, how far can you bend?
"Trust me, this is the number three. Trust me."
It's the second-straight year Hansen has had to terminate a manager early. Last year, Real Monarchs coach Mark Briggs was fired after culminating a suspension during an investigation into domestic violence allegations brought on by a former partner.
Briggs' case was eventually shuttered in Draper City Court, but the longtime USL coach's contract was terminated the next day. Coincidentally, interim coach Jamison Olave leads the Monarchs this year — after the departure of former RSL Academy director Martin Vasquez, who was named Real Monarchs manager at the beginning of the season.
No timeline has been established by Real Salt Lake, Hansen or general manager Craig Waibel to determine a replacement head coach. Assistant coach Tyrone Marshall has addressed the media following each of the club's past two matches (Juarez has addressed media during the week, as well), and that setup is likely to continue.
×
Related Stories