This archived news story is available only for your personal, non-commercial use. Information in the story may be outdated or superseded by additional information. Reading or replaying the story in its archived form does not constitute a republication of the story.
SANDY — The Sunday before Nick Rimando's final guaranteed home game at Rio Tinto Stadium was eerily quiet.
The two-decade goalkeeper had dozens of family and friends fly into town to be a part of a celebration of his career when Real Salt Lake hosted the Houston Dynamo in the penultimate game of the 2019 campaign, one that Rimando had already decided would be his last.
But the large party left him alone before the game, got "out of my hair" to allow him to focus on the Dynamo, a game that RSL needed to win to clinch a spot in the MLS Cup playoffs (the club went on to win 2-1 on Jefferson Savarino's winning strike).
In the end, maybe that made Sunday even harder. Not often one to share his emotions publicly, Rimando admitted after the match he wasn't himself as he hung around; he meandered and thought heavily on the final chance to play in front of his legion of adoring fans.
That quiet ended in the moments before the match, though, when those same fans — an announced crowd of 18,117 — began to chant his name leading up to the match. A giant tifo was unfurled in his honor in the south supporters' section, and every time Rimando touched the ball — for a save, a goal kick, or any other action — his name reverberated around the stadium.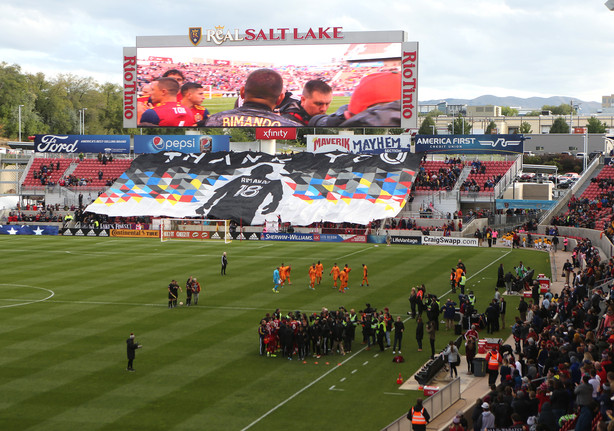 "It was almost worse that it was so quiet in the house, so I was constantly thinking about today," Rimando admitted. "But once you're on the field, you try to focus on the game. It was a great start, and then we weren't as sharp today.
"We made it hard for ourselves in the first half, but we rebounded in the second half."
Major League Soccer's all-time leader in every major goalkeeping statistic — wins, shutouts, saves and games played, among the most noteworthy — took his final curtain call of the regular season Sunday in Sandy. Real Salt Lake, locked into the playoffs and at least a fifth-place finish in the Western Conference with a 15-13-5 record and one match remaining, won't earn a home playoff game unless they win out over a losing LA Galaxy in next week's road finale at Vancouver.
It's possible. But just in case this was the last time in front of those fans, many of whom have become like friends and a few of who even became like family, Rimando took several moments after the match to address the crowd. His voice quivered as he spoke, but his words were precise.
Thank you for making a Southern California native feel at home in Utah, he said. It is now, and it will remain, at least for the foreseeable future.
He left such a mark on Utah that Sandy City Mayor Kurt Bradburn renamed the city's Stadium Way, where Rio Tinto Stadium overlooks the south end of the Salt Lake Valley, to Rimando Way via an official proclamation that also recognized September 27 as Nick Rimando Day.
Quite the legacy for the 13-year RSL goalkeeper who was unfamiliar with the Beehive State before a trade changed the trajectory of his life forever.
"I knew nothing about Utah when I got traded here," Rimando said. "This is home for me now; I absolutely love it here. The mountains, the lakes; the city is evolving, just like the game.
"I haven't made any decisions as to what's next. But this is home to me now, and hopefully, this will be home for me in the future."
Rimando's move to the Wasatch Front came almost by accident. A byproduct in the trade that brought former teen soccer phenom Freddy Adu to Real Salt Lake from D.C. United, the then-27-year-old goalkeeper had spent six seasons with the Black-and-Red, including winning MLS Cup in 2004.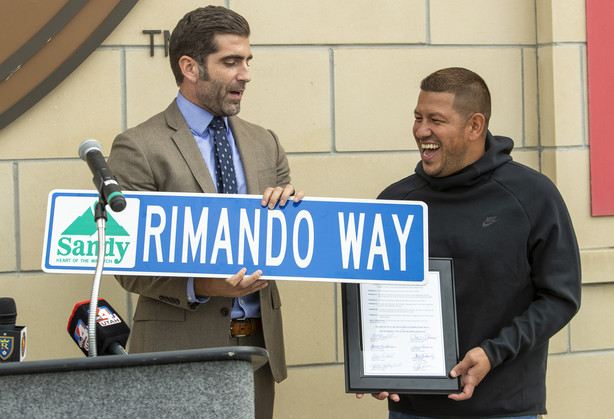 Rimando departed as United's then-all-time leader in wins (41), shutouts (29), saves (355), save percentage (72.2%) and goals-against average (1.22). But he had played in just two league matches the season prior to the trade, and moved on to Salt Lake City as a backup to then-starting keeper Scott Garlick in exchange for Jay Nolly.
When Garlick stunningly retired shortly after the trade, Rimando — who had to be re-acquired from the New York Red Bulls — was thrust into the starting role. The rest is history, through an MLS Cup title in 2009, a run to the CONCACAF Champions League final a year later, and league honors quickly followed (though he never won MLS's top prize, goalkeeper of the year, in his storied 20-year career).
Rimando's face became synonymous with Real Salt Lake, and by extension, the state of Utah. He represented the United States men's national team as a third goalkeeper at the 2014 FIFA World Cup in Brazil, playing behind first-choice starter Tim Howard. In an extreme coincidental set of circumstances, Howard and Rimando played their final home games with Colorado and Salt Lake, respectively, on the same day.
As the game evolved, the one-time field player who had to convince his high school coach to let him play goalkeeper four months into his career evolved with it.
Or maybe it was the other way around. Rimando, who has generously been listed at 5-foot-10 on Real Salt Lake's roster and is commonly referred to as 5-foot-9, has had to compensate for his lack of 6-foot-plus size and accompanying reach. So he started playing the ball with his feet, leading to RSL's preferred possession-based style that starts a play from the back, rather than with a goalkeeper's punt.
It revolutionized Major League Soccer, especially when paired with Jason Kreis' 4-4-2 diamond formation, and Barcelona-esque tiki-taka style of play that culminated with that MLS Cup championship in 2009.
More important than his play, though, was the work ethic Rimando left on a team that struggled to find an identity before he arrived — and developed one with inarguably the greatest MLS goalkeeper protecting the net as the "Wall of the Wasatch."
"He trains hard all the time," RSL interim head coach Freddy Juarez said of Rimando. "It's very tough to be his age and to train every day like he does. But he's a true warrior, a great professional and deserves everything he has gotten. It's given the team an identity, because of the style of play he has. It's allowed Real Salt Lake to always be a possession-based team, because of Nick's style of play.
"We're hoping he can get us as far as we can this year, and get him one more trophy."
As the honors, accolades, roster spots and league wins began mounting, however, Rimando remained his cool, calm and collected self. Equally stoic when facing a penalty kick as when addressing the media, Rimando's emotions don't often fit on the same sleeve where he has had to keep a chip since his days of being an undersized keeper at UCLA.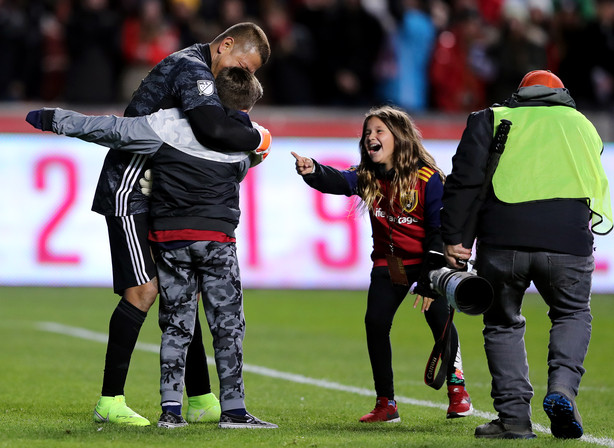 Only one time during his final retirement press conference last week at Rio Tinto Stadium did he share his emotions.
It wasn't when asked about the awards, or the club, or the finality of his career.
Rimando's true emotions bubbled to the surface as he looked at his children, Benny and Jett, both of whom he's raised in the Salt Lake Valley. In the only moment when he began to show his emotions, Rimando simply looked down at the microphone in front of him, collected himself, and recalled the greatest honor in his 20-year career.
It wasn't the 2009 MLS Cup. It wasn't being named to the league's Best XI, or MLS All-Star roster, or even the United States roster in 2014.
It was being a father to two children who grew up in front of the RSL faithful, running onto the field to hug daddy after every game, sharing every win, every loss, every heartbreaking moment and jubilant glory with papa.
Goalkeeper. All-Star. World Cup veteran.
But if you only remember one of Rimando's titles, remember him as a devoted father.
"This soccer ball that I kicked when I was so small has given me so much joy in my life, and I was able to see the world and experience so many memorable things," Rimando said. "But for me, it's about seeing these two kids, the way they look at me, and how proud they are of me — that I made them proud."
×
Photos
Related Stories